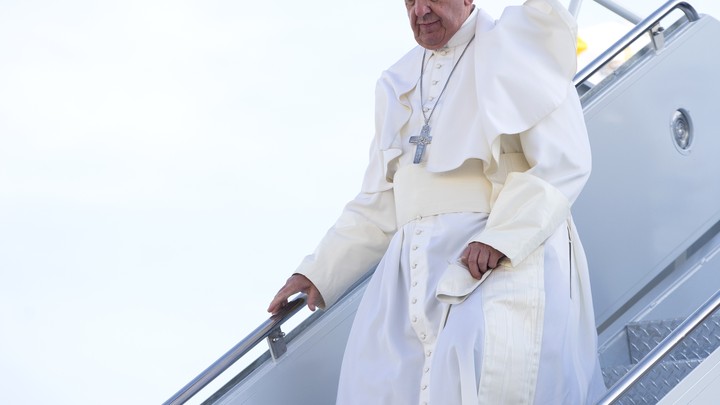 Pope Francis offered up a forceful call to action to protect the environment on Friday during an address delivered to the United Nations General Assembly in New York.
The pontiff declared that "any harm done to the environment therefore is harm to humanity"—remarks made while speaking through a translator. Francis also dove directly into the politics of climate change, expressing optimism that a strong agreement will be reached later this year at U.N. climate talks set to be held in Paris, a summit widely viewed by environmentalists and world leaders as a make-it-or-break-it moment in the fight against global warming.
"I am similarly confident that the Paris conference on climatic change will secure fundamental and effective agreements. Solemn commitments, however, are not enough, even though they are a necessary step towards solutions," the pontiff warned.
The pontiff's wide-ranging speech in New York hit on an array of political topics, including human-trafficking, the drug trade, the conflict in Syria, and the Iran nuclear deal.
Throughout his speech, Francis's words sought to humanize political issues that have often become caught up in highly contentious political debate. "In wars and conflicts, there are individual persons, our brothers and sisters, men and women, young and old, boys and girls who weep, suffer, and die," Francis said. "Human beings who are easily discarded when our only response is to draw up lists of problems, strategies, and disagreements."
Francis also signaled his support for the recently concluded Iran nuclear deal. "The recent agreement reached on the nuclear question in a sensitive region of Asia and the Middle East is proof of the potential of political goodwill and of law, exercised with sincerity, patience, and constancy. I express my hope that this agreement will be lasting and efficacious, and bring forth the desired fruits with the cooperation of all the parties involved," he said.
But the pontiff's remarks on the environment stood out as some of his most pointed during his visit to the United States taking place this week, a trip that marks the first time Pope Francis has ever set foot in America.
Environmentalists have anticipated the visit for months, hoping that his words might serve as a moral call to action that could diffuse the politically toxic debate over how to confront the threat of global warming in the U.S. Congress.
Francis has jumped at the chance to call for environmental action during his U.S. visit. During a speech delivered to Congress on Thursday, Francis called for a "courageous and responsible effort" to "avert the most serious effects of the environmental deterioration caused by human activity."
For climate activists, the words were unmistakable: The pope was exhorting Congress to take action and confront the threat of global warming. But it did not go unnoticed that during his speech to Congress, the pope did not explicitly mention the term "climate change."
Senator Jim Inhofe, a senator who has frequently cast doubt on the reality of man-made global warming, who worked hard to fight the president's climate agenda, and who famously threw a snowball on the Senate floor in a bid to argue that because it was cold outside, global warming does not exist, said he was pleased to see that the pope had toned down his rhetoric.
"The two areas I expected him to weigh in on were of course climate change and abortion, and it didn't happen," Inhofe told reporters in the Capitol on Thursday. "I think he's kind of tempering his remarks to his audience so I shouldn't have been surprised that he played down both."
"The fact is he didn't say it, he didn't say the words. I can tell you for sure the activist liberals sitting in the audience were disappointed," Inhofe said.
The Capitol Hill speech marked a departure from the pope's message delivered on the South Lawn of the White House on Wednesday where he mentioned "climate change" by name and was quick to praise president Obama for his action to tackle rising greenhouse-gas emissions in the United States.
We want to hear what you think about this article. Submit a letter to the editor or write to letters@theatlantic.com.
Clare Foran
is a former associate editor at
The Atlantic
.