Planned Parenthood Head Faces Off Against House Republicans
GOP lawmakers use a hearing to challenge the way the women's health group spends its money and whether it needs federal subsidies at all.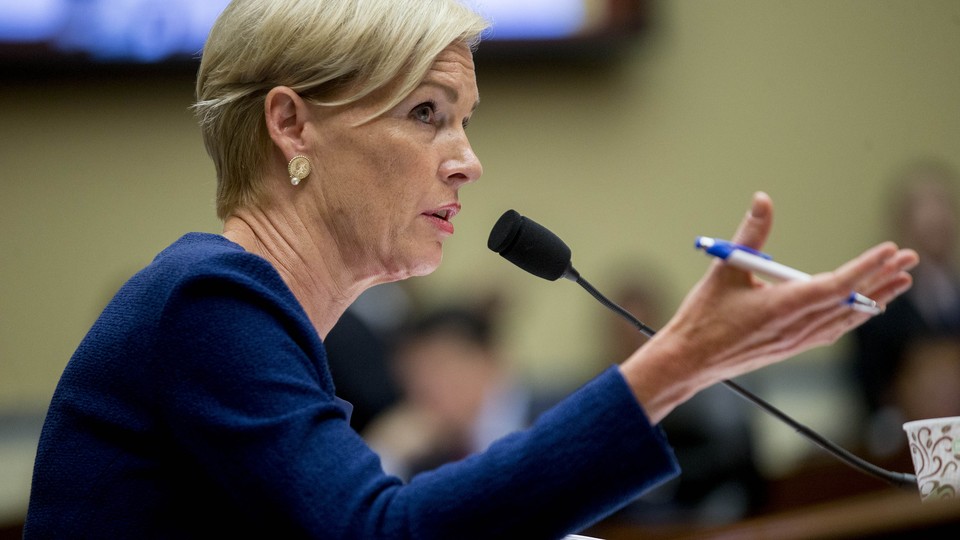 The head of Planned Parenthood faced off in person Tuesday against the group's Republican critics on the Hill, as the GOP focused on how the organization is funded and how it spends its money.
The House Oversight Committee hearing featuring Planned Parenthood President Cecile Richards fell a day after the Senate voted to advance a short-term spending measure that funds the government through December and includes Planned Parenthood funding. The bill is expected to pass the upper chamber and come to the floor for a vote in the House sometime before Wednesday's midnight deadline to avoid a government shutdown.
Unsurprisingly, from its onset the hearing featured Republicans battering Richards with questions designed to insinuate that the organization, which provides abortions as well as a host of women's health services, should not be receiving federal taxpayer dollars. Both sides often grew heated in either their questioning of Richards or their defense of the witness, although Richards maintained an even-tempered approach to answering congressional questioning.
"There has been a great deal of misinformation circulated about Planned Parenthood recently, and I want to be absolutely clear at the outset," Richards said in her opening defense of the organization. "The federal funding that Planned Parenthood receives allows doctors and clinicians at our health centers to provide birth control, cancer screenings, and testing and treatment for sexually transmitted infections."
Planned Parenthood receives more than $500 million in government funding each year. However, about $390 million of this comes from Medicaid reimbursements, and only about $60 million is appropriated by Congress.
But either way, to Republicans, funding is funding.
"What I don't like, what I don't want to tolerate, what I don't want to become numb to, is wasting those taxpayer dollars. And as best as I can tell—we're going to have a hearing here—this is an organization that doesn't need federal subsidy," House Oversight Chairman Jason Chaffetz said in his opening statements.
Democrats responded with familiar accusations of Republicans continuing their war against women.
"With no evidence of wrongdoing, these Republican investigations multiply, and the political theater continues," ranking member Elijah Cummings said.
The hearing was the third in the House stemming from a series of sting videos released over the summer that Republicans allege show Planned Parenthood selling fetal tissue for profit. Planned Parenthood denies the accusations, saying select clinics donate fetal tissue for medical research and accept compensation only for overhead costs. No evidence backing Republicans' claims has been made public. Although two other House committees have held hearings this month, Planned Parenthood has not been in attendance.
Meanwhile, the more conservative faction in the House, along with Sen. Ted Cruz, has pushed for federal funding for the organization to be removed from the Senate bill, even if that leads to a shutdown. While GOP leadership has insisted this will not happen, pressure from the Right contributed to House Speaker John Boehner's resignation announcement the week before a spending measure must pass.
Some Republicans argue that Planned Parenthood receives enough money from private sources to make federal funding unnecessary.
"The taxpayers are funding over 40 percent of Planned Parenthood and they have a right to know how this money is being spent," said Rep. Cynthia Lummis at Tuesday's hearing. "Can you function on nonfederal dollars? Why do you need federal dollars? You're making a ton of dough."
At Tuesday's hearing, a large portion of Democrats' defense centered around a key player who was not in attendance: David Daleiden, the head of the antiabortion organization, the Center for Medical Progress, that produced the videos, which Democrats say were deceptively edited.
Cummings accused Daleiden of attempting to get Planned Parenthood officials to accept payment for fetal tissue, but ultimately being unsuccessful.
"After they failed in this three-year effort, when they were unable to get even one agreement, they put together these misleading videos instead," he said.
With fights over tying a government shutdown to defunding Planned Parenthood likely punted to December, the House is taking up other measures to voice its disapproval for the nonprofit. The hearing also occurred the same day as a vote in the lower chamber on a bill allowing states to exclude abortion providers, such as Planned Parenthood, from participating in their Medicaid programs. The National Right to Life Committee is urging members to support the legislation, called the Women's Public Health and Safety Act.
And there is no sign of a cease-fire as both parties stick to the abortion talking points they've repeated for decades.
"We need to recognize this fight for what it is. It's about banning a women's right to choose and it's being driven by politicians, most of whom are men, who think they have the right to dictate to women about their most private health care decisions," Democratic Rep. Carolyn Maloney said at Tuesday's hearing.
---
Rachel Roubein contributed to this article