Orlando Police Complaints in the Spotlight as African-American Ex-Chief Runs for Congress
Val Demings has unique appeal as an African-American former police chief running for Congress. But the department she ran has a history of excessive-force complaints now coming under scrutiny.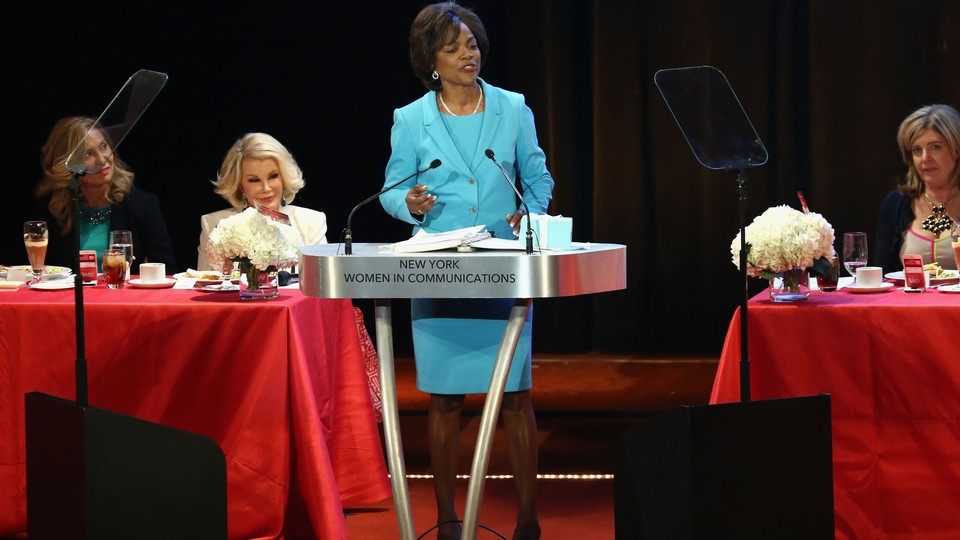 Democrats believe they have found a rising star in Central Florida: Val Demings, the African-American former chief of the Orlando Police Department, who is running for Congress in 2016.
First, though, she will have to navigate the complicated national dialogue on police brutality and criminal justice, a conversation that has changed dramatically since Democrats first tapped the tough-on-crime Demings as a candidate for higher office.
When Demings first ran for Congress in 2012, discussion of her tenure leading the OPD tended to start and stop at one statistic: a 43.6 percent drop in violent crime from 2007 to 2011, according to FBI reports. But over the last year, a string of highly publicized shootings and violent arrests of African Americans by police has changed the criteria that voters and the media use to judge officeholders on law enforcement.
The growing focus on police misconduct highlights less agreeable aspects of Demings's time helming the Orlando Police Department from 2007 to 2011.
The department has a long record of excessive-force allegations, and a lack of transparency on the subject, dating back at least as far as Demings's time as chief. From 2010 to 2014, the department paid out more than $3.3 million in damages following at least 47 lawsuits alleging false arrest, excessive force, and other complaints against the department's officers, according to WFTV. (Records about these cases and other allegations of police misconduct in Orlando are not centrally housed or publicized, and some lawsuits are still outstanding.)
"This has been a problem for a while, through her administration and others. The problem is the leadership of the department," said Lawanna Gelzer, president of the National Action Network's Central Florida chapter. "… She's not going to get my vote."
Demings declined to comment on her record as police chief. Her campaign referred questions to the Democratic Congressional Campaign Committee, which also did not comment.
Demings has not spoken out about criminal justice since she announced her 2016 congressional run, but it will be hard to avoid. Before she became a candidate, she became a recurring guest discussing police news on MSNBC, where she highlighted her efforts to improve relations between her police department and city residents. Now, she is a leading contender for Congress in an Orlando district Democrats should win next year. After running in a GOP-leaning swing district in 2012, losing narrowly to Republican Rep. Daniel Webster, next year she has to get through a Democratic primary in a majority-minority seat.
She has a reputation for taking a holistic approach to policing that could get more play this time around. Stephanie Porta, a progressive organizer who supported Demings for Orange County mayor in 2014, said one of Demings's biggest accomplishments was launching a project that included providing childcare and constructing a park at a crime-ridden apartment complex, which helped reduce crime there. (Demings ended up dropping out of the mayoral race.)
The lawsuits against the Orlando Police Department were not a major knock against Demings in her last congressional run, though another part of her police record came in for criticism: Demings was censured in 2009 after her gun was stolen from her unlocked truck.
But progressive activist Mike Cantone said the issue has gotten much more local attention recently, partly because of the national focus on relations between law enforcement and minorities, and partly because more excessive-force lawsuits and other complaints have finally worked their way through the legal system.
Back in 2008, an Orlando Weekly expose described the Orlando Police Department as "a place where rogue cops operate with impunity, and there's nothing anybody who finds himself at the wrong end of their short fuse can do about it."
Demings responded defensively: "Looking for a negative story in a police department is like looking for a prayer at church," she wrote in an Orlando Sentinel op-ed. "It won't take long to find one."
In the same op-ed, Demings cast doubt on video evidence that conflicted with officers' statements in excessive force cases, writing, "a few seconds (even of video) rarely capture the entire set of circumstances."
The excessive-force complaints continued throughout Demings's tenure. In 2010, an officer flipped an 84-year-old man upside down and broke his neck after the man became belligerent. Demings initially said "the officer performed the technique within department guidelines," but a federal jury later disagreed, awarding the victim $880,000 in damages.
Demings has stayed in the spotlight—and on the record—on law-enforcement issues since retiring as police chief, and her statements on police accountability seem to have evolved. In October 2014, she appeared on an MSNBC segment on the use of smartphone video to hold police accountable and touted the Orlando Police Department's tests with body cams and "other recording devices."
"One of the things that I always try to portray to the police officers is that videos are good because they not only protect the public, but they also protect the police officers," Demings said on TV.
In an MSNBC appearance in June of this year, Demings called for a national database of police shootings.
If she is able to win a congressional seat on her second try, Demings could become an important national spokesperson on policing. She faces Democratic primary opponents in a Democratic-leaning district: State Sen. Geraldine Thompson is running, while former state Democratic Party chair Bob Poe and state Sen. Gary Siplin are considering it. But none of those candidates have run for Congress before, and Demings came within 3.4 percentage points of beating Webster in a tougher district in 2012.
Plus, Florida Democrats are always looking to lengthen a short bench of talent that could conceivably run for statewide office, and Demings has already attracted attention from future-focused state Democrats.
"Val is strong campaigner; she has an amazing profile," said Steve Vancore, a Tallahassee-based Democratic consultant. "She's a bit of dream candidate."
That may still be the case. But Demings is bound to face different questions and tests this campaign than when she burst onto House Democrats' radar in 2012.