One Angry Tweet, Netflix, and Pocahontas
A Native American blogger put the company on the spot and they did something about it.
Netflix has updated its description of the Disney movie Pocahontas after a Native American woman pointed out it was offensive.
"Apparently Pocahontas is on @netflix now. Can we talk about this description?" Adrienne Keene, author of the blog Native Appropriations, tweeted in late August, with a screenshot of the movie synopsis:
An American Indian woman is supposed to marry the village's best warrior, but she yearns for something more–and soon meets Capt. John Smith.
Keene, who identifies as a member of the Cherokee Nation in her Twitter biography, wrote on her blog that the description not only "positions Pocahontas in relation to her romantic options," but it implies that she "wouldn't be content with her backwards Native ways with her Native man … she yearns for something more. SPOILER ALERT: It's a white dude."
Her initial tweet quickly picked up nearly 600 retweets and Netflix noticed.
On Sept. 9, Keene tweeted that the company had sent her the following email:
Thanks for bringing attention to this synopsis. We do our best to accurately portray the plot and tone of the content we're presenting, and in this case you were right to point out that we could do better. The synopsis has been updated to better reflect Pocahontas' active role and to remove the suggestion that John Smith was her ultimate goal.
The new description, as Keene notes in an update on her blog, is "not bad."
A young American Indian girl tries to follow her heart and protect her tribe when settlers arrive and threaten the land she loves.
While Keene is "amazed by the power of the internet" to take an angry tweet and exact real change, a follower pointed out that the fact that the original description existed in the first place is an issue.
As recently as 1:30 p.m. ET on Thursday afternoon, the original synopsis was still posted on other parts of the site. Netflix did not respond to requests for comment.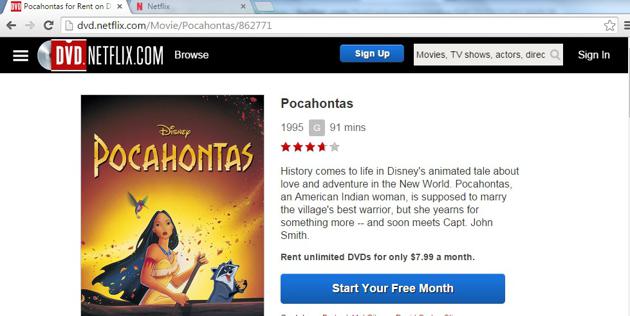 It's also worth noting that the broader issue is the movie itself. As Keene rightly points out, "It's a stereotypical historically inaccurate mess, and I've said many times on this blog: remember that Pocahontas was a prepubescent (9-12 year old) girl, and John Rolfe was a grown man. It solidifies the 'good Indian' trope, that 'good Indians' help white people."
Still, making the synopsis a more accurate reflection of Disney's version of the story is a small step in the right direction. It also shows that companies like Netflix are paying attention when customers point out issues—putting aside, of course, that the company allowed the original description to go live in the first place.
We'd like to hear from you. Are there any other Netflix movie descriptions that you think need a rewrite? Let us know on Twitter or Facebook.