On the Hill, Trump Promises "So Much Winning" and an End to "Stupid" Leaders
While Republicans debate how to handle the Iran deal inside the Capitol, the message outside the building was clear.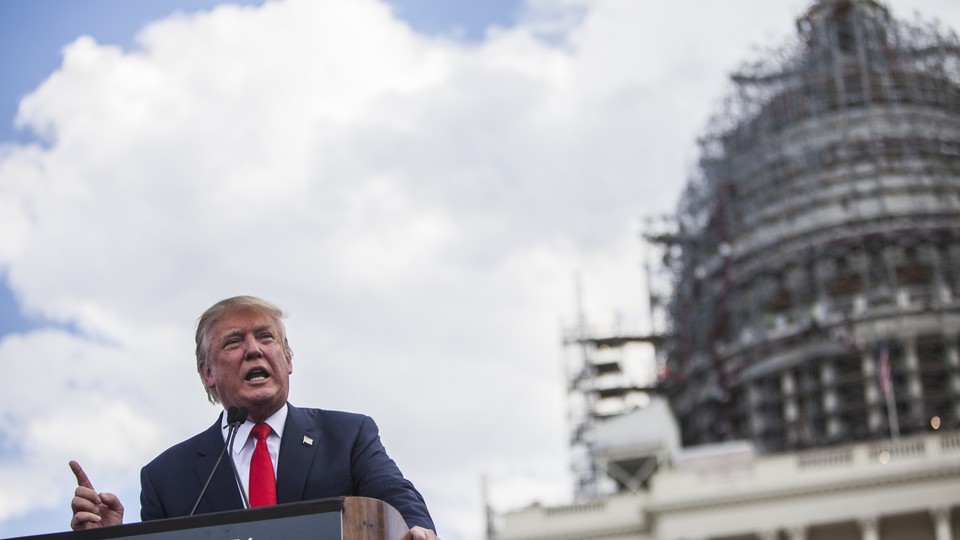 The day after the head-counting ended, the talking head arrived.
With President Obama having secured enough Democratic support to bar a bill that would imperil the Iran nuclear deal from even coming to his desk, Republican front-runner Donald Trump walked on stage Wednesday before the Capitol's West Lawn to R.E.M.'s "It's the End of the World As We Know It (and I Feel Fine)." He came at the invitation of another GOP presidential candidate, Sen. Ted Cruz.
Trump delivered his Trumpisms. He was blunt but brisk, speaking for only five-and-a-half minutes. He called American leaders "very, very stupid people." He said "you may get bored with winning" if he is elected president because "we will have so much winning." Then, in a rare moment, he caught himself. "I agree—you'll never get bored with winning. We never get bored!"
And Trump made a promise concerning four Americans held in Iran that recalled memories of when Iran released hostages on the same day Ronald Reagan became president.
"I will say this," said Trump, dressed in a trademark red tie, white shirt, and blue suit before an audience of hundreds sweltering in a 91-degree heat. "If I win the presidency, I guarantee you that those four prisoners are back in our country before I ever take office. I guarantee that. They will back before I ever take office because they know that's what has to happen, OK? They know it. And if they don't know it I'm telling them right now."
There were dozens and dozens of cameras capturing Trump. His speech—amplified by two dozen speakers—was so loud that it bounced back upon the crowd. And there were protests; United We Dream, an immigrant youth network, held signs and tried interrupting Trump to no avail, cheering, "Donald Trump has got to go! Hey hey! Ho ho!" When asked who they were, one self-described Trump supporter said they were "probably some f---ing student group who got extra-credit points by their Latin teacher to come out here."
Before the rally, there was a line of Orthodox Jews chanting "Judaism yes. Zionism No" across the street. The Orthodox Union then directed speakers to them and began singing the Israeli national anthem.
Inside the Capitol, the House Republican leadership postponed a procedural vote advancing a resolution of disapproval. Outside, radio host Mark Levin said, "Barack Obama makes Neville Chamberlain look like George S. Patton." Former GOP presidential candidate Sarah Palin claimed that Obama didn't carry a big stick but a selfie stick. A camouflage headband-strapped Phil Robertson said, "You know why I love Israel? They wrote the Bible, that's why I love 'em."
Outside, staffers at the American Conservative Union wandered the lawn carrying a fake oversized check from the White House to Iran for $150 billion, the high-end estimate of sanctions relief awarded under the deal. Retired patent attorney Jim McDonald, 70, called his massive Trump sign (over 12 feet tall) a "chick magnet." The boos for Senate Majority Leader Mitch McConnell and House Speaker John Boehner—extending for 15 seconds before Rep. Dave Brat, who beat former Majority Leader Eric Cantor last year, cut them off—were as loud as any against Hillary Clinton. And a guy wore a shirt that said, "I'd rather be waterboarding."
While it was loud, the rally and its participants can do little now to stop the president from following through with the deal, which sharply limits Iran's nuclear program for at least a decade. But even if they don't win, rally participants said it was worth their time. "Don't you want to listen to Ted Cruz and Trump? [Of] course," said Ron Skow, a 72-year-old retired Marine who drove up with about a dozen others from North Carolina.
What was clear is that Iran-deal doomsayers outgunned the celebrators. Earlier in the day, Sen. Dick Durbin held a press conference on the first floor of the Capitol with Secretary of State John Kerry and Energy Secretary Ernest Moniz. Kerry and Moniz thanked Durbin, the head of the Senate Democrat whip effort, as well as the 42 Senate Democrats who have announced their support. Moniz praised the approximately 30 members who went to his office to better understand the deal's technical intricacies; Kerry said the members "learned nuclear jargon and details about centrifuges and fissile material they probably never expected to learn." They touted their endorsements from Colin Powell, secretary of State under George W. Bush, and George H.W. Bush national security adviser Brent Scowcroft, as well as top scientists such as eminent physicist Richard Garwin. There were maybe six cameras.
When asked by MSNBC's Kasie Hunt if Trump is qualified to negotiate with other heads of state on major international agreements, Kerry at first demurred, saying he's not getting involved in the presidential race. When pressed, Moniz smiled and Kerry said, "I believe the people who count are the 42 senators who've made up their minds. That's the count that matters right now. If Donald Trump and Ted Cruz and Dick Cheney want to be the face of the opposition, that's their choice."
At that—around the presser's six-minute mark—the secretaries left. Durbin later added, "The other side on this can roll out their big guns if they wish. But frankly, I think most members of the Senate Democratic caucus are not going to be swayed by Mr. Trump or by our colleague Senator Cruz or even a former vice president."