Obama, World Leaders May Skip Key Part of Paris Climate Talks
Organizers invite leaders to speak at the beginning of COP21, rather than the end, to avoid the eleventh-hour chaos that marked the close of the Copenhagen climate conference. But does that lessen the chances for a deal?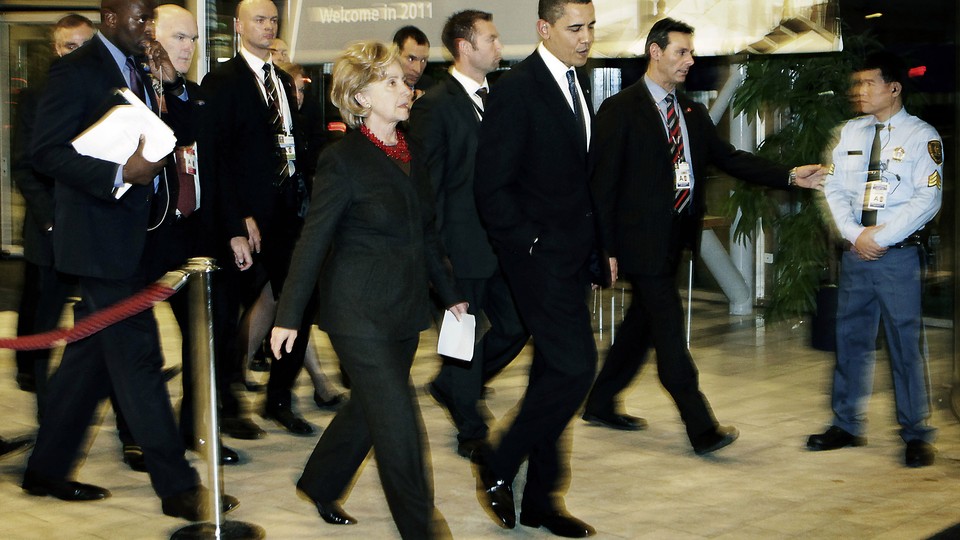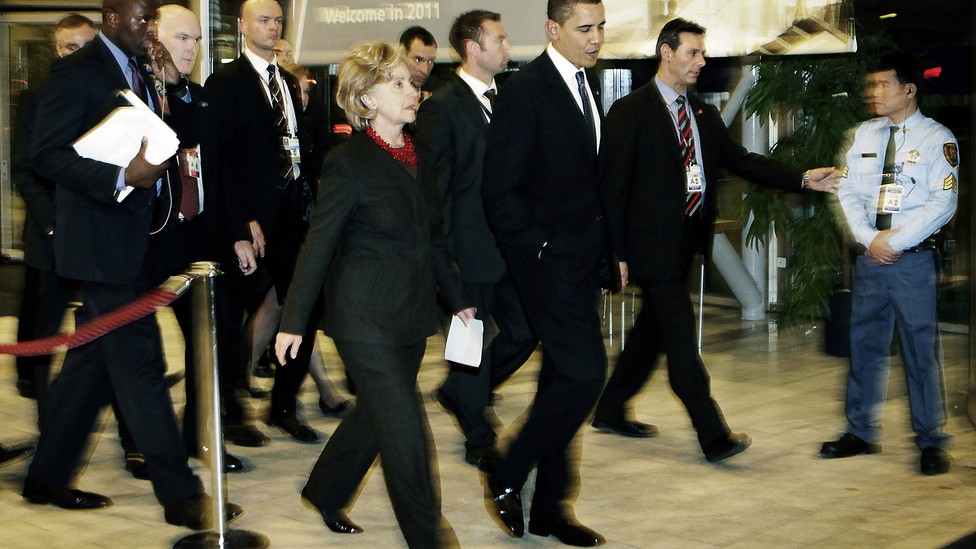 The 2009 climate talks in Copenhagen were on the brink of collapse when President Obama crashed a meeting of the leaders of China, India, Brazil, and South Africa.
"[T]he President and I set off through the long hallways of the sprawling Nordic convention center, with a train of experts and advisors scrambling to keep up," Hillary Clinton writes in her State Department memoir Hard Choices. Clinton recalls "charging up a flight of stairs and encountering surprised Chinese officials who tried to divert us by sending us in the opposite direction."
The resulting ad hoc negotiations helped salvage an interim, eleventh-hour accord that kept afloat the wobbly negotiations to craft a new international climate deal, but Copenhagen is remembered as both a mess and disappointment. This fall, the venue is Paris, where the U.N. will once again hold climate talks with a goal of reaching a new accord to battle global warming.
But don't look for the drama of an American president barging in on fellow heads of state in a private meeting on the final night, because—if all goes according to plan—none of them will be there.
Instead of bringing in heads of state at the end of the two-week conference, French officials have flipped the script and invited them to the beginning.
French President Francois Hollande described the decision this way in a recent speech: "At the Paris conference, I thought it best to invite the heads of state and government right at the start of the conference, not the end. At the end it's sometimes too late and even their rhetoric isn't enough to convince people and wrap things up any more. So it will be at the start of the conference; that's the lesson we learnt from Copenhagen."
Veterans of climate summit battles and other climate experts like the concept.
U.N. climate chief Christiana Figueres, in a statement to National Journal, said, "We think this will provide a strong political impulse at the highest level to ministers as they finalize the new universal climate agreement and its supporting decisions."
Figueres, mindful of Copenhagen's lessons, has been laboring to ensure that much of the groundwork is laid well in advance of the conference. It is "really stu­pid to put 300 pages in front of pres­id­ents at the last minute and give them a red pen," she said last year.
Alden Meyer of the Union of Concerned Scientists, who has been attending international climate summits for 25 years, says having world leaders come to the final stages in Copenhagen was a bad idea. The problem: Foreign and environment ministers were hesitant to make political compromises because their bosses were en route.
"I saw everything from the inside, and the fact that leaders were coming in at the end of the conference contributed to the paralysis in the negotiations," said Meyer, an informal advisor to Connie Hedegaard, the Danish official who oversaw that summit. "Clearly the French learned the lessons of Copenhagen. I haven't heard of anyone who thinks it's a good idea to bring the leaders in at the end."
There are plenty of topics for negotiators to grapple with, such as funding for poor countries' efforts to battle climate change and adapt to it, verification of nations' steps to cut emissions, and more.
And, of course, there's the form of the accord itself at a time when there's simply no chance of getting a formal, binding carbon-cutting treaty through the U.S. Senate.
Indeed, much of Obama's climate-change agenda has gone around Congress with a series of executive actions, including first-time carbon emissions standards for power plants, recently proposed rules to cut emissions of the potent greenhouse gas methane from oil-and-gas development, and major increases in auto mileage standards.
Ahead of Paris, countries have been submitting post-2020 emissions pledges to the U.N., called "intended nationally determined contributions." The U.S. is pledging to cut emissions by 26-28 percent compared to 2005 levels by 2025, a pledge Obama administration officials say can be met with executive actions absent a new climate law.
Obama is widely expected to appear in Paris, although the White House has not confirmed the visit.
One possible structure for the Paris deal that has gained steam is a hybrid model in which nations' domestic emissions-curbing pledges are not internationally binding, but they're packaged with other elements which are mandatory.
Peter Ogden, a former State Department climate aide, said having heads of state attend on the front end could be beneficial, because they can achieve high-level breakthroughs that ease the path for the nitty-gritty negotiations to follow.
"If you think you can get the breakthroughs that you need by having the leaders there early in the conference and they can actually cut through some of those core differences, you do allow yourselves more time to have the senior climate diplomats left behind to work through the remaining issues," said Ogden, who was chief of staff to top U.S. climate diplomat Todd Stern. "Then you give yourself time to really develop as full and robust an agreement as possible in Paris.
"There is a lot of work that can get done if the leaders in attendance are really able to move the negotiations into their final phase," added Ogden, who is now with the Center for American Progress, a liberal think tank and advocacy group.
Brown University professor J. Timmons Roberts, an international climate policy expert, called the French plan a "great idea" to at least avoid a repeat of the Copenhagen mess.
"It should create the top down political momentum if those heads of state are at least roughly on the same page that we need an ambitious climate agreement," said Roberts, a professor of environmental studies and sociology.
Not everyone is excited about the early appearance by heads of state.
Harvard University climate expert Robert Stavins, who was in Copenhagen, predicted it will "have virtually no effect on the substantive outcome" of the negotiations. "The one thing we can be sure it will do is produce some Paris traffic jams, when streets are closed for security purposes," said Stavins, dir­ect­or of the Har­vard En­vir­on­ment­al Eco­nom­ics Pro­gram.
Former U.N. climate chief Yvo de Boer, in an interview with the website Responding to Climate Change, said it it's not clear what purpose it serves, and that it could even detract from discussions on the hoped-for pact. And leaders may not want to fly to the City of Lights just to give a speech at the start of the meeting and then go back home.
"My experience is, politicians travel in order to celebrate success," he said. "To fly to Paris and just show a bit of leg at the beginning of a conference is not really enough of a reason," he said.
But don't worry: heads of state or no heads of state, there will be drama at the end. U.N. climate talks routinely blow past their deadline amid last-minute haggling, and Meyer says Paris will likely be no different.
"The negotiating culture is you hold a lot of your chips until the end," Meyer said.