Obama to 8.8 Million Immigrants: Please Apply for Citizenship
In a new campaign, the president appeals to millions of eligible permanent residents.
What a difference a few hours make. Any long-term immigrants in the country who tuned into the Republican debate last night may have felt a bit unwelcome. But they woke up to a plea from President Obama himself to become American citizens.
There are 13.3 million lawful permanent residents in the United States. Today, 8.8 million of them are eligible to start on the path toward citizenship. In order to help them along that process, the president on Thursday launched a new "Stand Stronger" campaign to encourage immigrants to "commit to citizenship."
"It's not about changing who you are," Obama says in a video released by the White House. "It's about adding a new chapter to your journey as an American citizen and to our journey as a nation of immigrants."
Of those 8.8 million immigrants eligible for citizenship right now, 3 million are refugees who resettled in the United States after 1975, when the country opened its borders to Vietnamese and other Southeast Asian refugees who fled the region following the fall of Saigon.
Of course, citizenship means the right to vote. And naturalized Asian and Latino citizens vote at a higher rate than native-born Asians and Latinos. What's more, according to Pew, Latinos will account for 40 percent of the growth in the eligible electorate between now and 2030, when there will be an estimated 40 million Latino voters. In terms of future get-out-the-vote efforts, naturalized citizens are a crucial demographic for upcoming elections.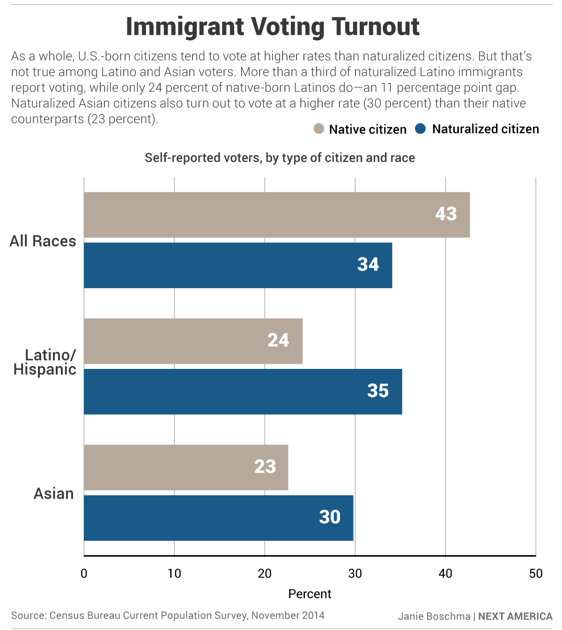 Immigrants from Mexico, the Philippines, India, the Dominican Republic, China, and Cuba account for 38 percent of all naturalized citizens, according to 2012 estimates by the Census Bureau. That year, 757,000 legal permanent residents earned their citizenship, increasing the number of naturalized citizens in the United States to 18.7 million. But the number of legal permanent residents becoming citizens has been in decline in recent years.
This new campaign, which is part of a task force created through the president's November 2014 executive actions, will create new pathways to naturalization, support skill development and entrepreneurship, and help immigrants to learn English.
One of the biggest barriers to taking the next step toward citizenship is the cost. While the United States will now allow credit-card payments for those naturalization fees, the White House announcement does not address the hefty $680 cost for citizenship.
To accompany the launch of this campaign, which will span print, radio, and digital platforms, the federal government will welcome 36,000 new citizens in 200 naturalization ceremonies across the country over the next week.
If people listen to the president, there'll be plenty more ceremonies.
---
Janie Boschma contributed to this article