Can Bernie Sanders Play in the South?
A weekend trip to the land of Dixie, with its high concentration of black Democratic voters, shows just how big Bernie is but also spotlights his weaknesses.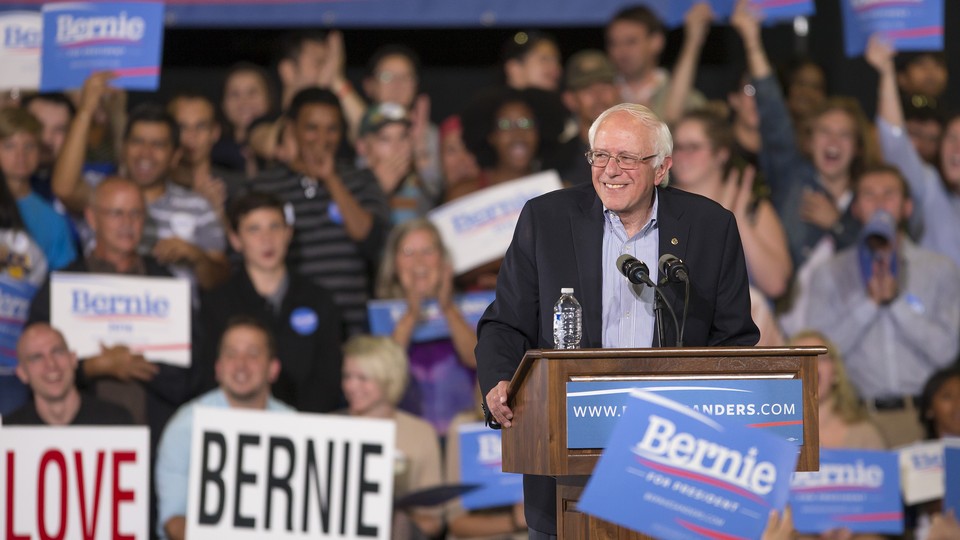 GREENSBORO, N.C. — "You all—did I get that right?" Bernie Sanders paused to wonder, mid-spiel. Then he corrected himself: "Y'all."
"I'll learn," the Vermont senator promised to affectionate laughs. It was a perfect encapsulation of the challenge Sanders faces. Having gone from a fringe candidate to a serious contender for the Democratic nomination—leading Hillary Clinton in Iowa and New Hampshire and gaining on her nationally—Sanders doesn't cater to audiences with the smooth pandering and ersatz accents that more traditional politicians do. But if he is to convert his momentum into a nomination, he'll have to learn to connect to people in places like the purple state in the South, and, in particular, to the black voters who form the Democratic Party's backbone across the region.
Of course, the fact that he doesn't do the things normal candidates do is what excites his fans, thousands of whom came to the Greensboro Coliseum to see Sanders Sunday night. They came from Durham and Salisbury, Winston-Salem and Walnut Cove, filling the venue to capacity. (The campaign said more than 9,000 people showed.) They drove in with new friends from their freshman dormitories or headed over from the National Folk Festival across town. While a few attendees said they were there to find more out about Sanders, many seemed to already be solidly committed to the self-described democratic socialist. And those came wearing campaign gear (one popular t-shirt bears an outline of Sanders's glasses and famously unruly hair; another exhorts: "Join the political revolution today"). Attendees who didn't come dressed for the occasion could purchase gear from vendors stalking the long, snaking line to get in, including a pin with Sanders's face and the words "Not for sale." (The candidate, to be clear, and not the button, which could be had for $2.)
It seemed like an unusually committed and excited crowd for this stage in a primary, especially in a state that may not play a major role in deciding the nomination. Many attendees seemed giddily surprised at the turnout. It was the sort of commitment that led most of them to stick with Sanders through a 70-minute stump speech filled with wonky explanations and punctuated with old-school leftist imprecations about corporate greed, although a small but steady stream started filing out after 40 minutes or so. Supporters held signs—both printed and homemade—and attendees' feet stamping on the bleachers created literally thunderous applause at high points in the speech.
Sanders's stump speech isn't easy going—a laundry list of policy proposals, connected as often as not with "I'd like to say a few words about ...": income inequality, unemployment, the minimum wage, women's pay equity, same-sex marriage, paid family and medical leave, a federal jobs program, free-trade agreements, buying American products, breaking up the big banks, Citizens United, voter turnout, the Voting Rights Act, education, college tuition, student debt, climate change, universal health care, racism, police reform, mass incarceration, and finally comprehensive immigration reform. (In that order.)
Though Sanders's supporters tend to cringe when anyone says it, he represents a strange mirror to Donald Trump, whose insurgent campaign is shaking the Republican Party. He warns that America is falling behind, rails against sending jobs to China, and repeatedly expressed glee during his speech that his campaign was rattling "the establishment." And though he's not as quotable as Trump, Sanders's speech is not without zingers. "My Republican colleagues get very nervous when we talk about redistribution of income, but you should know that in the last 30 years there has been a massive redistribution of wealth," he said. "The problem is it has gone in the wrong direction." When he thanked the audience for coming out, he acknowledged that many folks would roll their eyes at the idea of attentdng a rally but offered a ready retort: "Anybody who tells you politics doesn't matter, ask 'em why the Koch brothers are spending $900 million."
Yet even though Sanders is perhaps the most ideological candidate in the race, it's his plainspokenness and commitment, more than any specific policy plank, that excited most of the people I spoke to as they waited to get in. Again and again, they told me that what excited them was the sense that he told the truth as he saw it. (Like the candidate, who has studiously avoided attacking Hillary Clinton, few of them named her without prompting; they didn't have to.) They appreciated that he had been speaking about the same issues throughout his long career and wasn't beholden to donors.
"Bernie is the only one who I feel is honest," said Erik Olson, wearing a Mondale/Ferraro shirt, even though he admitted he was too young to have cast a ballot for that ticket. "He's one of the few senators who is not a millionaire. Why else would he be doing this if he didn't believe it?"
As a measure of his commitment, Olson had left a four-day-old son at home with his wife and driven an hour to attend the rally. ("I owe her big time.") The child's birth reinforced his enthusiasm for Sanders's commitment to universal pre-K: Already paying thousands for an older son's daycare, Olson would soon see his bill double.
Most notably, the crowd was filled with students, who'd come in large groups from universities around the state. Rachel Cole, 18, had traveled with a clique from her freshman hall at Elon University.* "I like that he's so grassroots," she said. "Some people have been saying he's the voice of our generation." A Wake Forest freshman, Zachary Bynum, told me he viewed Sanders as most on touch with "Millennial values" on health, education, and social issues. If it's hard to believe that the oldest candidate in the race—Sanders is 74—would energize youth the most, the crowd seemed to prove his point. He has argued that he would galvanize young voters in a way President Obama did but Clinton cannot, a view that Ben Roberts, a sophomore at the University of North Carolina at Chapel Hill, affirmed. "I would be way less excited if Hillary was the person," he said, but conceded that from his perspective, "she's way better than the alternative."
This groundswell of rabid fans and youth support has propelled Sanders thus far, but as his aides acknowledged to The Washington Post last week, they will have to expand his support geographically and demographically to win. This made his appearance in North Carolina particularly interesting. Since a Republican takeover of the governorship and legislature, the state has passed a huge slate of very conservative legislation, which has opened massive rifts and a series of weekly protests in Raleigh. GOP leaders have cut budgets, slashed education funding, and erected perhaps the strictest voting restrictions in the nation.
Though Sanders made little reference to local woes in his stump speech, several of his proposals resonate strongly with the current situation North Carolina. He demands better funding for schools and free education, and his criticism of free-trade agreements plays well in a state where manufacturing jobs suffered after NAFTA. That holds true even for Old North Staters who don't ordinarily vote Democrat. Barry Nesbitt, a retired Teamster, showed up wearing a "Keep Pension Promises" t-shirt. Nesbitt told me he'd been a registered Republican until very recently, when he got fed up with Representative Virginia Foxx for her stance on looming pension cuts. Sanders, on the other hand, had backed unions in the dispute, so now Nesbitt was registered as unaffiliated and waiting in line. "I'm here to support Bernie Sanders because he supports us," he said.
Even more interesting, and fraught, is the matter of race. Sanders has been criticized by Black Lives Matters activists for focusing too heavily on class issues, to the exclusion of race. In Seattle, activists shut down a Sanders rally. He badly trails Hillary Clinton among black voters. Sanders has acknowledged his weakness on the issue and promised to improve. He hired Symone Sanders, a BLM activist, as a press secretary. On Saturday in South Carolina, the senator focused on race and was introduced by Cornel West, the black scholar and activist. As The Post notes, that's a complicated alliance; West has alienated some African Americans with his strident criticism of President Obama.
Greensboro, with a large black population and a rich civil-rights history, made for an interesting next stop. But if Sanders made any real changes to his speech to account for it, they weren't apparent. Forty-five minutes in, he celebrated the Voting Rights Act and lamented the Supreme Court's Shelby County decision hollowing it out. Ten minutes later, near the end of the speech, he finally spoke passionately about institutional racism and police brutality, mentioning Sandra Bland, Michael Brown, Rekia Boyd, Eric Garner, and others, and calling for an end to mass incarceration. (Even there, Sanders couldn't resist tying it back to class: In arguing that police needed to be held accountable, he acknowledged that most officers were good at their jobs—and, he noted, underpaid, undertrained, and subject to volatile schedules.)
Those portions of the speech were well-received, but perhaps he was wise not to tailor it too much to a black audience. Even though African Americans make up more than 40 percent of the city's population (and an even larger portion of the Democratic electorate), the crowd was overwhelmingly white. But black voters who did make it to the rally seemed to think that could change, attributing the problem mostly to Sanders' low profile and to undercoverage in the media.
"Minorities don't know about Bernie Sanders," Briana Powell said—but she said that when she got friends and family members to research him, they responded positively to his message.
Further back in the line, Pam Horn concurred that black voters were starting to notice Sanders. "Hopefully a lot of us come out so we can learn," she said, then followed the endless line into the coliseum.
---
* This article originally identified Rachel Cole as a Wake Forest student. We regret the error.