North Carolina A.G. Faces Racial Tensions Over Police Trial Before Run for Governor
And as more cases involving police force against unarmed victims go to trial, ambitious attorneys general from New York to Missouri to North Carolina will have to navigate tough political waters.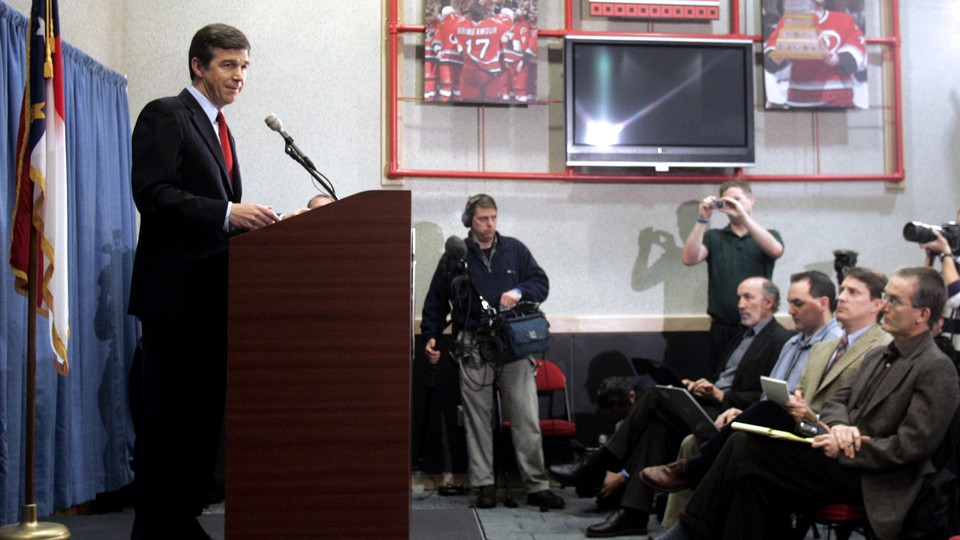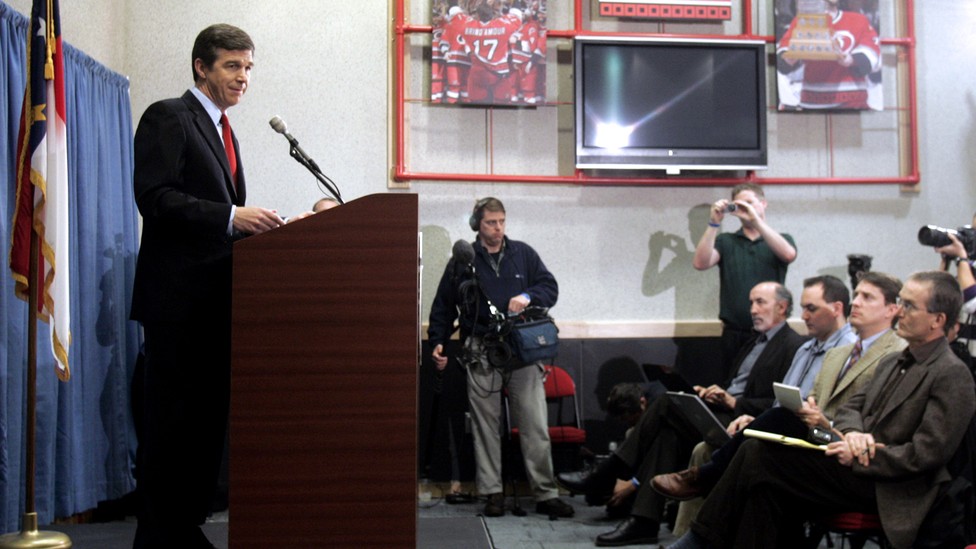 North Carolina Attorney General Roy Cooper is planning on running for governor next year. That makes the Democrat one of the first attorneys general in the post-Ferguson era to run for higher office after tangling with an emotional trial involving an unarmed black man killed by a white police officer.
Cooper's office recently oversaw the case against Randall "Wes" Kerrick, a Charlotte police officer who shot an unarmed black man, Jonathan Ferrell, 10 times in 2013 after Ferrell was in a late-night car accident and approached a nearby house. The case ended in a mistrial after the 12-member jury couldn't return a unanimous verdict, and Cooper said last month that he didn't plan to try Kerrick again given the lack of new evidence.
But Cooper's Democratic primary challenger, local ministers, and the North Carolina chapter of the NAACP are calling for the attorney general to retry the case—and some African-American leaders say the case's inconclusive end could hurt Cooper with his Democratic base in next year's election against Republican Gov. Pat McCrory.
North Carolina, where African Americans typically comprise roughly half of all registered Democrats and more than 20 percent of the electorate, is a unique test case for the political repercussions when Democratic prosecutors cross paths with cases involving black victims of police force. Cooper has a reputation as a political moderate dating back over more than a decade as attorney general, but any North Carolina Democrat would have trouble winning statewide without very strong support from African-American voters.
"It's a concern here. It's not going to go away between now and next year. I am positive that there are going to be questions still asked about the verdict and not having a retrial," said Willie Fleming, the president of the North Carolina Democratic Party's African-American Caucus.
Kerrick was indicted in 2014 and his case went to trial this summer. He would have faced up to 11 years in prison had he been found guilty, but the jury couldn't come to an agreement, and Cooper said that without the introduction of new evidence his office did not believe a retrial would yield a different result. "While our prosecutors believe that the elements of the crime of voluntary manslaughter were met by the facts and the law in this case, only four members of the jury agreed with us," Cooper said at a press conference. "The loss of Jonathan Ferrell's life is a tragedy. It should not have happened," he said.
Emotions ran high after the announcement that there would be no new trial. Georgia Ferrell, Jonathan Ferrell's mother, told a local news station, "[Roy] Cooper did not care one way or another about my child, or about me, about this family. He did not care."
The Rev. William J. Barber II, the president of the North Carolina NAACP, called Cooper's decision not to retry Kerrick "callous," "arrogant," and "deeply disappointing," and he said the organization was exploring further action.
Barber is a prominent voice among progressives in the state and nationwide. He helped lead the "Moral Mondays" protests against McCrory and Republican legislators outside the state Capitol in Raleigh in 2013. The protests were a reaction to a tumultuous first legislative session under McCrory that produced controversial new restrictions on voting rights, new restrictions on access to abortions, and cuts to unemployment benefits and education.
"It will have an impact on the North Carolina gubernatorial race, as African-Americans comprise a large segment of the Democratic vote," said Jaymes Powell Jr., a spokesperson for the state Democrats' African-American Caucus. "We are and will be cognizant of whatever happens with the decision to retry because far too many black lives have fallen across this country. And to have it happen right here in North Carolina, and Attorney General Cooper choosing not to make sure justice is met, will affect the African-American vote, especially as we come to the primaries."
Cooper political adviser Morgan Jackson downplayed the appearance of any divisions within the party. "Democrats are very excited and fired up about making a change in the leadership in Raleigh," Jackson said. "They want a governor who's going to focus on improving the state's economy, invest in education, and protect natural resources, and we don't have one of those now. And Democrats are united in their desire to make that change."
Cooper faces a Democratic primary opponent in Ken Spaulding, an African-American former state legislator. Spaulding has so far struggled to raise the funds necessary to seriously compete with Cooper, but he has jumped on Cooper's civil rights and racial-justice record. Spaulding called on Cooper to retry Kerrick, and he has attacked Cooper for choosing to defend the state's restrictive new voter laws in court and for being slow to support expanded use of body cameras.
"Quite frankly, I think Roy Cooper has proven himself to be a Jesse Helms Democrat," Spaulding said.
The attorney general personally opposed state Republicans' 2013 law that established strict voter-ID requirements and rolled back access to early voting, teenage registration, same-day registration and straight-ticket voting. Cooper urged Gov. McCrory not to sign it. But Spaulding argues Cooper should have opted not to defend the law in court—just as Cooper did on another issue, when he declined to defend the state's ban on same-sex marriage.
U.S. District Judge Thomas Schroeder said in August that a decision on the voting laws would come in the next few weeks, or "possibly months."
Cooper figures to be one of several high-profile Democratic prosecutors who could have to grapple with issues of racial justice and police force as they seek higher office. New York's Democratic Attorney General Eric Schneiderman, a potential 2018 gubernatorial candidate there, was appointed this year to serve as a special prosecutor in cases when police officers kill civilians—an appointment some considered fraught with political risk.
In Missouri, where Attorney General Chris Koster is running for governor in 2016 in the wake of Ferguson and the Michael Brown shooting, the Democrat with a law-and-order reputation is already coming under fire from some Republicans for the way he handled the state's response to riots after Brown's death. The report released this week by the Ferguson Commission recommended assigning Koster as a special prosecutor on cases investigating excessive use of police force.