Nikki Haley Has an Unrealistic Dream
Why the South Carolina Governor's speech on equality is at odds with real life in a state facing some of the deepest racial divides.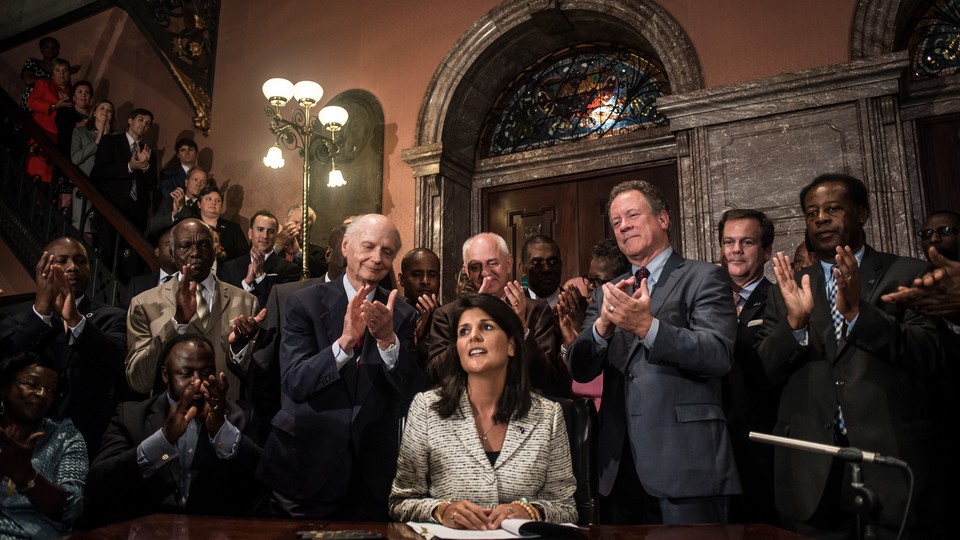 This article is from the archive of our partner

South Carolina Governor Nikki Haley laid out her vision for racial equality at the National Press Club in Washington, D.C.—a speech partially inspired by her state's recent harrowing Emanuel Nine experience. It also presented Haley's vision for South Carolina's position in what she called the "New South"—not to be confused with the "New South" designation claimed by Atlanta in the 1990s, or by Charlotte in 2000s. For Haley, South Carolina's New South embraces racial justice through its robust jobs and schools. Haley's math on that was 70,000 jobs created and close to $17 billion invested (what it was invested in she didn't say) over the past five years, plus a significant drop in the state's unemployment rate. Said Haley:
To me, the single-most important thing is the standard of living, and that is mostly driven by the opportunity to find good jobs that pay good wages. … And more South Carolinians are working today than ever before in our state's history. … These jobs are going into places like where I grew up, and many of them will go to African-Americans and other minorities. … These developments have a clear connection to racial equality.
Looking at economic stats across the state, the only clear connection is inequality, much of that based on decisions that Haley has made as governor. It is true that employment is rising in the state: The Bureau of Labor Statistics reported job growth in South Carolina's seven largest counties from September 2013 to September 2014. It is not clear at all, however, that many of those jobs are going to African-Americans.
According to the Urban League's 2015 State of Black America report, which measures income and employment disparities among the nation's top 70 major metro regions, South Carolina has little to brag about. It should be said upfront that in the Urban League report's equality indexes, none of the 70 metros across the nation examined did well on these disparities. The narrowest unemployment racial gap is found in Providence, Rhode Island, where there's a 13 percent Black unemployment rate versus an 8.5 percent for Whites, which is still significantly wide.
Charleston and Greenville are not far behind Providence on that list, but Black unemployment is still almost twice that of Whites in both areas. Columbia, the state's largest metro, ranks 45th with a 15.7 percent Black unemployment rate compared with 6.7 percent for Whites.
Income disparity is even worse in these South Carolina metros, according to the report:
In Columbia, average Black household income is $35,890 versus $58,162 for Whites.
In Greenville, average Black household income is $29,269 for Blacks versus $50,315 for Whites.
And in Charleston (including North Charleston), it's $29,799 for Black households compared with $64,553 for Whites. Only eight other metros in the nation did worse than Charleston in this category.
The state isn't faring so well overall economically. While Haley boasted that unemployment has dropped, Business Insider reminds us that unemployment in South Carolina is still the sixth highest in the nation and that its per capita GDP—$39,380—is the third lowest.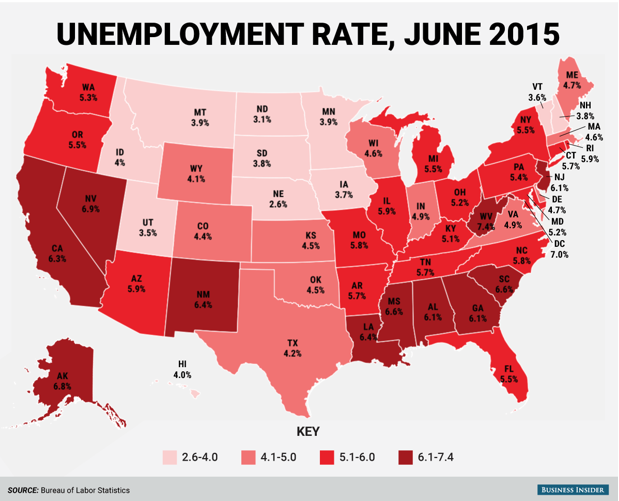 When broken out by race, the statewide racial gap in unemployment is among the widest in the nation. As Valerie Wilson writes at the Economic Policy Institute, South Carolina is one of the few states that has restored its Black unemployment rates to pre-recession levels, but that's only because it was one of the few states where "Black unemployment rates were among the highest in the nation before the recession."
If Haley were concerned at all about the fact that far more of the state's Black residents are without jobs than Whites, she could have done better on the unemployment-benefits front. Instead, she led her state to become one of nine that reduced the maximum term one could collect unemployment insurance. Now, the state is dead last among all states for percentage of people receiving short-term (less than six months) unemployment insurance. "Strikingly, these short-term recipiency levels indicate that regular state U.I. programs are failing jobless workers who need income replacement and support of work search," write Rick McHugh and Will Kimball of the Economic Policy Institute.
Of course, having a robust workforce depends heavily on how well the state's education system performs. Speaking at the Press Club, Haley acknowledged South Carolina's failures in this arena. She brought up the fact that her daughter attends "a brand-new public high school in Lexington, where every classroom has a flat-screen TV and every child a tablet," but that when she visited a school in Bamberg, the county where she grew up, "they didn't even have the equipment to play a simple video."
The demographics of these two places are telling: The town of Lexington, where the schools have flat-screen TVs, has an 80.8 percent White population, and just a 12.7 percent Black population. In Bamberg, the Black population is 61.4 percent compared with 36.8 percent White.
The Urban League report flags South Carolina for suspending 13 percent of Black male and female students compared with 4 percent of White students during the 2011-to-2012 school year. On math scores, 13.8 percent of Black fourth-graders scored proficiently or above, compared with 48 percent of White fourth-graders in 2013. By eighth grade, the Black math-proficiency rate dropped to 10.5 percent compared with 44.6 percent for Whites.
Despite this, Haley said sees "the biggest challenge facing South Carolina's education system" not as racism, but as "our failure to acknowledge that it simply costs more to teach a child who lives in poverty."
And to that end, Haley said she changed the state's funding formula "to send additional state dollars to children who are on Medicaid or receive free and reduced lunch."
What she left out is that she has also vehemently opposed expanding Medicaid, per the Affordable Care Act, leaving more than 160,000 people uninsured. Of those, 21 percent are Black—the fifth-highest Black uninsured rate in the nation—compared with just 13 percent of Whites.
Haley was courageous enough to say in her speech that "Black lives matter," but maybe just not those who lack jobs and insurance. Still, her vision of racial equality in the "New South" Carolina does include addressing civil rights. In terms of this, she focused on the state's voter-ID law, a matter that was already resolved in a 2012 court ruling but apparently not for Haley. The judge granted the state its voter-ID-requirement law, but a much more lenient version than the one Haley and other sponsors of the bill originally wanted.
"There are those who act as if any effort whatsoever to maintain the integrity of the voting process is a racist attack on civil rights," said Haley Wednesday. "Requiring people to show a photo ID before they vote is a reasonable measure. It's not racist. If everyone was willing to stop shouting and stop trying to score race-baiting political points, we could reach common ground."
I doubt that by "race-baiting" she meant that time a constituent emailed state representative Alan Clemmons, the author of the voter-ID law, with a message about opposing handing out free IDs because Black people would flock to this like "bees going after a watermelon." (A gesture to which Clemmons replied, "Amen.") I also doubt she was referring to the facts presented in the state's own data that hundreds of thousands of African-Americans would be burdened by the law. Rather, Haley went on to chide Black Lives Matter protesters in Ferguson and Baltimore for not handling their concerns the civilized, Dixie way.
"We didn't have riots, we had vigils," said Haley. "We didn't have violence, we had hugs."
Maybe this was the hug she was talking about, when a Black state trooper stepped in to help steady a sun-stroked White supremacist rallying in front of the state legislature in defense of the Confederate flag.
This article is from the archive of our partner CityLab.