New Data Backs Blended Learning
Case studies highlight school districts with effective digital and traditional instruction.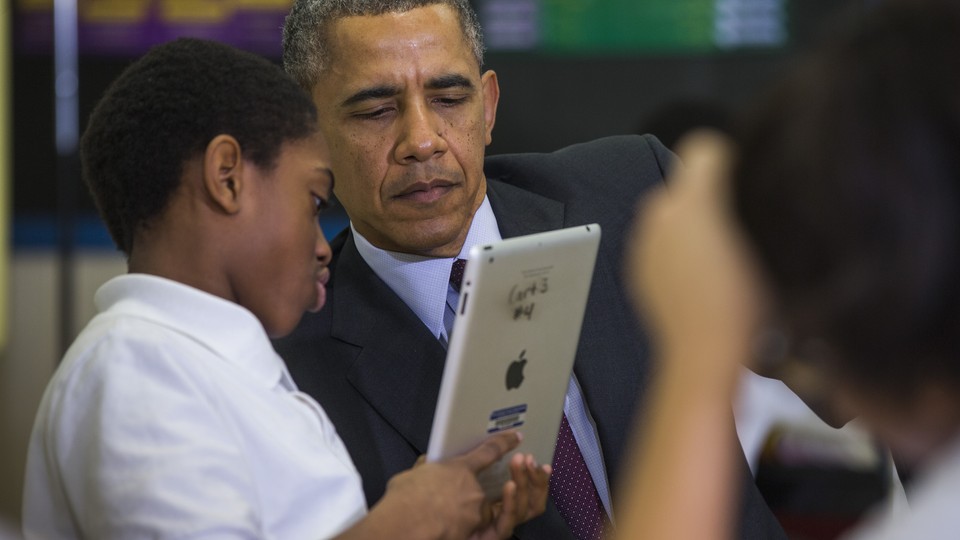 For advocates of blended learning, the idea that students learn best through a combination of online and traditional classroom instruction that allows them to progress at their own pace is not new.
Now proponents have fresh data to back the idea.
On Thursday, the Evergreen Education Group and the Clayton Christensen Institute for Disruptive Innovation will unveil a set of case studies that highlight districts who have adopted the blended learning model with positive results.
Michael Horn, cofounder of the Christensen Institute and executive director of its education program, told Next America the idea is gaining steam "quite rapidly," but until now, there have been few studies on its impact.
As the nation's demographics shift, he said, these case studies indicate that blended learning offers a particularly compelling model for educating a student body that is becoming less and less homogenous.
"These students come in from very different backgrounds with varying levels of knowledge and English-speaking abilities ... at hugely different points," he said, "and the idea of blended learning isn't to fracture those things ... but to help bring up all students so they can be at the same point when we have these rich [classroom] conversations."
In Middletown, New York, where half of the children are Latino and 12 percent are English-language learners, students rotate between stations for math and reading depending on their abilities. Some might work on computers, others might work in a small group, and still others might meet one-on-one with their teacher.
Students in blended-learning classrooms scored 18 percent higher on spring 2015 reading tests and 7 percent higher in math than those in traditional classrooms. Launched in fall 2013 in 33 classrooms, the district will expand blended learning to all elementary school classrooms by October.
"It's a way to scale what a tutor can do for an individual student," Horn said.
The 12 districts in the study each used different variations of blended learning, but there were several common threads: strong school or district leadership, engaging instruction from both online and onsite teachers, and digital tools that give students more control over their learning
In St. George, Utah, Washington County School District's graduation rate has climbed from 80 percent in 2012 to 88 percent in 2014 after a virtual high school was added in 2011. The district, the study notes, uses online courses (and on-site mentors and counselors) that focuses on content mastery over pure credit hours.
That idea, known in education circles as competency-based learning, has gained traction in recent years—particularly at the college level—from a bipartisan cohort that includes the White House, Republican presidential candidate Marco Rubio, and Senate education committee chairman Sen. Lamar Alexander.
That, Horn said, "brings huge momentum into the legislatures at all levels."
But there are challenges. While Horn says adoption of blended learning has been rapid, there is little data on its impact, which makes it hard for advocates (and opponents) to pin down exactly who's using it and to what effect.
Horn's team estimates that at least 9 million K-12 students are doing some form of blended learning for at least a portion of their day, but there's no exact figure. For context, there are approximately 50 million students in public elementary and secondary schools nationwide. There is data, though, to suggest that online learning is increasing. In 2000, about 45,000 elementary and secondary students took an online class. In 2009, that figure was more than 3 million.
The other issue is that blended learning gets lumped in with "ed tech," which has run into backlash after several very public failures. Anybody remember LA's iPad debacle? More recently, a widely covered study suggested that frequent computer usage is associated with lower test scores.
For Horn, that attitude is a cop-out.
Simply putting computers into a classroom and expecting magic to occur is ludicrous. But if a learning environment that benefits students is designed to address a particular problem--low test scores or poor reading proficiency, for instance--and then tech is used to foster its creation, Horn said, that's where positive results are possible. Too often, technology is brought into classrooms without a plan for its use.
"Tech for tech's sake," he said, "produces no impact."
However slowly blended learning is gaining steam, it's continued expansion is likely. Textbook providers have morphed into digital-learning providers, and more and more children have access to computers at school and home. The bulk of parents support technology as a learning tool.
For his part, Horn hopes these case studies will prompt education reformers to see blended learning as a realistic and attainable picture of how learning will take place in the future.