Neither Side Budges as Senate Blocks 20-Week Abortion Ban
The vote fell mostly along party lines amid a broader skirmish over Planned Parenthood.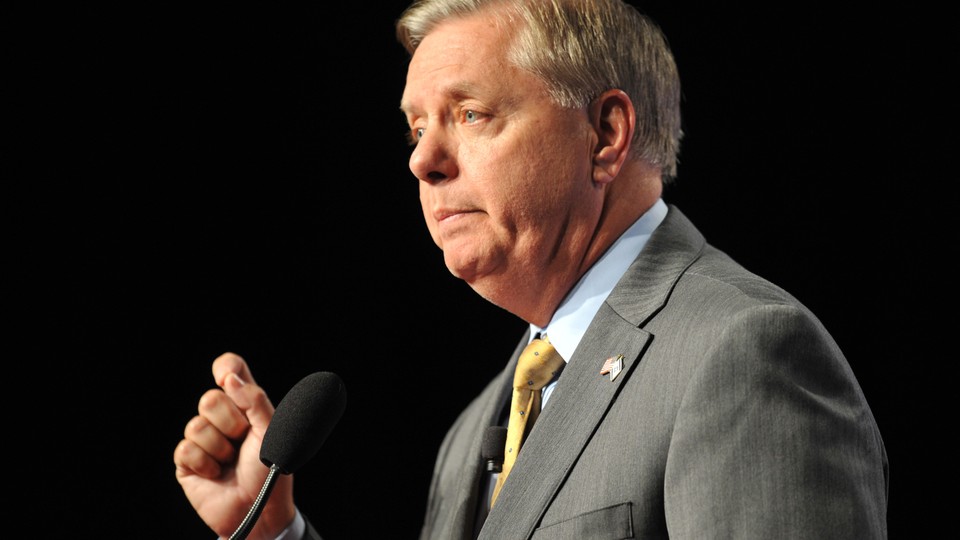 The Senate on Tuesday failed to advance a bill that would ban abortions after 20 weeks of pregnancy, yet another indication that neither party plans on budging when it comes to the war on abortion and Planned Parenthood.
The bill, introduced by Sen. Lindsey Graham earlier this year, failed to overcome a Democratic filibuster in a 54-42 vote, with Democratic Sens. Robert Casey, Joe Manchin, and Joe Donnelly, and Republican Sens. Mark Kirk and Susan Collins, deviating from what was otherwise a party-line vote.
While Democrats called the vote a waste of time as the Senate hurtles toward a potential government shutdown over Planned Parenthood funding, Republicans pointed to banning late-term abortions as an issue that Americans generally support.
"Even if we differ on the larger abortion issue, can't we at least agree that children at this late stage of development deserve our protection? The American people seem to think so," said Majority Leader Mitch McConnell in a floor speech on Tuesday.
Polls support McConnell; a 2013 Washington Post-ABC News poll showed 56 percent of Americans would like to shrink the abortion window from 24 weeks to 20 weeks, and another 10 percent wanted an even smaller window or a complete ban on abortions. A measure similar to the Senate bill passed the House in May.
The vote was held two days before the arrival of Pope Francis and amidst speculation over whether he will weigh in on the abortion battle raging on Capitol Hill. McConnell fast-tracked two abortion bills on Monday that passed in the House last week, one of which defunds Planned Parenthood for a year, that could be voted on sometime on Thursday—the same day as the pope's congressional address.
But Democrats say the vote—and perhaps its timing—was only a messaging vehicle and was catered to conservatives who are demanding GOP leadership do whatever it takes to eliminate federal funding for Planned Parenthood through a must-pass spending bill, which would most likely lead to a government shutdown reminiscent of two years ago.
"Today in the face of a government shutdown, they've decided to waste the government's time on a 20-week abortion ban. Every senator in this body knows this bill is going nowhere. This attack is a waste of time," said Minority Leader Harry Reid on the floor on Tuesday. "By holding today's vote, the Republican leader is pandering to the right-wing extremists in his party who are willing to take our government hostage to try and score, for nothing better describable, than political points."
"Ultimately, I think we need to be spending our time on averting a shutdown, not rehashing arguments in which the outcome is preordained," said Democratic Sen. Chris Murphy. "I ultimately think that decisions about reproductive health should be left to women and their families."
Collins said she voted against the bill because it does not include an exception for the physical health of the mother, pointing to state laws that include such an exception.
The calls to defund Planned Parenthood are a response to a series of sting videos that allegedly show organization officials illegally selling fetal tissue. Planned Parenthood denies the allegation and says it donates the tissue for medical research and charges the overhead costs, which is legal.
Shortly after the vote in the Senate on Tuesday, the House Oversight Committee announced it would invite Planned Parenthood's president, Cecile Richards, to a hearing scheduled Sept. 29, the day before a spending bill is due to keep the government open. Planned Parenthood had not yet been invited to hearings conducted by House committees into the organization's activity.
Oversight Committee Democrats said they objected to the Republicans' plan to invite only Planned Parenthood to testify and said that if the Republicans went forward with it, they would invite David Daleiden, the head of the Center for Medical Progress, to testify as well. The Center for Medical Progress filmed and released the videos, which Democrats say are deceptively edited to support the allegations against Planned Parenthood.
"We strongly oppose this biased, one-sided attack against Planned Parenthood that disregards the questionable activities of Mr. Daleiden merely to help the House Freedom Caucus shut down the government and potentially oust Speaker [John] Boehner—all while jeopardizing healthcare services for millions of women across the country," the Democrats wrote in a letter to Oversight Chairman Jason Chaffetz on Monday.