Moderates Look to Flex Muscle in Majority-Leader Race
Without their own horse in the contest, GOP centrists want to at least influence the outcome and push for party rebels to punished more aggressively.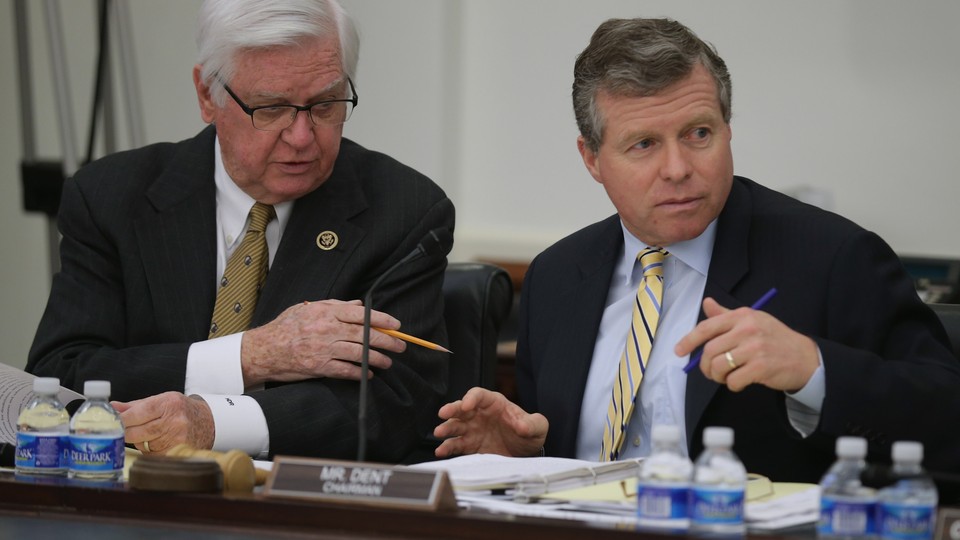 Without a candidate of their own in the race for majority leader, House Republican moderates and defense hawks are looking to influence the contest as a counterbalance to conservatives, with some even advocating extreme punishment for rebellious members.
Sensing strength in numbers, members are pushing leadership candidates for assurances on military spending, procedure, and internal conference politics in exchange for their support.
Conference Chairwoman Cathy McMorris Rodgers, a member of the moderate Tuesday Group, announced Monday evening she will not run for majority leader. That deprived many among the roughly 50-strong centrist group of their first choice for the post. Neither Majority Whip Steve Scalise nor Budget Committee Chairman Tom Price fit the bill, they said.
"I'm totally open on that one," said Rep. Jaime Herrera Beutler, who was an aide to McMorris Rodgers before joining Congress herself. "I was trying to ask myself that question yesterday. This is a decent group of folks. … Where are we going to go? I think people are going to hold their votes for a bit."
Members of the Tuesday Group interviewed for this story said that it is possible the group could vote as a bloc but that has not been decided. Candidates for the leadership posts are expected to meet privately with the group during the campaign. Already it is becoming clear that many of the moderates, who have long been known to help leadership pass tough bills conservatives refuse to support, are now hoping to dish some toughness back.
"A lot of folks who regularly vote for the bills are largely members of the Tuesday Group," Rep. Charlie Dent said. "They put the votes up all the time and leaders get to take passes. I want to make sure that the new leadership team understands that they go up on the board first as, 'Yes.' They're the first yeses. That's part of being a leader."
The Tuesday Group met earlier in the week, and on Tuesday afternoon a number of its members dined privately with Speaker John Boehner. Several members of the group are advocating for a House rule that would essentially banish members from the conference if they vote against a candidate for speaker on the House floor when that candidate has already been elected by the conference behind closed doors. Those members would not be welcome in conference meetings and would lose key committee posts.
Similar ideas were posed earlier this year, when 25 Republicans voted for someone other than Boehner on the House floor, even after the conference had privately voted to elect him as speaker. And even if that rule does not pass muster with the conference, there are other leverage points for moderates.
Many within the group are wary of sequestration's defense budget caps, which would hold military spending to $499 billion in fiscal 2016. The issue became a major flashpoint between defense hawks and budget hawks earlier this year. Many conservatives, to the dismay of defense-minded members, are supportive of sequestration as a means to control overall spending.
"You can't on the one hand criticize the president's lack of foreign policy and on the other hand say you support decimating our military," said Rep. Adam Kinzinger, an Air Force veteran and Tuesday Group member who is uncommitted in the majority-leader race. "The two are not congruent, and so that's going to be an interesting dynamic in the leadership race. The most important thing in my mind is who's going to be open to actually having the discussion about making our military stronger."
The issue is providing perhaps the most coherent contrast between Scalise and Price. Defense hawks feuded with Price earlier this year when he wanted to offset off-budget counterterrorism spending in the House budget, funding that other members wanted to use to plus-up military operations. That feud is already driving at least some of the moderate members to Scalise's side. Energy and Commerce Committee Chairman Fred Upton, a Tuesday Group founder, announced his support for Scalise Tuesday afternoon.
Rep. Mike Turner, another Tuesday Group member who led an effort to push for a defense-spending boost in the budget, said he has assurances from Scalise; Majority Leader Kevin McCarthy, who is running for speaker; and Rep. Patrick McHenry, who is running for majority whip, that they will "work to set aside sequestration and fully fund defense." Scalise's office did not dispute that assertion.
"When you look at the work that was being done by the Budget Committee this year, and it was not reflective of the conference but a minority view of the conference, we are certainly concerned about an environment like that having control of the whole floor," Turner said. "We were being frozen out."
A Republican aide close to Price's campaign disputed that, however, noting that Price supports a strong defense budget, and that Price would support breaking the firewall between defense and nondefense spending and would keep an open line of communication with members if elected majority leader. The aide added that Price specifically met with Turner and other concerned members in an effort to find more defense funding without legally violating the spending caps.
Rep. Carlos Curbelo, another Tuesday Group member, said he is strongly leaning toward Scalise as well, especially because he has been willing to punish unruly members. Scalise has kicked several members off of his whip team because they turned against leadership on procedural votes.
"Our leaders don't have to be people we agree with on every single vote. Our leaders have to be people we trust, who are going to hold our conference accountable, and who are going to be honest with the voters about what we can achieve within the constitutional framework. And I think Steve is certainly capable of that," Curbelo said.
Still, lingering questions about Scalise—on his performance as whip, and whether he spoke at a white-supremacist rally in 2002—complicate the calculation for some members. That opens up the possibility that another candidate could make a last-minute jump into the race.