Mitt Romney Surveys the 2016 Field
The former Republican nominee on his would-be heirs, including Donald Trump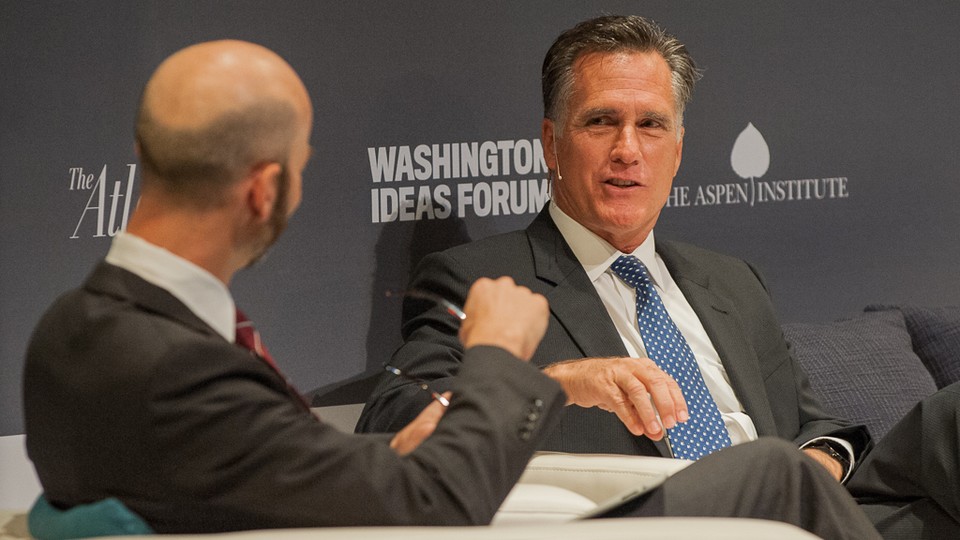 As he looks back on 2012, Mitt Romney has some regrets. "I wish I could do it again," he told The Atlantic's James Bennet on Wednesday during an interview at the Washington Ideas Forum. "You learn from your experience."
"You could!" Bennet interjected.
Romney reiterated that he's not considering getting into the current presidential race. But, he said, "There's some things I'd do differently."
Chief among them: convincing minorities and the poor that Republicans have their best interests at heart. "Darn it, I wish I could do that properly!" he said.
Romney was unsparing in his assessment of the current frontrunner, and he said the general tenor of the race, with its rampant personal attacks, could hurt the GOP in the general election. He divided the field into "insurgent" candidates and "mainstream conservatives," predicting that the contest would eventually come down to one or two of each. In the latter category, he put Chris Christie, John Kasich, Marco Rubio, Jeb Bush, and Lindsey Graham. Carly Fiorina might fit in this group, he said, but it was too early to tell.
"I will support the Republican nominee," Romney said. "I don't think that's going to be Donald Trump."
Romney's evolution to party elder statesman has been a somewhat unexpected coda to his political career. Rather than retreat to enjoy his car elevator and his many grandchildren, he has embraced a public role as the voice of the GOP's moderate establishment. In 2014, he endorsed numerous candidates, helping the party establishment's picks get through tough primaries. And by sounding off on Trump, he's given voice to the sentiments of many in the donor and consultant class.