Mia Love's Surprisingly Unsafe 2016 Reelection Prospects
By the numbers, Love represents one of the safest-looking Republican House seats in the country. But recent controversy over taxpayer-funded flights has highlighted a distinct lack of safety, which even her campaign acknowledges.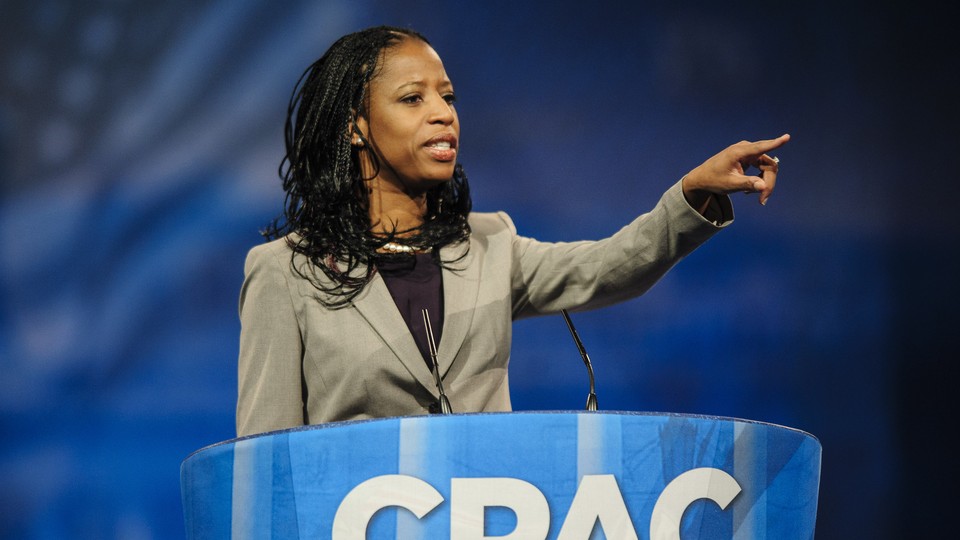 On the surface, it doesn't seem like Rep. Mia Love of Utah should have to worry about her reelection in 2016. Love is a nationally recognized figure as the first African-American Republican woman in Congress, and she represents a district that Mitt Romney won by 38 percentage points in 2012 and where Democrats only made up only 11 percent of active voters in 2014.
But somehow, all signs point to a tough campaign for Love—something that even her own campaign acknowledges, as it plans to go negative on her Democratic opponent. And Love's situation hasn't been helped by shifting stories over what started as a minor controversy about $1,160 in taxpayer money, putting her in the news for the wrong reasons.
Love's office spent that money on airfare to Washington to attend the glitzy White House Correspondents Association dinner. It's not an official event, and at first, Love told The Hill that she traveled to D.C. to hold a strategy meeting with her chief of staff and just happened to also attend the dinner. Love ended up repaying the money to the government, but her office's story has shifted throughout.
Communications director Richard Piatt later told National Journal there was no formal meeting or specific time set ahead of time for a meeting, and that Love and her staff met informally throughout the weekend.
Love also initially told The Hill that she ran the trip by the House Ethics and Administration Committees. Piatt said Love didn't actually get permission or guidance from either committee about her trip.
"Administration sent her a copy of the guidelines and those are the words she used to come to conclusion that she did," he said, adding in a statement: "Rep. Love paid the money for travel back, and the taxpayers have been made whole. … The office has taken steps to make sure this never happens again."
Love, meanwhile, declined to answer any questions. "I've already put up a statement. It's over. It's not an issue. There isn't anything to talk about," Love said.
Despite the small amount of money in question, the issue has garnered coverage by local and national media as Love struggled to explain her reasoning for using taxpayer money for the tickets.
That plays right into the hands of Democrats who have already painted Love as a creature of D.C. rather than Utah. Love burst onto the national political scene as a featured speaker at the 2012 Republican National Convention.
"Mia Love, the night Romney was nominated, got three-and-a-half minutes, basically in prime time," said Tim Chambless, a political science professor at the University of Utah who is affiliated with the school's Hinckley Institute of Politics. "It's really important that the Republican Party gets Mia Love reelected."
For anyone else representing a district this safe by the numbers, even the negative press might not matter. But Love's struggles didn't begin with her April plane tickets. She shockingly lost her 2012 run for Congress after her RNC appearance, even as Romney romped through Utah. And she mysteriously struggled more than anticipated in 2014, winning by only 3 percentage points during a national GOP wave.
Love's opponent, attorney Doug Owens, clearly overachieved in 2014: His vote total added up to within a few thousand votes of every Democrat and independent who cast a ballot in the district put together. But Owens, whose father served in Congress, is campaigning for the seat again, and political conditions could be more favorable for Democrats in 2016.
Meanwhile, there's also some evidence that Love herself is not particularly popular at home, regardless of her opponent. An August poll by Dan Jones and Associates found Love's favorable rating in the district barely above even: 48 percent to 46 percent. (The portion of the poll covering Love's district did have a relatively large margin of error, though.)
Dave Hansen, a campaign adviser for Love, is not taking those numbers lightly. For one, he says Love has not gotten enough credit for winning in a district that he said is deceptively competitive. Before Love won it last year, Democratic Rep. Jim Matheson held down the seat. Hansen said the district's registration numbers are misleading because Republicans have closed primaries and Democrats have open primaries in Utah, which means voters have nothing to gain by registering with the Democratic Party.
"It isn't a solid Republican district," Hansen said. "It probably leans Republican but not that much. These voters will vote for a Democrat."
(Chambless called that "the positive spin" on Love's close call last year, saying this district was drawn to get a Republican about 62 percent of the vote.)
Meanwhile, Hansen told National Journal that Love already plans to run a more negative campaign against Owens than she did in 2014. He explained that when Love first ran for Congress in 2012, challenging Matheson, she ran a tough race and got the reputation of a negative campaigner. She then took it easy on Owens to make up for it in 2014, Hansen said.
"There's not one negative thing that was said about Doug Owens," Hansen said. "He's kept whacking away at her but there was nothing negative said about Owens. … As far as not mentioning your opponent, that might not work this time."
Democrats agree that the race will be competitive again in 2016 despite Republicans' advantage in Love's district: When asked who some of the top Democratic congressional recruits are this cycle, Owens was the first name out of Democratic Congressional Campaign Committee Chairman Ben Ray Lujan's mouth in a recent interview with C-SPAN's "Newsmakers."