Meet the House Science Committee's Minority Staff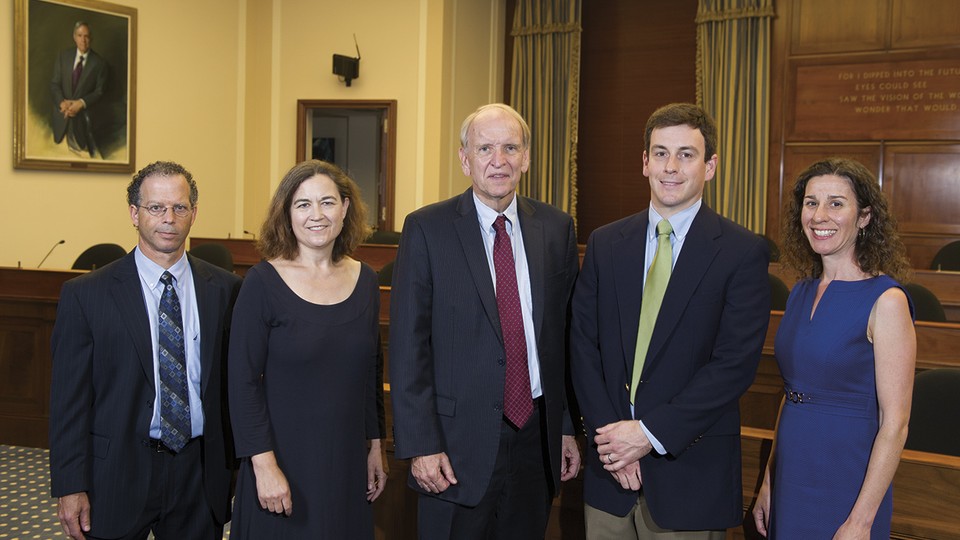 Richard Obermann
Chief of Staff
Space, astronomy, and science fiction. As a child, Obermann was always fascinated by these three topics. And while his path to the committee wasn't direct, it also wasn't unexpected.
Obermann serves as the panel's Democratic chief of staff, a power position for a man who's always been focused on the sciences. He has a bachelor's and Ph.D. in aerospace and mechanical sciences from Princeton (he left New Jersey for a master's in aeronautics and astronautics from Stanford). He also participated in Harvard's Senior Managers in Government program.
He first worked at the MITRE Corporation, which operates federally funded research-and-development centers. He focused on a broad range of programs and areas, such as space systems, telecommunications, urban transportation, and air-traffic control. Obermann went on to the National Academies' Aeronautics and Space Engineering Board, then found his way to the Hill—more specifically, to the Space Subcommittee in 1990, where he became staff director and is now the full committee's Democratic chief of staff.
His days are busy. They're filled with managing the flow of the committee, overseeing scientists, engineers, and attorneys, not to mention the Democratic side's budget and administrative operations. And his spare time? That's for hanging out with family, and "having a son and daughter who are 'tweens,' which means there is never a dull moment, either at work or at home," he wrote in an email.
Doug Pasternak
Chief Investigator
In 2006, a story coauthored by Pasternak began with then-Sen. George Allen of Virginia boarding a flight to Memphis for a Southern Republican Leadership Conference. The next day, the potential presidential candidate went back to Washington—flights that were taken on corporate jets.
A team of NBC Nightly News investigative reporters had found a trend: Some Congress members had access to corporate jets for low prices—a legal, albeit questionable, practice. This investigation won Pasternak and his coworkers an Emmy, and several months later, the former investigative reporter began investigating for Congress instead. He's had his hands in a number of investigations, including the mismanagement of Homeland Security programs, and issues surrounding environmental public health and scientific integrity. Notably, he worked on the investigation of former Commerce Department Inspector General Todd Zinser, which led to Zinser's June resignation.
Investigating as a journalist and as staff for a congressional committee are very similar, Pasternak said. Rather than writing stories, he's writing staff reports.
Before heading to the committee's Democratic side, Pasternak spoke to both parties about investigative positions on various committees. He chose this panel because, according to Pasternak, it had a "reputation as one of the more nonpartisan committees in Congress," which he wrote in an email has "essentially faded away."
In addition to his time as a producer for the NBC Nightly News investigative unit, he worked at U.S. News & World Report. Pasternak has a bachelor's in political science from American University and took master's-level courses in national security studies at the University of Maryland, College Park.
John Piazza
Chief Counsel
Piazza met his wife during an environmental science semester "abroad" at a research center in Arizona, where the two would sometimes swim in the facility's man-made "ocean" to collect samples while tourists watched. It might sound like Piazza specializes in Earth or oceanic sciences for the committee. Actually, he serves as chief counsel, having unexpectedly found himself marrying his original interest in science with his law degree.
Piazza was studying environmental science at Columbia University with aspirations to become a scientist or a physician when he decided to change his career path, turning to law school instead.
After obtaining a degree from Washington and Lee University, he served as a prosecutor in Tucson, Arizona. But he moved to D.C., where he landed a job working on the committee largely by chance—and through an informational interview with the then-chief of staff, who wound up offering him a job. Nine years later, he still works for the committee.
On the Hill, he's responsible for legislative, legal, and parliamentary process issues for the panel, while also working on oversight. And he enjoys the committee's subject matter—hearing from Nobel Prize winners one day and astronauts the next. "You get exposed to a lot of different, interesting, cutting-edge stuff," Piazza said. "It keeps it fresh, it keeps it interesting, intellectually stimulating."
He spends his free time with his family, going hiking and camping with his children, among other activities.
Dahlia Sokolov
Staff Director, Research and Technology Subcommittee
Sokolov is a self-professed "bona fide nerd." In the past year, she's worked on a wide array of legislation addressing everything from forensic sciences to advanced manufacturing, cybersecurity to natural hazards. This diversity is what she loves about her job, and coming from a science background, she has a deep passion for the issues under the committee's watch.
Capitol Hill wasn't initially on Sokolov's radar screen (she graduated from University of California, Berkeley with an engineering physics degree and got a Ph.D. in bioengineering from the University of Washington). In fall 2004, she left the lab for a year to work in Congress as a science and technology policy fellow sponsored by the American Institute of Physics. Her mindset: She'd work there, then move on to something else in the science policy world.
But more than 10 years later, Capitol Hill is still her professional home. "I got the bug, as they say," she said.
Sokolov's held a variety of roles on the committee since her fellowship, starting in July 2005 as professional staff for the Energy Subcommittee's Republican side, moving on to subcommittee staff director before switching to the Democratic side in 2007. She now serves as the staff director for the Research and Technology Subcommittee. She hopes the committee at large continues to move meaningful legislation through, but as a scientist, she's concerned.
"What we do (or don't do) really has an impact on U.S. science, so I do genuinely worry about the future," she wrote in an email.
But that doesn't keep her from having a good laugh. Sokolov took improv classes for about a year, complete with participating in a public performance as the finale to each eight-week course.
Pamela Whitney
Professional Staff, Space Subcommittee
Years ago, when Pamela Whitney was employed at a publishing company, she was working on books about computers and space. She quickly became intrigued with the questions surrounding space—and how they converged around technology, policy, and international issues.
Whitney was hooked. She'd already graduated from Smith College with a bachelor's in economics. And when she went to get her master's in international communication from American University, she learned about space policy and held an internship at a small organization working on security and cooperation in space.
It's easy to tell Whitney's expertise is in space (she's now been in the field for more than 20 years). She's a member of Women in Aerospace and of the International Academy of Astronautics. Prior to joining the committee in 2007, she directed studies and managed committees on international collaboration in space science, space policy, and more as senior program officer and study director of the National Academies' Space Studies Board.
As Democratic professional staff, Whitney provides research and background to Democratic committee members as they ready for hearings, budget analysis, and more. She often interacts with NASA officials, industry representatives, and nonprofits to stay abreast of the most topical issues.
In her spare time, she enjoys being outdoors, hiking, and cooking. She's the mom to identical twins, which keeps her busy.