Meet the House Science Committee's Majority Staff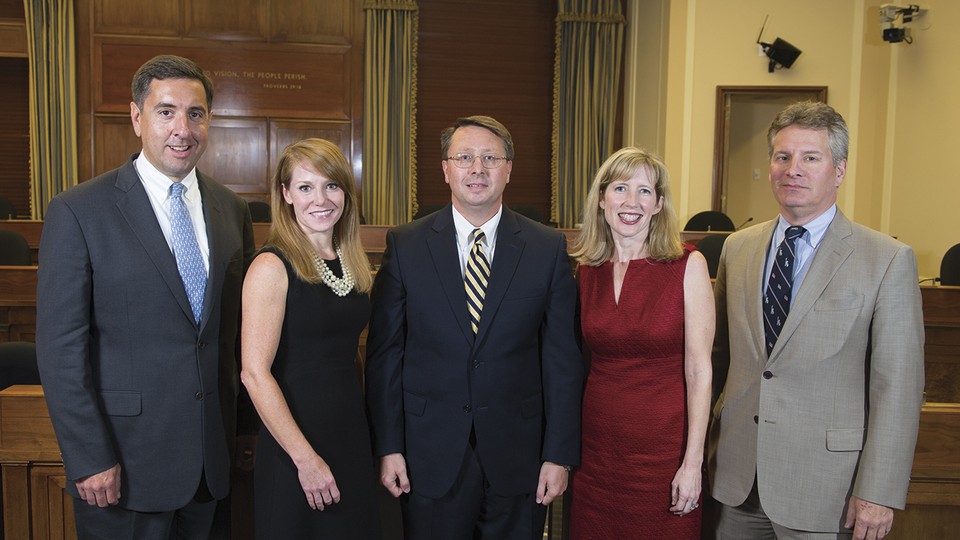 Jennifer Brown
Chief of Staff
Brown is proud to be a Texan. And although her two children have been raised in D.C., this fifth-generation Houstonian infuses her Texas pride into her son and daughter, sending them to Texas sleepaway camp for two weeks every summer.
For more than 26 years, Brown has stayed true to her roots, working for Rep. Lamar Smith of Texas. She graduated from the University of Colorado with a bachelor's in political science and began working as a staff assistant in Smith's personal office. She gained more responsibilities and went through various promotions before becoming chief of staff. Brown hires and manages policy experts, communications staff, and administrative support staff as well as overseeing and coordinating the senior management team and advising the chairman.
"I'm constantly still learning," Brown said, which is partly why she's spent her whole career on Capitol Hill. And she's stayed with the same member, too. "He's here for the right reasons, he's committed, he really wants to do the right things for his district," and, she said, "there's nothing else he'd rather be doing."
Brown wants the committee to "continue our vigorous oversight efforts" and she hopes "to pass pending legislation that highlights innovative ways to revitalize America's space program and continue to find unique ways to prioritize the vital support for research and development for our next generation of entrepreneurs and inventors."
Chris Wydler
Legislative Director
Wydler joined the committee staff two years ago, but this isn't his first time working for the panel. In the 1990s, he worked as Republican legislative director both in the minority and then the majority when the GOP took control of the House. And he's happy to be back.
"It is very fulfilling to have the opportunity to continue to pursue the conservative pro-science agenda of advancing basic research and fundamental discovery to help fuel the future engine of economic growth and an improved quality of life for all Americans," Wydler, who graduated from Dartmouth College with a bachelor's in government and economics, wrote in an email.
These are issues he's worked on in the past, when he served as House Budget Committee deputy staff director under then-Chairman John Kasich. Under George W. Bush's presidency, he was the assistant director of federal research and development in the Office of Science and Technology Policy. And before joining the committee for a second time, he was the senior adviser to the chief scientist and the CFO of the Office of Oceanic and Atmospheric Administration Research.
From the looks of Wydler's resume, he's been busy professionally. But, from the looks of the 350,000 miles on his recently retired 2002 Yukon, he's also been busy with family activities (including driving to and from hockey games for his three sons, who are now all in their 20s).
Mark Marin
Policy Director
Marin is used to juggling. During the week, he advises the chairman. He helps craft committee policies on energy, oversight, and the environment. And he manages several teams whose responsibilities include picking witnesses, preparing hearing materials, briefing members, crafting legislation, and much more.
But on weekends, you can find Marin flitting from soccer field to soccer field, from D.C. to Maryland to Virginia, to watch his three children play the game. His schedule may be packed, but Marin's not complaining: "My father is Colombian, so I was raised with a love of the game and knowing it is by far the greatest sport in the world."
Marin came to the committee at the start of the 114th Congress by way of the House Oversight and Government Reform Committee, where, since 2008, he had served as a senior professional staff member, director of oversight, and then oversight deputy staff director. As deputy staff director, he helmed oversight of the administration and federal agency regulations; often this work focused on the Department of Energy and the Environmental Protection Agency.
Marin wants the panel to continue its strong oversight agenda. "When an administration begins to near its end and becomes even more athletic in its rule-making, congressional oversight is more necessary than ever to make sure that rules and other policies are being developed in an appropriate way," Marin wrote in an email.
Prior to his work on the Hill, Marin worked at government relations firms and at the American Society for Engineering Education. He received a bachelor's in political science from the University of North Carolina at Chapel Hill.
Ashley Smith
Director of Operations
It's hard to name a professional sector where Smith hasn't worked. She spent time in local government. She worked in the private sector. She started her own business, worked at a nonprofit, and practiced law, and after all that, came to work in Lamar Smith's personal office in 2011.
She started as his scheduler, moving her way up to legislative assistant and then to being the committee's director of operations, a job in which she has a litany of responsibilities. Smith's job, as she puts it, is to "keep everyone upright, from the chairman on down." She helps oversee the operations of more than 45 staff, solves problems when they arise, and more—all while focusing on the larger picture.
Smith also manages special projects for the chairman. She helped with the renovations and technology upgrades for the committee's hearing rooms. She traveled to Antarctica for a 10-day codel she helped plan and lead for 10 lawmakers.
Traveling isn't new for Smith: She's worked in D.C., Chicago, and China after majoring in finance and receiving her juris doctor from Southern Methodist University in Dallas and a master's in child and family law from Loyola University Chicago. Smith also traveled across Scandinavia and Russia by herself.
Chris Shank
Coalitions Director
Space is a recurring theme on Shank's resume.
In the summer of 1995, he was in Stockholm, Sweden, attending an eight-week summer session at the International Space University, where he contributed to a chapter on defending the earth from asteroids for a student project. That fall, Shank began a master's in aerospace engineering at the University of Colorado. He has a bachelor's in mathematics from the University of Notre Dame.
Shank was in the Air Force for 11 years, and he spent part of that time working on GPS for Air Force Space Command and also at the National Reconnaissance Office. He then spent four years on the Science Committee before turning to work for NASA as strategic-investments director; he was also charged with directing the agency's legislative, public affairs, and education initiatives. But after working at NASA, and other space- and science-related gigs, Shank returned to Capitol Hill in 2011, and he served as Rep. Smith's deputy chief of staff.
Now he is the committee's coalitions director, meaning he creates coalitions of members and stakeholders to push for the committee's policy initiatives. He says his goal is to work with the scientific community to support and advance the panel's legislative agenda.
Shank has been to roughly five space-shuttle and four unmanned-rocket launches. At one such launch, he says, his father-in-law told Star Wars creator George Lucas that Shank and his wife—who were expecting a child—were going to name their daughter Princess Leia. (They named her Elizabeth.)