Meet Republicans' Potential Colorado Senate Candidate: The Aurora Theater Prosecutor
District Attorney George Brauchler, who just prosecuted movie theater shooter James Holmes, is now considering a run for Senate in 2016.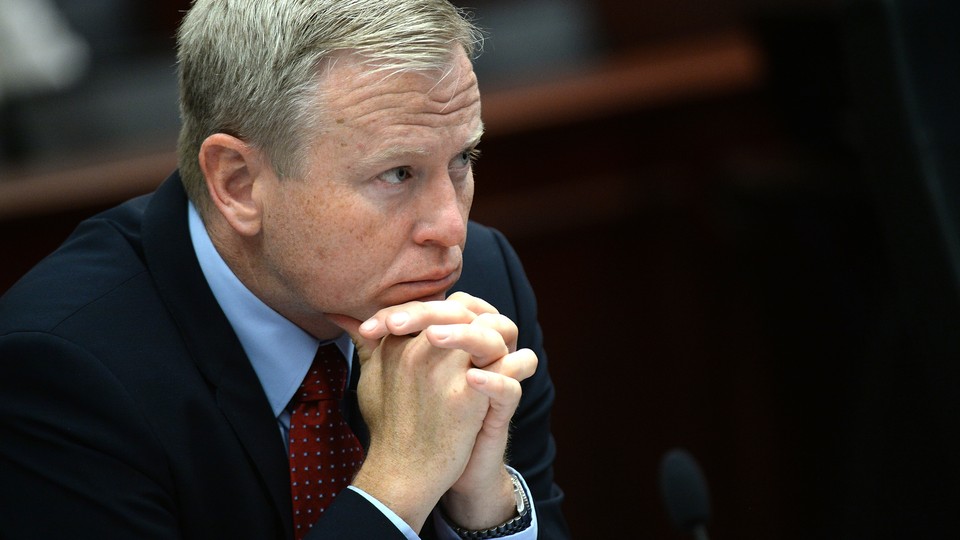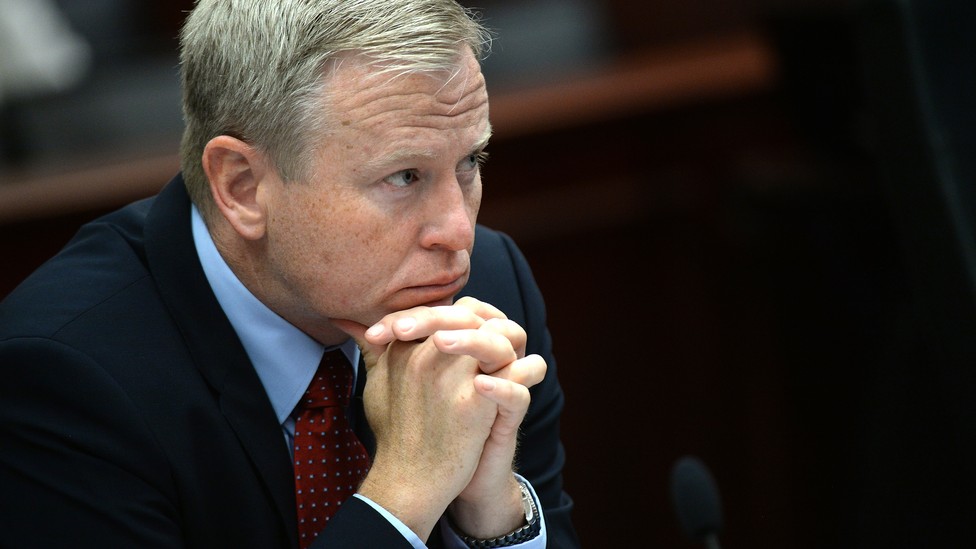 George Brauchler just finished perhaps the most grueling stretch of his professional life. Now, fellow Republicans are beseeching him to jump right into another contest.
The Colorado district attorney who tried Aurora theater shooter James Holmes is the Republican Party's top pick to run against Democratic Sen. Michael Bennet in 2016. Since Rep. Mike Coffman announced in the spring that he wouldn't run for higher office, the GOP has been on the hunt for a marquee candidate, and many in the party think Brauchler is just the man for the job after prosecuting one of the United States' notorious recent mass shootings.
First, though, Brauchler and his family have to convince themselves.
In an interview with National Journal, Brauchler said he was still trying to reconnect with his family before making a decision, but the calls pushing for an answer had picked up significantly.
"Since the trial's over, the efforts to reach out to me and to give me advice and to discuss the lay of the land have really picked up," Brauchler said. He declined to confirm whether the National Republican Senatorial Committee had been in touch, but Brauchler said he's been speaking to members of the Colorado congressional delegation. Last Friday, he talked with Coffman.
Also on his to-do list: Sitting down with Sen. Cory Gardner and his wife to discuss the work-and-family-life balance of being a U.S. senator. Brauchler promised he would make a Senate decision soon, based largely on discussions with his family.
"I'm trying to sort this out in my head, how do I play the role of father and husband with four kids at home if I earn this position," Brauchler said.
The four-month trial of Holmes—and the three years leading up to his life sentence—raised Brauchler's profile significantly. In his first week off the Holmes case, he was featured in a Q&A by People magazine.
The case also kept him from discussing his political future. But the district attorney has been on the Republican radar for some time. Brauchler, 45, is relatively untested politically, having won his DA term in 2012 after first challenging the Republican incumbent in 2008. But he is young, charismatic, and served in the military. He hails from some of the most important political turf in Colorado, just outside Denver. And he made his name as an advocate for Colorado's death penalty (and a fierce critic of Democratic Gov. John Hickenlooper's decision to suspend executions), pushing unsuccessfully to have Holmes sentenced to death for the murders he committed in 2012.
Brauchler insists that he's never been one to plot his political future, but has already drawn criticism from Democrats for pushing a lengthy, expensive death-penalty trial—aiming for life imprisonment would have shaved months off the case. Opponents charge that Brauchler did it to help his own political career.
"I just don't have that kind of political ambition," said Brauchler. "I'm not one of these guys that mapped out a road to the White House or the governor's office. I wanted to be DA."
Whatever the case, the trial turned Brauchler into a candidate who could potentially clear a Republican primary field. Colorado Republicans, including Gardner and others, have said that other potential Senate candidates are waiting for Brauchler to say yes or no before figuring out their plans, and avoiding a contentious primary would be a big help ahead of a tough race against Bennet in a presidential year. Clearing the GOP field was an important factor in Gardner's rise to the Senate in 2014.
Yet Colorado conservatives say Brauchler shouldn't expect a free pass if he decides to run. Ultraconservative El Paso County Commissioner Darryl Glenn has thrown his name into the hat, and a candidate with the potential to self-fund, businessman Robert Blaha, has said he's "seriously considering the race."
Blaha told National Journal in an interview Monday that he'd been to D.C. multiple times to discuss the race with national conservative groups, and that a Brauchler bid would not affect his decision. Blaha mounted an unsuccessful primary challenge to Rep. Doug Lamborn in 2012, where he spent about $1 million, and said he'd be willing to invest his own money in the Senate race as well. He declined to talk specifics about a primary against Brauchler, but suggested any candidate trying to "focus group" their positions wouldn't survive a GOP primary.
"What are his stances on the major issues?" Blaha said. "My positions are pretty black-and-white clear."
Brauchler has left little evidence of his positions on major federal issues during his short political career. Allies pointed to that as a plus, saying he lacks the target-rich records of past Republican candidates whose votes on abortion and other issues came back to haunt them. (Gardner had to deflect them, too, on his way to victory in 2014, though Democrats still claim their attacks helped keep the last Senate race close.)
Asked about his views on immigration reform, Brauchler suggested he supported some form of legal status to protect immigrants from being taken advantage of in the justice system, but he declined to specify whether that would include a pathway to citizenship. "If I get to be a candidate, I promise I'll answer those questions," he told National Journal.
But Brauchler has made some statements Democrats could surely use against him. On climate change, Brauchler suggested in a 2007 radio interview that there was no "scientific consensus" that humans are at fault, something green groups could latch onto in a general election. And while Brauchler isn't tied to the legislature's personhood measures, he does maintain an antiabortion position, saying in a questionnaire from the Elbert County Republican Party in 2012 that "I believe that the results of the Roe v. Wade opinion are wrong."
Nevertheless, powerful Republicans are pressuring him to carry their flag in the Colorado race—and to make a decision soon. Brauchler chuckled when considering how the Holmes trial had kept GOP recruiters off his back for months.
"You know what might have been lucky?" he said. "If Coffman had said yes [to running for Senate]. That would have been lucky."