Medical Innovation Bill Passed the House With 344 Votes; Now It's On Life Support
Chairman Fred Upton's '21st Century Cures' measure has little momentum in the Senate.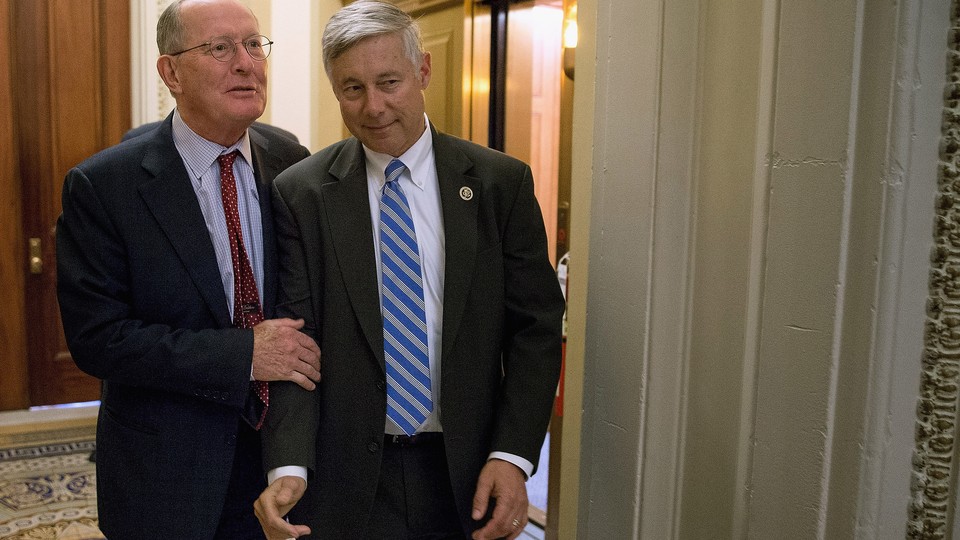 Fred Upton almost made passing his medical-innovation bill through the House look easy.
After more than a year of work, the bill soared through Upton's Energy and Commerce Committee with a 51-0 vote. It then moved to the House floor, where a last-minute hiccup over funding cost it 70 votes from Upton's fellow Republicans, but it ultimately overwhelmingly passed with 344 votes.
Now, however, The Little Bill That Could is probably about to come to a grinding halt, and some say its success up to this point is solely attributable to Upton himself, who is in the final session of his chairmanship and has pulled all the stops in ensuring its passage.
There is speculation that some may have voted to support the "21st Century Cures" bill only because it had Upton's name on it. Which, of course, is very bad news for a bill that already pitted conservative budget hawks against the rest of their party in the House and comes with a price tag upwards of $8.75 billion.
But the bad news doesn't stop there. The biggest Cures pay-for—revenue generated by the Strategic Petroleum Reserve—may not end up being available when all is said and done. SPR cash was included in the Senate version of highway legislation right before recess. Although the House passed its own short-term version of the highway measure, the issue will have to be litigated again in the fall.
To top it all off, the Senate committee working on medical innovation—Health, Education, Labor, and Pensions—has said it will take up its own medical-innovation bill in the fall. Outside of the committee, Senate Democratic Whip Dick Durbin has an alternative medical-innovation bill substantially different than Cures in several ways, including the amount of funding it gives to the National Institutes of Health ($26.6 billion over the next five years versus Cures's $8.75 billion).
With three big strikes against it, the Cures bill is on life support.
"A lot of folks thought the Cures bill was a big turd sandwich," said a lobbyist familiar with the situation. "I know as Cures was going through, the Senate was kind of rolling their eyes."
Yet the Energy and Commerce panel remains optimistic—if not necessarily about the Cures bill itself, then for a medical-innovation bill in general to end up on the desk of the president, who has also committed to working on the issue through the White House's Precision Medicine Initiative.
"I don't think they're insurmountable," said Gary Andres, the majority staff director of Energy and Commerce, of the obstacles faced by the legislation. "I have a lot of confidence the Senate will produce a good product as well…. Everybody really wants to get this done."
Senate HELP Chairman Lamar Alexander has said all along that the Senate is on a "parallel track" with the House, and he hopes to get his committee's version of the bill done before the end of the year.
But Alexander has also been clear that the Senate is not just going to take up the House version, allowing for differences between the two bills and guaranteeing a conference over the two different versions. It is Senate Republicans' preference that the funding remains discretionary, rather than mandatory.
While going to conference is usually a difficult process, it may actually work in Cures's favor. If the bill's start date gets pushed back into fiscal year 2017, there may be more wiggle room in the budget to allow it to be classified as discretionary funding, taking away some of the pressure to find pay-fors as well as criticism from budget hawks. Spending caps may increase, which means it could be easier to fund domestic programs—although plenty of other lawmakers will probably keep this in mind as they write their own legislation.
And even if the Cures funding remains as-is, there's some reason to hope that it can keep its SPR funding. House Ways and Means Chairman Paul Ryan is working on his own highway legislation that uses a different pay-for than the Senate bill. His plan is to fund the bill with revenue from a new international tax system that helps American businesses make things domestically, sell them overseas, and keep both profits and jobs in the U.S., according to a Ways and Means spokesman.