McConnell's Opening Move: A CR That Defunds Planned Parenthood
The Senate majority leader offered a short-term spending measure that strips money from the group, though no one expects it to actually pass the Senate.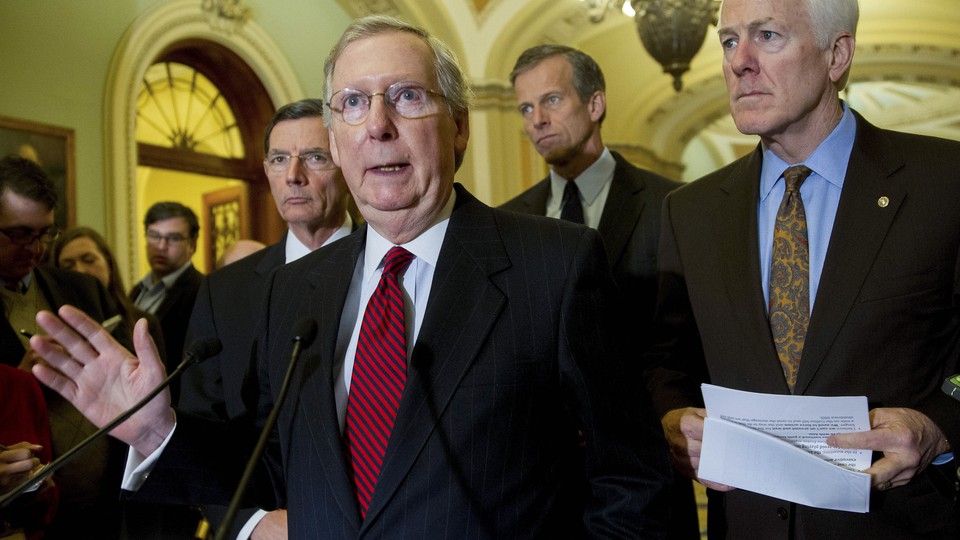 Here we go again.
With just five legislative days left before a government shutdown, Senate Majority Leader Mitch McConnell on Tuesday morning filed a short-term government funding bill that would also defund Planned Parenthood, a coup for conservatives in both chambers.
A vote on the measure, which would fund the government through Dec. 11, will come Thursday, alongside the pope's visit to the Capitol. But the measure is likely to fail, setting up a shutdown countdown clock in the Capitol building ahead of the Sept. 30 deadline to fund the government.
Democrats have said repeatedly that they will not support anything but a clean continuing resolution to fund the government at its current spending levels, and earlier attempts to defund Planned Parenthood failed to garner the 60 votes necessary to proceed, earning just two Democratic votes.
Given the party's stance on clean government-funding bills over the past several years, it's unlikely that any more Democrats will be swayed by this new legislation. But Republicans could lose some of their own members on the measure as well.
Sen. Susan Collins, a Republican from Maine, said she would vote against a continuing resolution that defunds Planned Parenthood, saying there should instead be an investigation by the Justice Department to determine whether the organization broke any laws.
"If the CR defunds Planned Parenthood … I would vote against that, because … I don't think the two issues should be linked. I think that we need a clean CR in order to make sure the government does not shut down, and that is my top priority," Collins said.
Collins did say that she believes the vote will show conservatives definitively that linking the attack on Planned Parenthood with a government spending bill will not work.
"I don't want to speak for the leader, but I believe he is trying to show the House very clearly that linking the issue of funding for Planned Parenthood with funding for all of government is a nonstarter here in the Senate and that the Senate does not want to see government shutdown," Collins said.
Collins said she is hopeful for a clean, but very short-term continuing resolution that would expire as early as November, to give herself and fellow members of the Appropriations Committee time to draft new funding bills and pass them through both chambers before the end of the year.
McConnell has said repeatedly that a continuing resolution that defunds Planned Parenthood would be incredibly difficult to pass through the upper chamber and would certainly not earn the president's signature, warning members of his party from trapping themselves in a box canyon over federal funding yet again.
But the vote will allow Republicans to go on the record once again as opposing funding for Planned Parenthood, which has been at the center of controversial video tapes alleging that it has sold fetal tissue for profit. Republicans will vote on the continuing resolution alongside a Tuesday procedural move to pass a federal 20-week abortion ban, just as the pope visits the Capitol on Thursday.
"We should stand for our principles, and our principles should not be surrendering to the Democrats," Sen. Ted Cruz told reporters Tuesday. Cruz has rallied conservatives in both chambers and religious leaders over the past few months in opposition to Planned Parenthood, warning McConnell and other congressional leaders that he will oppose any government-funding measure that provides money to the health organization.
When cloture on the Planned Parenthood measure fails, as soon as Thursday, McConnell is expected to bring up a clean funding bill that would keep the government's doors open through later this year, with support from Democrats and a likely majority of Senate Republicans, who are fearful of earning blame for another government shutdown in just a two-year span.
Whether that can pass the House—where conservatives are similarly pressing to defund Planned Parenthood before funding the government—ahead of the Sept. 30 deadline remains an open question.
House Republicans have a conference meeting scheduled for Friday where they will again discuss how to tackle federal funding for Planned Parenthood and a short-term spending measure.
McConnell filed the legislation just minutes after Democrats again blocked a funding bill for the Defense Department, after promising all summer to block any funding bills until Republicans agreed to enter into negotiations to raise spending caps on nondefense spending for next year.
McConnell blamed Democrats for taking the country to the brink of a shutdown over their "demands for more debt and more bureaucracy" after filing the continuing resolution Tuesday, asking Democrats to work with them to keep the government open and "hit the pause button" on Planned Parenthood's funding while Congress investigates the organization.
"Americans want Democrats to now work with us responsibly to get our country get out of a situation that they in fact have engineered. The bill before us would do that," McConnell said. "It would keep the government open through the fall while adhering to the bipartisan spending levels already agreed to by both parties."
Senate Minority Leader Harry Reid criticized McConnell for holding yet another vote on Planned Parenthood funding, the third this year, before moving onto a clean continuing resolution. "This is yet another case of the Republican leader just wasting time before we address the real deal," he said, noting that the new Republican majority in the Senate has held "more re-votes than any other majority party in the history of our country."