McConnell Raises the Stakes on Iran, but Democrats Won't Go Along
Despite the injection of Israel and American hostages into the debate, the minority hung together to vote against the GOP's latest effort to secure a final vote on the nuclear deal.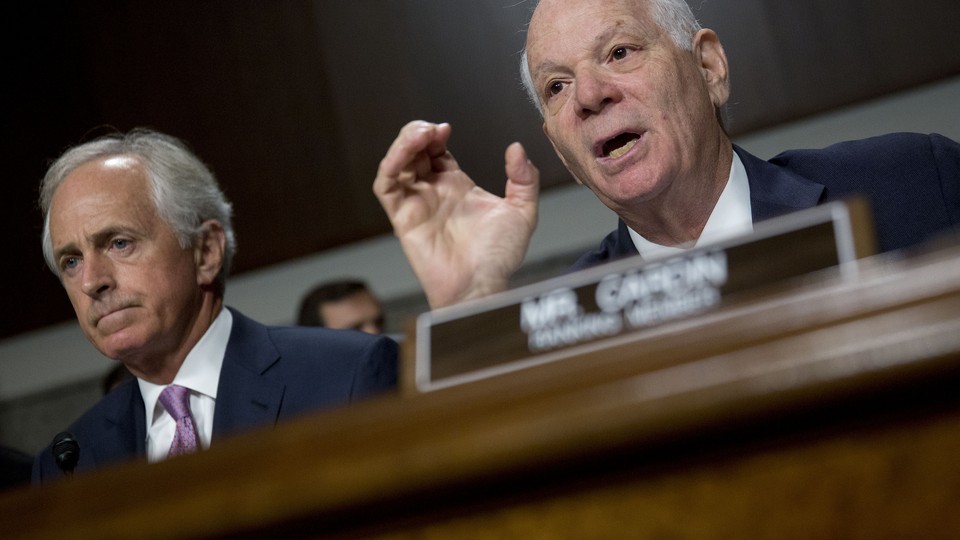 After defeat, Republicans are out to draw blood.
Senate Majority Leader Mitch McConnell got Democrats on the record Thursday opposing an amendment that would allow sanctions relief to Iran under the nuclear agreement only if the country releases four American hostages and formally recognizes Israel as an independent state. The vote—coming to an ad near you—failed 53-to-45, well short of the 60 votes needed to proceed.
Two of the Democrats who oppose the broader Iran nuclear pact—Sens. Ben Cardin and Bob Menendez—took to the floor before the vote, charging that McConnell's amendment was a political ploy.
"As much as I would like to see the hostages released … and as much as I would like Israel to be recognized by Iran as a sovereign independent nation, I am not certain that I would want to give my imprimatur to the agreement, even under those conditions, which this amendment would do," said Menendez.
"We shouldn't be participating in this political battle," said Cardin, who instead urged for working on a security package to Israel. "It's clear that this Iran agreement will be implemented. Now it's time for this body to stop taking show votes. Instead pivot to the serious work of addressing the problems with the deal."
McConnell has planned for another procedural vote on the Iran nuclear deal Thursday, even though there is little reason to believe that Senate Democrats, who have blocked proceeding on the resolution of disapproval twice already, will change their minds.
McConnell's strategy also came under some friendly fire from fellow Republican Sen. Jeff Flake, who said Thursday that the Republican leader should have agreed to the Democrats' wish to hold one final vote with a 60-vote threshold.
"I would like to get to a final vote on the subject and not just have endless cloture votes," he said on the floor Thursday, noting that the president has enough votes to override a veto. "We've seen an end to this movie already."