McConnell, Boehner Ready to Launch Budget Talks With Obama
Democrats are demanding that spending caps be lifted, but it's unclear how far Republicans will be willing to go.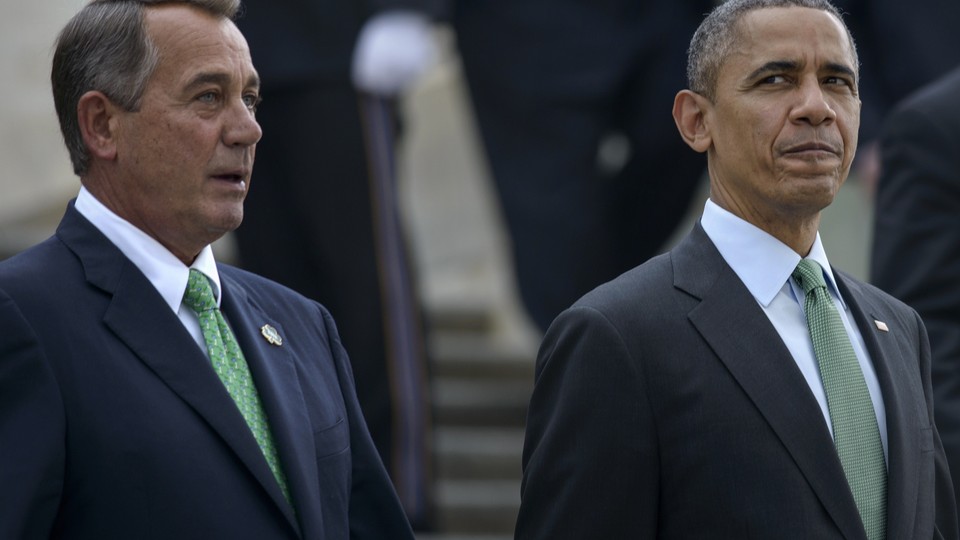 Even as conservatives in both chambers are clamoring for spending cuts, not just to Planned Parenthood but to a slew of nondefense programs, Republican leaders are preparing to begin making a deal with President Obama to raise spending caps that will hit next year.
On Wednesday, Congress will pass a continuing resolution funding the government for just over two months, putting an end to fears of a government shutdown this week—for now. On the horizon, Congress faces a potentially bitter battle in December to keep the government open once again, this time with a new speaker of the House and an emboldened group of conservatives in the House.
With that fight looming, Senate Majority Leader Mitch McConnell spoke last week with House Speaker John Boehner and Obama to begin negotiations that will raise the sequestration spending caps over the next two years, McConnell told reporters Tuesday.
The phone call last Thursday marks the first step by Republicans in responding to a months-long filibuster push by Democrats, who refused to take up any spending bills until the majority agreed to raise spending caps on nondefense programs. Republicans had previously agreed to raise the caps only for defense spending—a no-go for Democrats, who worry that such a concession will only lead to deep cuts to the party's favored programs, including perennial targets like welfare. The defense deal wasn't much more popular with conservative members, concerned about out-of-control federal spending.
McConnell warned his party just two weeks ago that they would have to concede to Democrats on some points in order to get any real spending bills through Congress over the next year. "We are inevitably going to end up in negotiations that will crack the Budget Control Act once again," he said.
Boehner has been much more tight-lipped about what he would like to see in next year's budget, even before announcing his resignation last week. And it's unclear how his likely replacement, House Majority Leader Kevin McCarthy, will proceed—particularly as he courts conservative members bent on spending cuts in his bid for speaker.
McConnell, who has said repeatedly that he would negotiate directly with the White House over spending—ignoring pleas from Democratic leaders in Congress to sit down at the negotiating table with them—attempted to cut the minority out of the negotiations in his talk with Boehner and Obama last week, two Democratic aides said.
According to the aides, Obama briefed Senate Minority Leader Harry Reid and House Minority Leader Nancy Pelosi during a previously scheduled meeting just after the call. McConnell had asked that the negotiations move forward between just himself, Boehner, and Obama. But both the president and Boehner pushed back, insisting that in order to pass an eventual deal through Congress, they'll need the support of Democratic leaders on both sides of the Capitol.
Aides to both McConnell and Boehner declined to comment on the call.
Since then, the White House has worked to loop Democratic leaders in on discussions leading up to their talks with Boehner and McConnell, working largely on a staff level at this point, one aide said. Reid met with Shawn Donovan, the director of the Office of Management and Budget, to discuss the issue last week.
McConnell said Thursday that he hopes to set new top-line spending levels for both fiscal years 2016 and 2017, allowing Congress to go through the regular appropriations process next year and pass 12 spending bills—one of McConnell's major goals as leader—rather than passing another last-minute, shutdown-avoiding continuing resolution as the two chambers have repeatedly done over the last several years.
Sen. Patty Murray, who along with Rep. Paul Ryan negotiated the last two-year budget deal to pass through Congress, said Tuesday that she was hopeful that Republicans would sit down with Democrats and come to another spending deal after passing the two-month continuing resolution later this week.
"I am hoping this next deadline can be different. I am hoping we can avoid the drama, avoid the countdown clocks, avoid the absurd last-minute swerve, and do what we did in 2013: work together, negotiate, and reach another bipartisan budget deal," Murray said. "I am confident we can do it because we did it before—and it will be up to Republican leaders to join us at the table so we can do it again."
House Minority Whip Steny Hoyer warned earlier Tuesday that Democrats will not accept the planned sequestration cuts to nondefense programs next year, noting that Obama and even House Appropriations Chairman Harold Rogers have said repeatedly that those funding numbers "will not work." Absent an agreement, Hoyer warned, Congress will be headed for yet another shutdown.
"We don't want to shut down the government, but at the same time we're not going to be dragooned into doing anything and everything just because they threaten to shut down government," Hoyer told reporters Tuesday.
Pelosi spokesman Drew Hammill reiterated that a shutdown is possible, absent an agreement on sequestration, noting that "that's the White House and the president's posture as well. You're going to see over the next couple days all Democrats talking about the need for Republicans to come to the table."
Asked whether Democrats have set a minimum standard for altering the budget caps to support a final deal, Hammill said that could negatively affect the negotiations. "I don't think we're going to go into things saying, 'This is our position.' ... It's not an incredibly effective negotiating strategy to go to the table with lines drawn," he said.