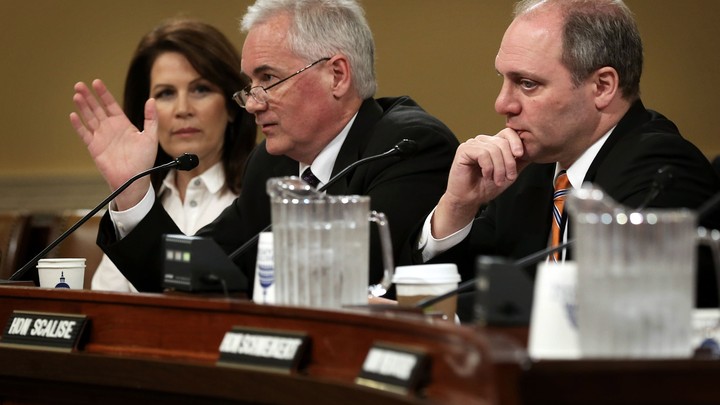 Rep. Tom McClintock resigned from the House Freedom Caucus on Wednesday, marking the most public display of disunity among the stalwart conservative caucus that has been pushing House leaders to the brink of a government shutdown.
Citing disagreements over the group's tactics, the California lawmaker said in a letter to Chairman Jim Jordan that he can no longer associate himself with a caucus that exists "to strip the House Republican majority of its ability to set the House agenda by combining with House Democrats on procedural motions."
The move comes just eight legislative days from the deadline to fund the government. The Freedom Caucus has made it an official position that its members will not vote for any government funding bill that also allots money for Planned Parenthood.
But House GOP leaders and others have argued that tying government funding to antiabortion efforts will ultimately hurt the cause, and McClintock in his letter said he agrees.
"This tactic promises only to shield Senate Democrats from their responsibility for a government shutdown and to alienate the public from the pro-life cause at precisely the time when undercover videos of Planned Parenthood's barbaric practices are turning public opinion in our favor," McClintock said. "I suspect this is why the leading pro-life organizations have been conspicuously unwilling to endorse the HFC position."
McClintock also took issue with the Freedom Caucus's opposition to a stopgap funding bill earlier this year that would have avoided a Homeland Security Department shutdown over President Obama's executive actions, the group's opposition to a sweeping Pacific Rim trade deal, and this month's opposition to a resolution of disapproval on the Iran nuclear treaty, which McClintock said ultimately resulted in a "symbolic and legally meaningless vote."
The move is a hit for the group particularly because the California Republican has long been known as one of the most conservative members of the House. He has a perfect score from the Club for Growth and a 90 percent rating from Heritage Action.
We want to hear what you think about this article. Submit a letter to the editor or write to letters@theatlantic.com.
Daniel Newhauser is a staff correspondent for National Journal, where he primarily covers the House of Representatives. He was formerly a House leadership reporter for Roll Call, where he started as an intern in 2010 and quickly earned a slot as a beat reporter.
A native of San Antonio, Texas, Newhauser traveled further West to study journalism at Arizona State University's Walter Cronkite School of Journalism and Mass Communication and write for newspapers including the East Valley Tribune and the Green Valley News & Sun.