McCarthy Credits Benghazi Committee with Hurting Clinton's Poll Numbers
The House majority leader, running for speaker, said the GOP-led committee has helped erode the Democratic front-runner's "unbeatable" aura.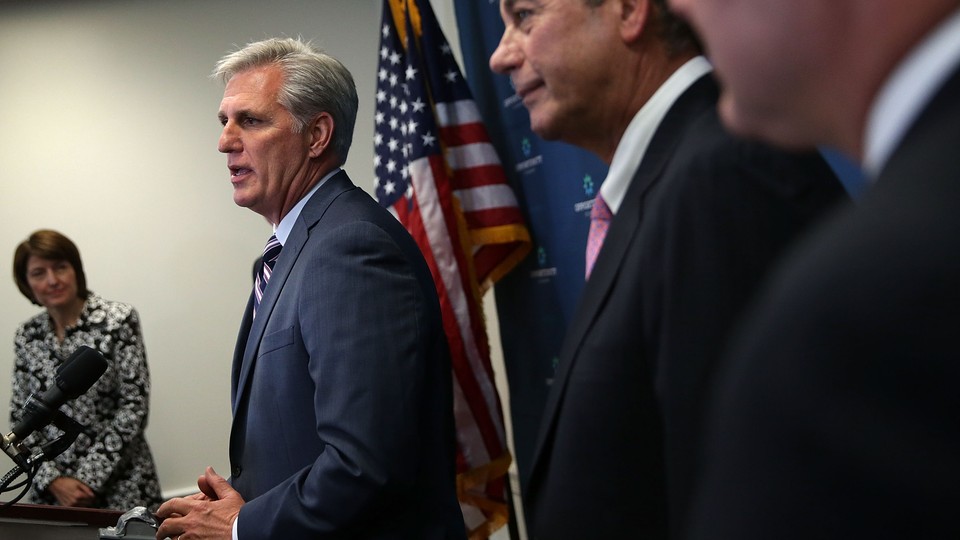 House Majority Leader Kevin McCarthy said the House Benghazi Committee's work has politically wounded Hillary Clinton in the 2016 presidential campaign.
The comment by McCarthy, who is running for House speaker, is certain to fuel Democratic allegations that the GOP-led panel is a political weapon that Republicans are using to harm Clinton's White House prospects.
"Everybody thought Hillary Clinton was unbeatable right? But we put together a Benghazi special committee. A select committee. What are her numbers today?" McCarthy said on Fox News late Tuesday night.
"Her numbers are dropping. Why? Because she is untrustable. But no one would have known any of that had happened had we not fought and made that happen," added McCarthy in an interview with Fox host Sean Hannity.
The comments appear to be a reference to the Benghazi Committee's role in the revelation of Clinton's private email setup, which was discovered as a result of the panel's requests to the State Department for Clinton's correspondence.
The Clinton campaign on Wednesday attacked McCarthy for his comment.
"This is a damning display of honesty by the possible next Speaker of the House," said Clinton spokesman Brian Fallon. "Kevin McCarthy just confessed that the committee set up to look into the deaths of four brave Americans at Benghazi is a taxpayer-funded sham. This confirms Americans' worst suspicions about what goes on in Washington."
Rep. Elijah Cummings, the Benghazi panel's top Democrat, also piled on. "This stunning concession from Rep. McCarthy reveals the truth that Republicans never dared admit in public:  the core Republican goal in establishing the Benghazi Committee was always to damage Hillary Clinton's presidential campaign and never to conduct an even-handed search for the facts," Cummings said in a statement.
The committee majority staff did not respond to a request for comment. But on Wednesday afternoon, McCarthy's office battled back against the criticism of his comments
"The Select Committee on Benghazi has always been focused on getting the facts about the attacks on our diplomatic facilities in Libya that led to the death of four Americans," said McCarthy spokesman Matt Sparks. "This was the right thing to do and the Committee has worked judiciously and honestly. As a result of that work, there are now numerous investigations being conducted—including the Federal Bureau of Investigation. These inquiries have nothing to do with politics and everything to do with the consequences of what the former Secretary has done and her confusing, conflicting, and demonstrably false responses."
McCarthy made the comments in an interview about the record of the current House GOP leadership and McCarthy's plans going forward.
"What you are going to see is a conservative speaker, that takes a conservative Congress, that puts a strategy [in place] to fight and win," McCarthy said.
Elsewhere in the interview, when pressed to give a grade to outgoing Speaker John Boehner, McCarthy gave him a B-.
This story has been updated.