Mayor Emanuel Talks Openly About Chicago's Education Woes And Goals
'I don't know what people were thinking before, when it was a 7% graduation rate.'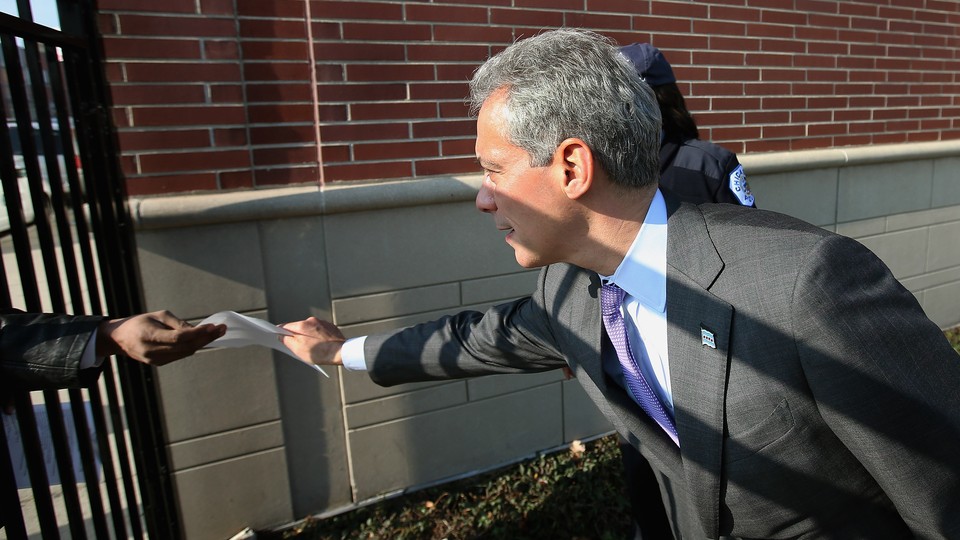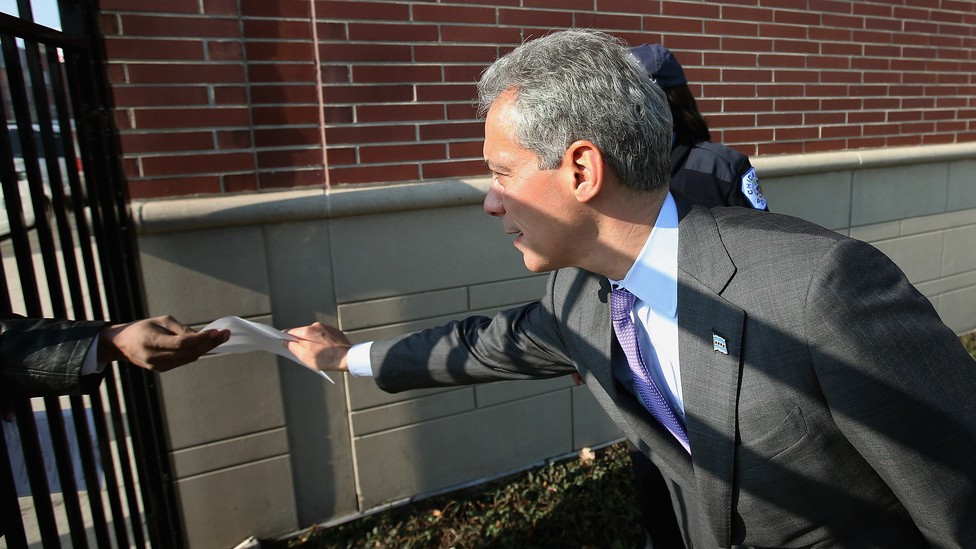 Next America founding editor Ronald Brownstein sat down with Mayor Rahm Emanuel to discuss his agenda of high school and community-college reforms aimed at getting more students into and through post-secondary education. An edited version of their conversation follows:
NA: What's the core problem you're trying to solve?
EMANUEL: It's not a problem, it's problems, but they're all interrelated. One: 80 percent of the jobs require two years of post-high-school education. Ultimately, we weren't really set up for that. Our educational model was K-12. I want to go pre-K to college. Unlike other mayors, I have responsibility for the community colleges and, therefore, I also have a responsibility to make sure that they're relevant to these kids' future careers and they're relevant to the city's overall economy. …
What I wanted to do is make the colleges relevant to the kids' life so when they take a bet on Harold Washington [College] the same way that I took a bet on Sarah Lawrence [his alma mater], it means something. I was investing in Sarah Lawrence. It helped me think, I loved the education. But I really walked out with a reputation surrounding the name. I believe as mayor I owe these … young men and women, that if they walk out, and it says Malcolm X College or it says Harold Washington or Kennedy-King College, it should mean the door gets opened, not that the door gets shut in their faces.
I have employers telling me they can't find qualified people, and I have people saying they want to get a job, they want to work. Here was an … educational institution that we had to make relevant to our economy, our employers, and our employees. That's the core. I want to focus each of them on the place where you're going to get 25,000-30,000 jobs [created]. I wanted the industry invested in the curriculum so it was relevant to what [employers] are looking for.
We're the No. 1 city for college graduates, we have two of the top 10 business schools, two of the top five [information technology] schools, but if I can say to a major Fortune 100 company: You want Booth or Kellogg business schools, we have them. You want University of Illinois or Purdue, computer-science and engineering, we've got those. You want the best accounting school, got that. You want more lawyers, we have that. Also, when you're looking for IT to run the office and you're looking for executive assistants, I can give you from Booth Business School at the University of Chicago to professional services at Harold Washington and everything between. Today when it comes to skills, education, and the certainty around it, companies will move for that.
NA: Chicago, like many cities, is seeing a resurgence of job growth, but are enough of the kids who grew up here equipped to compete?
EMANUEL: Look, I'm for raising the minimum wage. We did it: July 1 it went up to $10 bucks [an hour]. We're going up to $13. But you get an associate's degree, the average is $38,000. It's a shot at a job, a career. I would say the other thing is when I got here our dual-credit enrollment [in high school] was 300 kids. I think we're now at 3,500 or 4,000 kids in the dual-credit. So in high school you're already taking college classes at a community college. But the biggest thing is how do I ensure that I don't drop these kids off at 12th grade, that I am following through on an educational model that ensures that they have the education they need for today's economy, which is a minimum of two years of post-high-school.
NA: This was an issue in your reelection: The city is prospering overall, but it is not changing life enough in the neighborhoods that feel the most left out. 
EMANUEL: We just talked about education, but let me give you two examples. Kennedy-King is our school of hospitality and culinary. Whole Foods is opening up one of their premier food desert stores across from Kennedy-King, so it's helped me recruit jobs into Englewood. Starbucks just announced they're going into the mall, and we're close to one other major retailer. Is it a coincidence? They could have gone anywhere. They happened to go across the street from the school that's focused on culinary and hospitality. O'Hare: Aeroterm is building the largest air cargo intermodal facility at a gateway airport. Now, we have long runways, we're really well connected. You know what they want? Olive–Harvey's program for truck drivers. So [the schools] helped me actually recruit companies to create jobs here. Not every time, but enough.
Second, there's no doubt that—I ran on this and I would say this—no great city [lacks] a thriving central business district. But having a central business district that is thriving doesn't mean you don't have a responsibility of also making thriving neighborhoods. Now my strategy on neighborhoods is good public schools, good public libraries, good public parks, good public transportation, and good public safety. The community colleges and their education are a piece of giving people the tools to get jobs wherever they may be, redoing the entire [transit] red line south so it goes at 55 mph rather than 15,  so it allows you, wherever you live, to get to where the jobs are.
The truth is, if I sat here and said to you Bronzeville's no different than downtown, that's not true. On the other hand, Bronzeville's got a new Mariano's grocery store, they have the first new park district swimming pool, two new bridges, a new train station. So we're making these investments that are now bringing both jobs, economic growth and a grocery store to a former food desert.
NA: If more people are employed with family-sustaining wages would that stabilize neighborhoods the most?
EMANUEL: There's no doubt about that. You get people working, you get foot traffic, that's the best thing.
NA: How did the completion rates at community colleges get so bad?
EMANUEL: First of all, I never say anything ill about my predecessors. I just don't think it was a focus. That's not only true for Chicago schools but across the country. It was not until this last great recession that people woke up to our community colleges as relevant to people's lives and the economy as a whole. I had spent time on this as both a congressman but also as chief of staff…How did it get to 7 percent [the former minimal completion rate at Chicago's community colleges as of 2010]? I just don't know. It wasn't relevant. Nobody wanted to take on the political battles to shake it up. It was easy to just let it keep going as your fifth and sixth year of high school. Now we've made it your first step to a job and a career.
NA: The effort to increase completion and the industry focus on community colleges: are those separate things, or are they connected, in your mind?
EMANUEL: I think they're connected in the students' minds, forget if it's in my mind. The closer you get people to knowing that their education leads to employment or a job, the more hungry they're going to be toward completing it. The other exciting thing…is you earn a B average [in high school] and we will make the next two years of college free [with the Star Scholarship program that allows high-school graduates to attend the city's community colleges tuition-free].
NA: Why did you set it at a B average?
EMANUEL: I want an incentive. I think you have to earn something. I believe in opportunity and responsibility. You have a responsibility. You don't automatically get it free, you have to earn it, just like anything. The Gates Scholarship, you earn it. So we have a scholarship, you have to earn it. My responsibility is to provide you that opportunity.
NA: In this debate over low completion at community colleges, we often hear college officials say the students don't come in ready. What's your take on that? Is K-12 delivering students who are ready?
EMANUEL: Look, you're talking to a guy who got here when the graduation rate was 57% in high schools, we're now at 70%. We've had more Gates Scholars six of the last seven years than any other system  in the country. Eight hundred million in college scholarships is a record high. Fourteen percent of our kids—the national average is 18, so we're not far off—are going to college. We have our challenges: can they read the diploma they're handed? But overall, I would say absolutely we're making significant progress that way.
NA: The foundation of all of this is increasing the high school graduation rate. If you don't, you're looking at bad outcomes.
EMANUEL: You go to any prison, the one common thread is high school dropouts. You get a graduation date, you're more likely to have them be productive, and be good citizens than the other way [of not finishing high school]. And if I can get them to the next level of education, you're almost guaranteeing it. I need to make education relevant to their economic future.
NA: What's the stakes on this? The unrest the city has had over the last year, how much of it is a sense of being utterly disconnected from opportunity?
EMANUEL: I'm doing this…to give students a sense that as they keep going they're not going to be a security officer in a building, they're going to work in that building. I'm not saying that as a negative about security guards, but the higher you go in your education, the more opportunity you have. These are not jobs, they're careers.
Here's the other thing that is relevant. We just announced Dunbar High School, we're going to redesign it, it's going to be our trade school for carpenters, electricians, we're going to have one school totally focused on the trades, a citywide school. If you don't want to go to college, a community college or a four-year institution, we have a high school educational model for you. Every branch of the armed services runs a high school in the city of Chicago, no other city. We have 12,500 kids in the junior ROTC, the largest in America. So if you want to go to West Point, you want to go into the armed services, we've got the educational model. You want to become a painter, a plumber, a bricklayer? We've got a model. You want to go to college, we've got a Star Scholarship. We are going to be the first city that has figured out how to make 12th grade a pit stop on your education rather than your destination. We have a responsibility to prepare you.
NA: At the community colleges, they've also been rethinking remediation. Students feel like they're treading water. On one hand you have to equip them and on the other, they don't feel like they're getting ahead.
EMANUEL: They're accumulating debt while you're teaching them how to read and write. These kids are going to drop out, it's not relevant to their job. We have a model, we think we can get away from remediation totally but we're not there yet.
NA: Do you feel like the gains you've made in increasing community college completion are the easier ones?
EMANUEL: I don't think we're done growing, and I don't think we're done growing at the pace we're growing.
NA: So if this agenda is successful, how does that ripple through? What happens five to seven years down the road?
EMANUEL: First of all, you're giving people probably the biggest boost in narrowing the income disparity. More importantly, you're giving them a chance at a career that pays well and we're making our community colleges relevant to their lives, relevant to the life of the city economy, relevant to the employers in the city. I don't know what people were thinking before when it was a seven percent graduation rate. And I always do this [when I speak], I say: 'Who here hired somebody recently from Harold Washington [College]?'
NA: And?
EMANUEL: Listen, the good news is more and more people are stepping up and telling me they have a responsibility. I'm pounding away at this thing. I think it used to be that you looked at a mayor and said 'Oh he's responsible for kindergarten, elementary and high schools.' We're now responsible for pre-k and community colleges and we're forging ahead on something that I think people are going to look at as a roadmap for 21st century education in a major city.
NA: The flip side is you have neighborhoods with 17 year-olds shooting each other and feel that they have no chance of ever being part of that world.
EMANUEL: I also know I have parents in all parts of the city who put their heart and soul into giving their kids a shot at a future, and the biggest barrier to that future is the cost of college and a college education that's relevant to their kids' aspirations. We're now making our system relevant; it was irrelevant before.
NA: The city is pursuing several different experiments to encourage more students to accumulate college credits before they finish high school. Is there one of these models that seem to you the most promising?
EMANUEL: I'm not committed, we have all variations. I'm committed to only one thing: Mazel tov on high school graduation: what are you going to do next? … Getting people's mindframe into: if I go into the armed services, if I go to the military colleges, I want to go into trades, I want to go to college, I want to go to a two-year. I have something where they're all thinking about what's next. If I can get the cultural shift and the change in perspective, then we're well on our way. So I'll try anything to help do that.
NA: Cultural shifts, they take a while. Are you planning on settling in?
EMANUEL: Mr. Brownstein, do you think I'm a patient man?