Live Blog: Pope Francis in Washington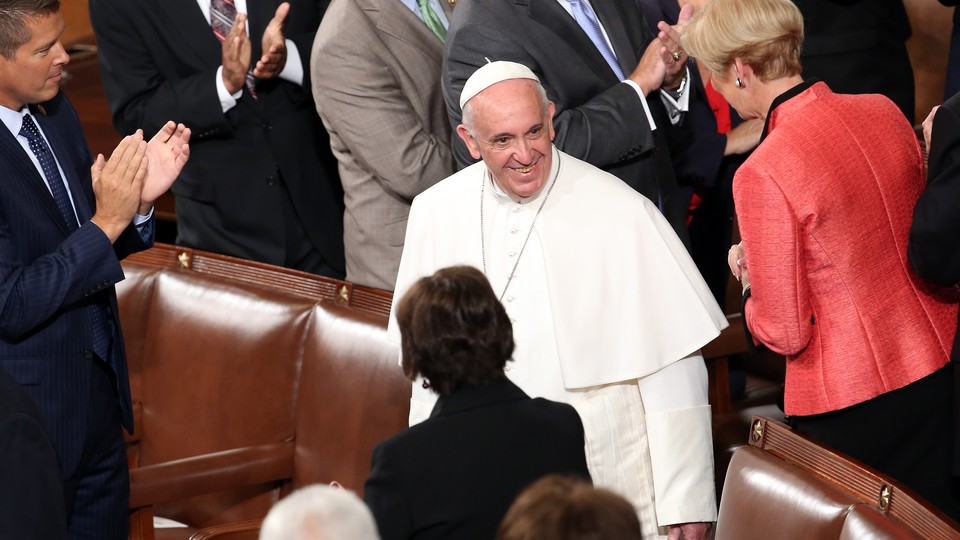 Pope Francis at St. Patrick's Church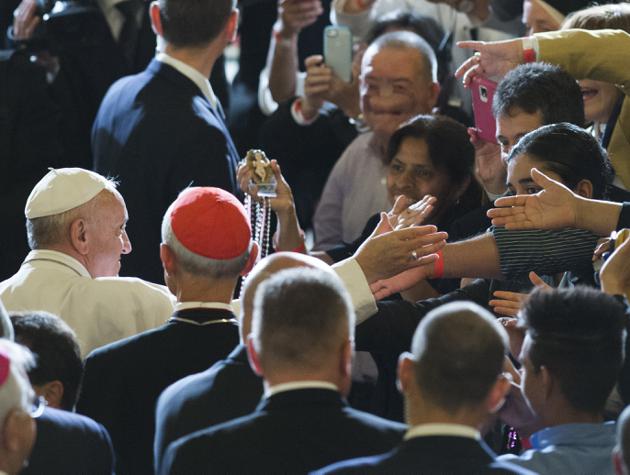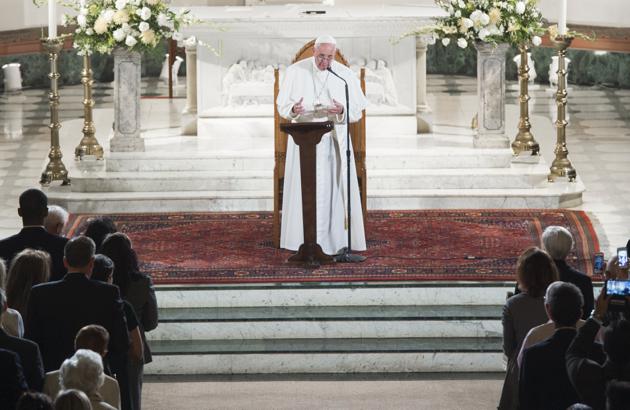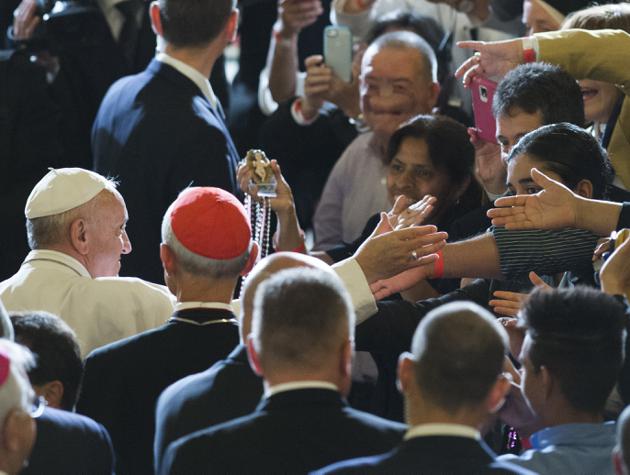 'So many of you are also descended from immigrants'
September 24th, 2015 10:28 a.m.
Pope Francis didn't bring up immigration reform during his historic address to Congress this morning. At least not directly. But he did remind members of Congress that most of them are also descendants of immigrants and urged them to treat immigrants in a way that is "humane, just and fraternal."
He also invoked the golden rule and asked lawmakers not to be tempted to "discard whatever proves troublesome." In other words: undocumented immigrants.
The refugee crisis is one of the biggest challenges facing this world, he said.
"On this continent, too, thousands of persons are led to travel north in search of a better life for themselves and for their loved ones, in search of greater opportunities. Is this not what we want for our own children?" he asked. "We must not be taken aback by their numbers, but rather view them as persons, seeing their faces and listening to their stories, trying to respond as best we can to their situation."
Alexia Fernández Campbell
Catholic Members of Congress
September 24th, 2015 9:42 a.m.
Pope Francis has just arrrived on Capitol Hill to address member of Congress. It is the first time a sitting Pope will do so. Which begs the question: How many lawmakers are Catholic?
Nearly a third of them.
Here are the most influential Catholics on Capitol Hill:
U.S. House Minority Leader Rep. Nancy Pelosi (D-CA)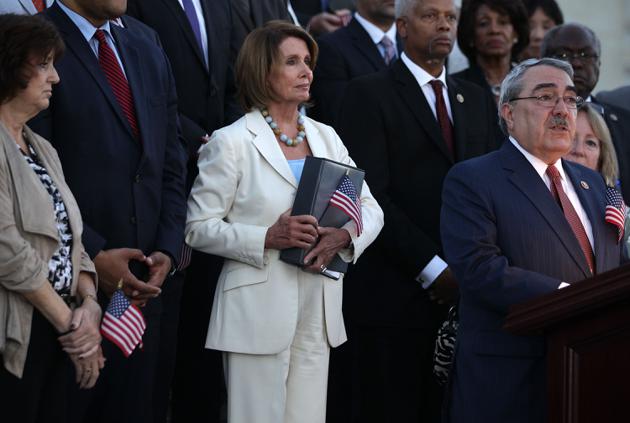 U.S. Speaker of the House Rep. John Boehner (R-OH)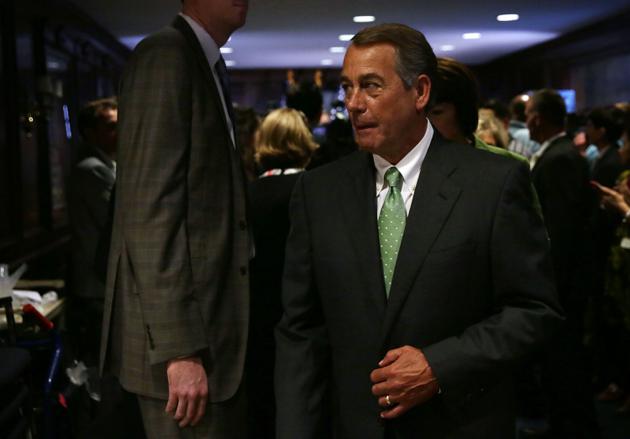 Rep. Paul Ryan (R-Wis)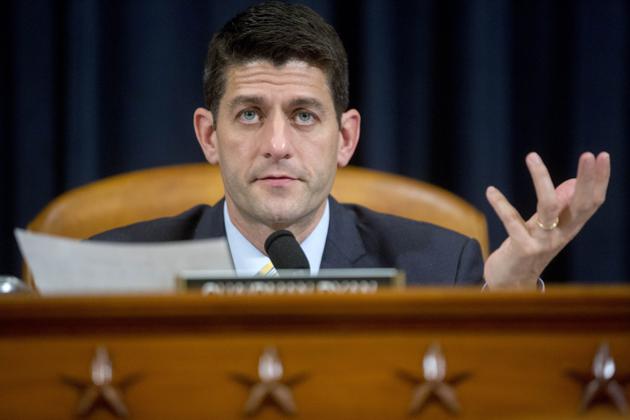 Sen. Marco Rubio (R-FL)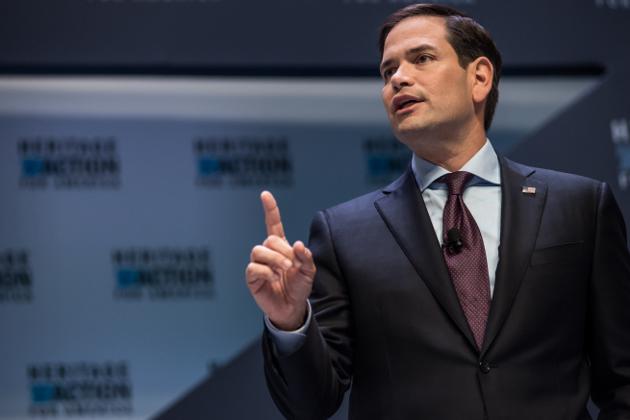 Papal Mass reflects the new America
September 23rd, 2015 7:40 p.m.
Pope Francis may have broken a record Wednesday. His afternoon canonization Mass at the Basilica of the National Shrine of the Immaculate Conception included songs and readings in 10 languages: English, Spanish, Latin, Tagalog, Vietnamese, Korean, Creole, Chochenyo, and Igbo.
These languages reflect some of the largest and fastest-growing ethnic groups in the United States. In Tagalog, which is spoken in the Philippines, a lector prayed for equal treatment of all people.
"For the renewal of a culture of all life and respect for all people, especially the elderly and unborn, and for an end to racial prejudice and discrimination, abortion, euthanasia, and the death penalty, we pray to the Lord."
Of course, most of the Mass was in Spanish, the Argentinian pope's native language. His homily during the Mass was a sharp contrast to his speeches earlier in the day with local bishops and with President Obama.
Instead of mentioning climate change and immigrant rights, he urged people to take care of each other.
"This is the path to happiness," he said to the crowd of 20,000 people who attended the outdoor mass. "What can we do to not numb our hearts?"
Thursday morning, Pope Francis will address members of Congress on Capitol Hill. They'll likely be a tougher crowd to win over.
The little girl who defied papal security to ask for her parents' protection
September 23rd, 2015 6:13 p.m.
Barricades, police and papal security guards jogging in black suits could not hold back a 5-year-old girl named Sofía Cruz. She'd traveled all the way from California, intent on handing the pope a letter.
Cruz is the daughter of Mexican immigrants. She'd reportedly traveled from Los Angeles with Hermandad Mexicana Transnacional, an immigrants' rights group. She waited Wednesday afternoon on the sidewalk with throngs of others, a colorful dress over her red pants and her hair in a braid. As the pope's covered car drove by, Cruz stepped onto the street.
In a video, Cruz tries to get nearer the pope but a security guard takes her hand.
Then the pope waves her over.
A security guard sweeps the little girl up. The pope kisses her forehead, and Cruz hands Pope Francisco a T-shirt and a letter.
The Guardian later recorded Cruz as she read a copy of the letter.
Pope Francis, I want to tell you that my heart is sad and I would like to ask you to speak with the president and the congress in legalizing my parents because every day I am scared that one day they will take them away from me.
I believe I have the right to live with my parents. I have the right to be happy. My dad works very hard in a factory galvanizing pieces of metal.
All immigrants just like my dad need this country. They deserve to live with dignity. They deserve to live with respect.
They deserve an immigration reform, because it benefits my country and because they have been working hard harvesting oranges watermelons, carrots, onions, spinach and other vegetables.
The yellow shirt she carried asked the pope to "rescue DAPA," or Deferred Action for Parents of Americans, a program that would protect undocumented immigrant parents of U.S. citizens from deportation. Some 26 states have sued to block it.
"... [T]he legalization would be your blessing," the T-shirt read.
J. Weston Phippen
On the streets of Washington, an outpouring of hope for Pope Francis
As onlookers waited to see Pope Francis arrive at St. Matthew's Cathedral on Wednesday morning, some Catholics shared their thoughts on the new pontiff.
Text by Matt Vasilogambros
Photos by Emily Jan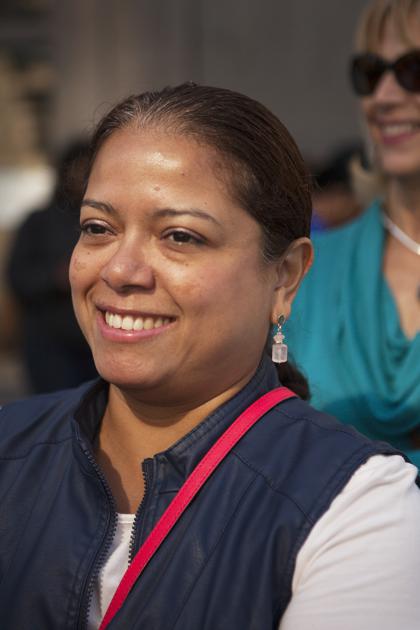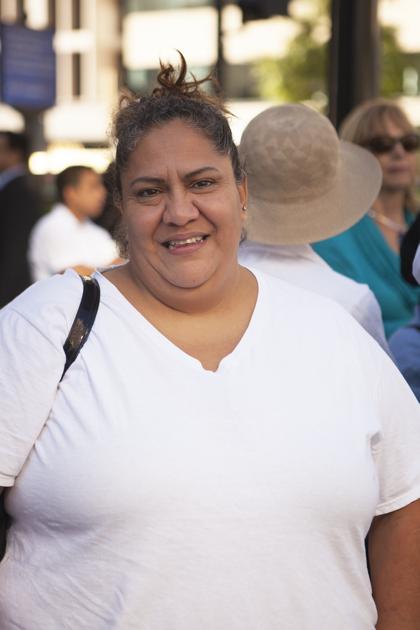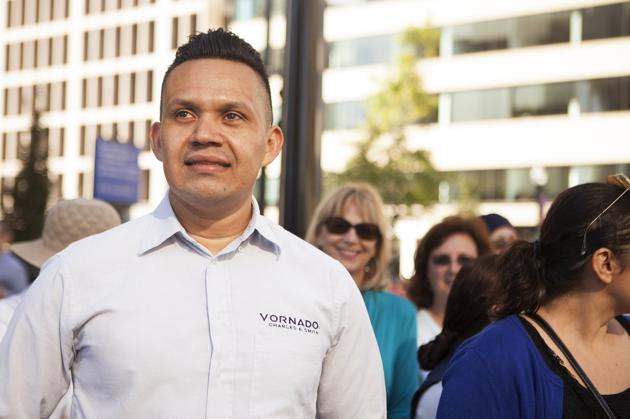 Junipero Serra canonization passage to be read in Chochenyo language
September 23rd, 2015 3:35 p.m.
The first reading of the canonization mass, Isaiah 52:7-10, will be read in the Native American dialect of Chochenyo.
Chochenyo is a language spoken by a group of Native Americans who lived in northern California, east of the San Francisco Bay. The decision to do so may be an attempt to placate to critics of the canonization of Junipero Serra, the soon-to-be saint. Serra is most famous for founding nine Spanish missions along the Californian coast. Detractors say those missions helped wipe out huge numbers of Native Americans, and that Serra forced Native Americans into the missions and flogged them if they left.
This is a translated excerpt of the scriptural reading:
"How beautiful upon the mountains
Are the feet of him who brings glad tidings
Announcing peace, bringing good news
Announcing salvation, and saying to Zion,
Your God is King!"
Alexia Fernández Campbell
Pope Francis asks bishops to welcome immigrants
September 23rd, 2015 2:28 p.m.
Pope Francis urged a gathering of bishops at the Cathedral of St. Matthew the Apostle to welcome immigrants.
"I am well aware of the immense efforts you have made to welcome and integrate those immigrants who continue to look to America, like so many others before them, in the hope of enjoying its blessings of freedom and prosperity," the pope said.
"Perhaps it will not be easy for you to look into their soul; perhaps you will be challenged by their diversity," he continued. "But know that they also possess resources meant to be shared."
He urged them to engage in "dialogue" even in challenging circumstances, noting that "otherwise, we fail to understand the thinking of others, or to realize deep down that the brother or sister we wish to reach and redeem, with the power and the closeness of love, counts more than their positions, distant as they may be from what we hold as true and certain."
Emily DeRuy
The two gifts that President Obama gave Pope Francis
September 23rd, 2015 12:29 p.m.
President Obama gave Pope Francis two gifts on his visit to the White House Wednesday.
The first gift was a sculpture of an ascending dove, meant as a symbol of peace as well as the Christian symbol for the Holy Spirit. It was a metal sculpture, with an original armature bar from the Statue of Liberty, which had been preserved during the statue's restoration. The wood pedestal of the sculpture was made of reclaimed wood from the White House lawn.
The second gift was a key from the Maryland home of Elizabeth Ann Seton, an American who lived in the 1800s and who devoted her life to serving the poor. The key dated to 1809 and was presented with a piece of marble from the Basilica at the National Shrine of Saint Elizabeth Ann Seton.
The gift was meant to honor Pope Francis's declaration that 2015 was the year of Consecrated Life, as well as his and Seton's devotion to helping the poor and vulnerable.
J. Weston Phippen
Pope Francis arrives at St. Matthew's Cathedral
September 23rd, 2015 12:13 p.m.
Pope Francis arrived at St. Matthew's Cathedral just before noon on Wednesday. A crowd of some 300 cardinals waited inside and sat in pews. The pope prayed and a choir sang for nearly 20 minutes.
J. Weston Phippen
Thousands gather to catch a glimpse of Pope Francis
September 23rd, 2015 11:40 a.m.
Thousands gathered along the Na­tional Mall to catch a glimpse of Pope Fran­cis as he de­par­ted the White House.
Esteban Bravo, a Mex­ic­an-Amer­ic­an liv­ing in Wash­ing­ton, D.C., got his wish that the pope speak about im­mig­ra­tion.
"They don't want to al­low people to ad­vance in their lives," he said of op­pon­ents of re­form.
Tri­cia, a 5-year-old from Trin­id­ad, was ex­cited to "see what the pope looks like!" She donned a new shirt bear­ing the pope's photo for the oc­ca­sion.
Daniel Mojica took the day off from his full-time mar­ket­ing job to sell $5 pope pins. He'd earned more than $100 by 8:30 a.m., he said. Oth­er vendors hawk­ing T-shirts and flags sold their mem­or­ab­il­ia along the parade route where the pope would soon pass by.
Emily DeRuy
Pope Francis's speech addresses climate change, poverty, and immigration
September 23rd, 2015 11:13 a.m.
Much as he'd done leading up to his visit to the U.S., Pope Francis used his speech Wednesday morning at the White House to address climate change, the poor, and immigration.
"As the son of an immigrant family, I am happy to be a guest in this country," said Pope Francis, who had previously said he wanted to enter into the U.S. through Mexico as a show of solidarity to the many migrants who make the same trip.
His words come at a time during the run-up to the 2016 presidential elections when there have been a lot disparaging remarks about immigrants, and even mentions of removing birthright citizenship from the children of undocumented parents.
More than 11,000 supporters packed the White House front lawn. An Honor Guard performed a ceremony, and a band played just before the president walked from the White House to greet Pope Francis.
"Holy Father, on behalf of Michelle and myself, welcome to the White House," said President Obama. "Our backyard is not typically this crowded…."
The president thanked Catholic organizations around the world for helping the poor and "breaking the chains of poverty." He also thanked Pope Francis for centering his concerns upon the "least of these," meaning the less fortunate and impoverished. "And, Holy Father, you remind us that we have a sacred obligation to protect our planet—God's magnificent gift to us," the president said.
Both the pope's and President Obama's messages focused on similar issues.
Pope Francis spoke briefly, and he thanked the president for his initiatives to reduce air pollution, saying that "it seems clear to me also that climate change is a problem which can no longer be left to a future generation."
Pope Francis also spoke specifically of American Catholics, emphasizing the role they needed to play in creating a tolerant and inclusive society in America, and the need to reject "every form of unjust discrimination."
J. Weston Phippen
What the pope will NOT say to Obama and Congress
September 22nd, 2015 6:59 p.m.
Pope Francis may have helped warm relations between the United States and Cuba, but he will not be urging President Obama or members of Congress to lift the U.S. embargo on the communist island, Vatican press secretary Federico Lombardi told journalists after arriving in Washington with the pope.
Francis will continue encouraging open relations between the two countries, but will stop there, Lombardi said. Francis is scheduled to meet with Obama at the White House on Wednesday morning, and will address members of Congress on Thursday.
"The position of the Catholic Church is clear: [The embargo] is clearly a source of suffering for the people," Lombardi said. "The pope has already said that."
A few members of Congress have said they will boycott the pope's speech on Capitol Hill on Thursday in protest of his outspoken views on climate change and immigration reform. But Lombardi said he has no plans to advocate for specific policies during his weeklong visit.
He is here to "encourage dialogue," Lombardi said.
Alexia Fernández Campbell
Soccer-star welcome for Pope Francis in Washington
September 22nd, 2015 4:35 p.m.
"Olé, olé, olé, olé ¡El Papa!, ¡El Papa!"
Pope Francis received a soccer-star welcome to the United States Tuesday afternoon as he got off his plane at Andrews Air Force Base.
Chanting in Spanish drowned out screams and cheers from the crowd of about 100 people who attended his arrival ceremony.
"Papa, Francisco, bendice a tus hijos," the crowd chanted in Spanish as Air Force personnel rolled out the red carpet for him on the tarmac. Translation: "Pope, Francis, bless your children."
Pope Francis waved at his fans before greeting the more reserved group of people lined up to meet him on the tarmac, namely President Obama, first lady Michelle Obama, and their daughters, Sasha and Malia. Francis also shook hands with cardinals from the Archdiocese of Washington, who are hosting the pope during his visit to the nation's capital.
Obama led Pope Francis to the "Distinguished Visitor's Lounge" on the air force base, where he waited about 10 minutes as his motorcade lined up to take him to Washington.
Francis got into a small black Fiat with the Vatican flag. Before leaving, he rolled down his window and waved again.
A few seconds later, he was gone.
Alexia Fernández Campbell