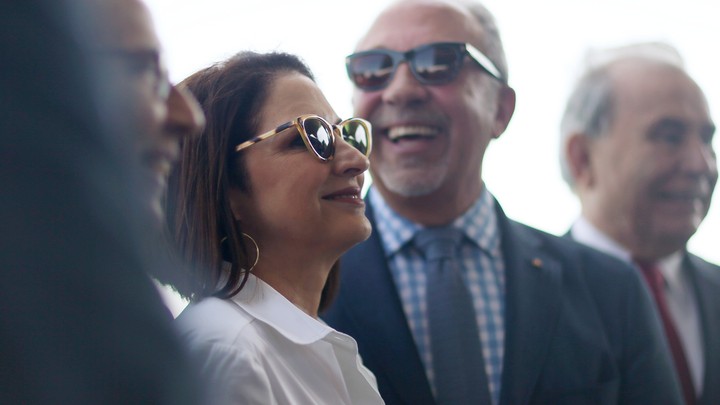 Latino artists are mad and they want Americans to know it.
Music power couple Emilio and Gloria Estefan are among the Latino entertainers fighting the anti-Latino wave that Donald Trump sparked when he declared that Mexican immigrants arriving in the United States are rapists and criminals.
Hence the name of Gloria Estefan's upcoming track "We're all Mexican." The Grammy-winning Cuban-American singer and her producer husband have enlisted the help of big names such as Carlos Santana, Thalia, and Wyclef Jean to record the song, according to Billboard magazine .
After announcing the track, which is scheduled to be released this month, Gloria Estefan clarified on Twitter that the song is not an attack against anyone, presumably, Trump.
FYI,Emilio & all involved with"We're All Mexican" did NOT record this as an Anti-ANYONE song but in tribute 2 Immigrant Contributions in USA

— Gloria Estefan (@GloriaEstefan) September 10, 2015
In a video released on his website, producer Emilio Estefan said he wrote the song for Hispanic Heritage month and to show that "this country is about love, is about achievement, and about Americans' dreams."
Other Latino entertainers have been more direct in their response to Donald Trump's message.
Comedian George Lopez makes fun of Donald Trump in his skit on Funny or Die, where he pretends to be a Mexican Donald Trump.
His character, Donaldo Trumpez, is a wealthy Mexican developer who builds soccer fields and brothels in Mexico, and who wants to be president. In the skit, he said he wants to build a wall along the border to keep out American tourists.
"Every year, the United States sends their damn drunks, their frat-boy rapists to Cabo, Cancun ... they want cocaine and methamphetamines ... Damn drug addicts!" he says in Spanish.
Artists Shakira, Juanes, and Ricky Martin have also criticized Trump's comments during recent concerts, according to CNN.
"Enough is enough," Martin tweets with the hashtag #LatinosUnidos
"Mr. Trump, you are living in an outdated fantasy of a bigoted America," writes America Ferrera in an op-ed in The Huffington Post.
Now the question remains, is Trump actually listening?
We want to hear what you think about this article. Submit a letter to the editor or write to letters@theatlantic.com.
Alexia Fernández Campbell
is a former staff writer at
The Atlantic
, where she covers immigration and business. She was previously a reporter at the
South Florida Sun-Sentinel
and the Spanish-language newspaper of
The Palm Beach Post
.