Labor Will Keep Up Trade Pressure on Democrats
AFL-CIO's Trumka promises "intense" campaign against Pacific trade deal, criticizes Obama's record.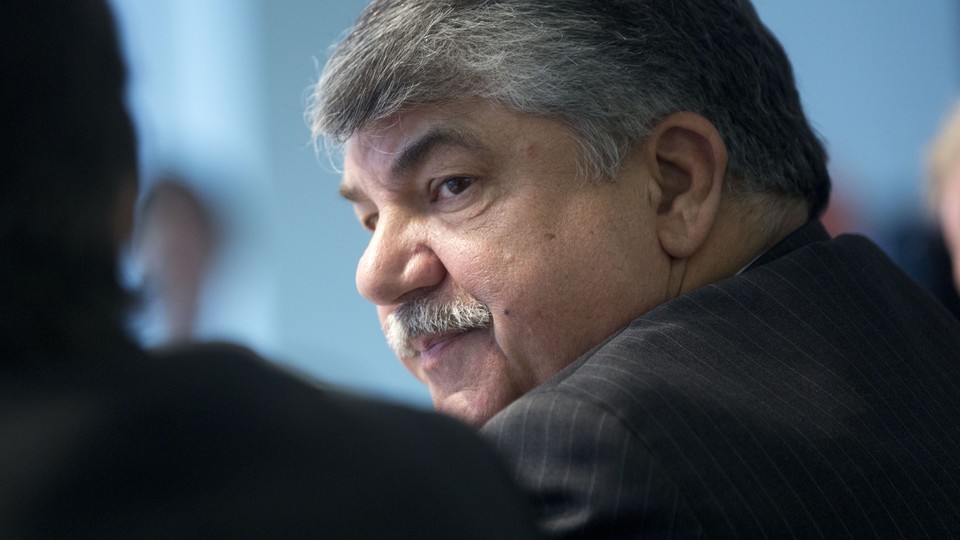 Two months after the passage of controversial trade legislation that stirred tensions within the Democratic Party, AFL-CIO President Richard Trumka said organized labor has no plans to back down when it comes time for Congress to ratify passage of a sweeping Pacific trade deal.
Asked if his group would apply pressure to Democrats on the issue—even if it came up close to the election—Trumka replied, "Yes." Asked to elaborate, he said: "You asked me if I was planning to run a campaign against [the Trans-Pacific Partnership]? Yes. Is it gonna be intense? Yes. Is it going to roll out everything we have? Yes."
Trumka made his remarks at a breakfast event Tuesday hosted by The Christian Science Monitor.
The AFL-CIO stoked criticism earlier this year with efforts to kill Trade Promotion Authority, a bill that limits Congress's ability to influence trade agreements and was seen as an essential step to earning passage of TPP. The group shut down its campaign donations to Democrats during the debate in order to up the pressure, and several TPA supporters said the group threatened to spend big in primary campaigns to oust them. Ultimately, the measure passed with the support of 28 Democrats in the House and 13 in the Senate.
Many in the House, including TPA opponents, said the actions of the AFL-CIO and other outside groups only served to divide the party at a time when it is deeply entrenched in the minority and in need of a unified effort to defeat Republicans.
Trumka said he will continue to monitor the TPP, among the biggest of President Obama's remaining priorities, and push for stronger measures on issues like currency manipulation, rules of origin, and procurement. But he's not optimistic the completed deal will be a pro-worker package the AFL-CIO can support. "I suspect that it will be a campaign to defeat it, because what we've seen so far is not very exciting for workers," he said.
While he offered mostly praise for Obama and the Democratic candidates vying to replace him, Trumka didn't hesitate to pin some of their struggles on their positions on TPP. Asked about Obama's falling poll numbers among labor workers, Trumka noted that the president still enjoyed the support of a majority but offered an explanation on why that margin is slipping.
"He hasn't done everything we agree with," he said. "I think what you're seeing is the residuals of TPP. Our members understand the importance of good free-trade agreements."
Trumka also took presidential hopeful Hillary Clinton to task for keeping her trade position vague. "Candidates that try to skirt the issues—not talking about where you are on TPP hurts you when it comes to activating the membership and the general populace," he said. "They want to know where people are. Even if they disagree with you, they want to know where you are. ... Her narrative right now—when you say, 'I don't know whether TPP is good or bad,' and then you don't articulate what good would be, I think that lessens the energy."
Clinton's challenge, he said, is to "figure out a way to energize workers—and that's come up with a narrative that, one, she believes in, and, two, she's willing to fight for." Trumka added that she has been held to an unfair standard throughout her career, simply due to her gender: "Hillary Clinton has to do A-plus work to get a C. Why? Because she's a woman."
Still, he noted that it's still early in the campaign process, and candidates have plenty of time to articulate a platform that can appeal to workers. Both Clinton and Vice President Joe Biden—with whom Trumka recently met—would make good presidents, he said, and he praised Sen. Bernie Sanders's ability to connect with people in a "unique and genuine" way.
The AFL-CIO's endorsement will come after thorough consultation with its members, he added, an announcement that likely won't be made until after Iowa and New Hampshire cast their ballots.