Pennsylvania's Top Lawyer Can't Practice Law
The state's Supreme Court suspended the license of Attorney General Kathleen Kane, but she's vowing to stay in office anyway.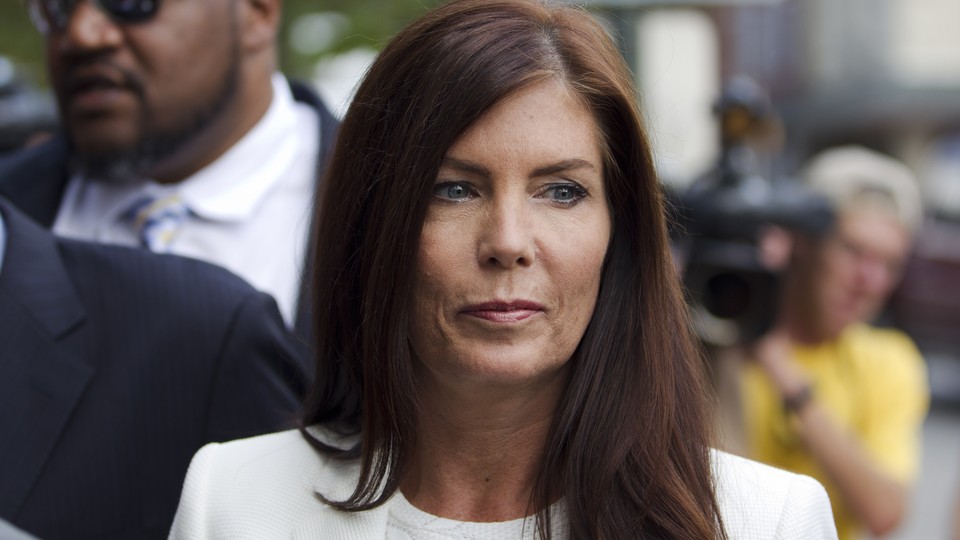 What happens when a state's top lawyer is barred by the state's top court from actually practicing law?
Pennsylvanians will soon find out. The state Supreme Court suspended the law license of Attorney General Kathleen Kane as she awaits trial for criminal charges. She is accused of leaking grand-jury testimony to embarrass a political rival and then lying to cover it up. The unanimous ruling, which was issued Monday, means that Kane can't represent the state in court or sign legal documents. But because the court had no power under the state constitution to remove her from office, she will stay on the job, even if it's not exactly clear what she'll do.
"This order should not be construed as removing Respondent from elected office
and is limited to the temporary suspension of her license to practice law," the court said in its ruling.
Kane, a Democrat elected in 2012, was indicted last month on perjury, obstruction, and other charges, which all stemmed from allegations that she sought retribution against an investigator who she believed was behind a newspaper story reporting that she had shut down a separate probe into corruption by Democrats in Philadelphia. It's a complicated case that has sapped virtually all political support from Kane, who was once viewed as a rising Democratic star and a possible Senate candidate in 2016.
She has professed her innocence and refused calls for her resignation, saying that would be tantamount to a guilty plea.
I continue to maintain my innocence and plan to keep fighting to clear my name while serving out the rest of my term in office. I am confident the hundreds of employees of the Office of Attorney General will continue protecting the people of Pennsylvania with the same high level of energy, dedication and professionalism they have always displayed.
The state's Democratic governor, Tom Wolf, is among those who have called for Kane to step down, and his spokesman said that the court's decision is "further proof that [she] can no longer perform the duties of her office."
Yet that's only partially accurate, according to the attorney general's office. First off, the suspension of her license does not take effect for 30 days, giving her time to wind down her involvement in legal cases before the office. And after that, essentially, Kane can still fulfill half of her job title—the general part. She can set priorities, make administrative and budgetary decisions, and hire and fire people. "She can continue to perform all the duties that don't require her to be an attorney," Kane's spokesman, Chuck Ardo, told me on Tuesday. All legal decisions will likely be turned over to the deputy attorney general, Bruce Beemer.
Already, there are questions as to what practical effect the court ruling will have. If Kane can still run the office and decide who to hire and fire, what difference does it make if Beemer is the one signing documents or representing the state in a courtroom. "What's to prevent her from telling him what to do?" asked G. Terry Madonna, director of the Franklin and Marshall Center for Politics and Public Affairs. "She's still the boss."
Ardo insisted that while Kane disagreed with the court's ruling, she would respect the suspension of her license and would stay out of any decisions that could be "construed as practicing law." And while Pennsylvanians might not have a fully-functioning attorney general, he said "people should understand they continue to have a fully-functioning attorney general's office even though she is not the one making the legal decisions."
Kane's term goes through the end of 2016, and it's not yet clear if state legislators will seek to kick her out. The general assembly could try to impeach her, but that is a very lengthy and arduous process, Madonna said. The quicker route could be to use a provision in the state constitution that allows the Senate, which is controlled by Republicans, to directly remove the attorney general from office by a two-thirds vote. But that has never been used before in Pennsylvania history, and it would require Wolf to find "reasonable cause" to support the Senate's action.
So for the moment, Kane will press on, proclaiming her innocence while she complies with an order that renders her the nation's first-ever AGINO—attorney-general-in-name-only. "We're in uncharted territory here," Madonna said. "We don't know quite what it means."