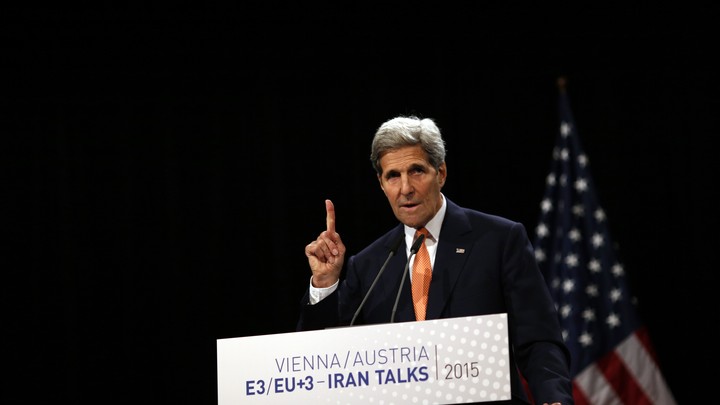 The Obama administration just got what it needed to ensure the health of the Iran nuclear deal, but John Kerry isn't taking a victory lap.
In a hour-long speech Wednesday morning, Kerry betrayed none of the confidence the administration was likely feeling after securing its crucial 34th Senate vote in support of the agreement.
Calling Congress's upcoming vote on the deal one of the most important foreign policy decisions in recent history, Kerry said any rejection of this agreement would show a lack of strength on the part of the American people.
"It would be broadcasting a message so puzzling, most people across the globe would find it impossible to comprehend. … Who could fairly blame them for not understanding if we suddenly switch course and reject the very outcome we had worked so hard to obtain?" Kerry said from the National Constitution Center in Philadelphia. "And not by offering some new and viable alternative but by offering no alternative at all."
Less than an hour before Kerry began speaking, Sen. Barbara Mikulski of Maryland became the third Senate Democrat this week to back the agreement, still nearly a week before Congress is back in session and formal debate over the deal begins.
With her vote, the Senate will be able to uphold President Obama's veto of any GOP-backed resolution to disapprove of the deal. And if the administration is able to win the support of just seven more senators—for a total of 41—there won't be any resolution passed for him to veto. As it stands, there are 10 undecided senators.
In his address, Kerry characterized many criticisms of the deal as "myths," including the ideas that the Obama administration trusts Iran, that the deal legitimizes Iran's quest for nuclear weapons, and that sanctions relief will make a huge difference to Iran's funding of unrest in the Middle East.  
In an interview with CNN just ahead of his speech, a characteristically staid Kerry pushed back on that last criticism, refuting the claim that the sanctions relief will result in Iran receiving hundreds of billions of dollars that the regime can use to fund terrorism.
He said the amount Iran will take in is closer to $50 billion to $55 billion. And while it's "probably fair" to say some of it will fund "bad or nefarious activity," Kerry said, neither he nor the U.S. intelligence community believe the funds "will be determinative in any way regarding the security of the region."
Minutes later, Kerry began his address by asking the audience assembled to decide for themselves whether the deal is sound. He went on to outline its various provisions: to extend Iran's breakout period, cut the development of weapons-grade plutonium, and give the International Atomic Energy Agency ready access to inspect Iranian facilities, among others.
Israel's security has been of much concern to U.S. senators weighing their votes on the deal. The two Democratic senators who've come out against it, New York's Chuck Schumer and New Jersey's Bob Menendez, have done so in no small part because of concerns about Israel.
But in his speech, Kerry sought to assure the country's supporters that he is its champion.
"I take a backseat to no one in my commitment" to Israel's safety, Kerry said, painting the disagreement between Prime Minister Benjamin Netanyahu and the Obama administration as one of respectful disagreement.
Along with President Obama, senior U.S. defense officials, and "even" former Israeli officials, Kerry said, he believes "this agreement puts us on the right path to prevent Iran from ever getting a nuclear weapon. The people of Israel will be safer with this deal, and the same is true for the people throughout the region."  
Kerry rejected the concept that the United States could walk away from the current deal and return to the bargaining table with Iran later on. He preemptively warned members of Congress that, in the Obama administration's view, there is no viable alternative to the agreement.
"To vote down this agreement is to solve nothing, because none of the problems that we are concerned about will be made easier if it is rejected," Kerry said. "None of them. Not Iran's nuclear program, not Iran's support for terrorism or sectarian activities, not its human-rights record, and not its opposition to Israel. To oppose this agreement is, whether intended or not, to recommend in its place a policy of national paralysis."
We want to hear what you think about this article. Submit a letter to the editor or write to letters@theatlantic.com.