John Boehner Isn't Fazed by Buzz About His Speakership Being in Trouble
Insisting he has "widespread support," the House speaker painted a measure to oust him as a challenge typical of the job.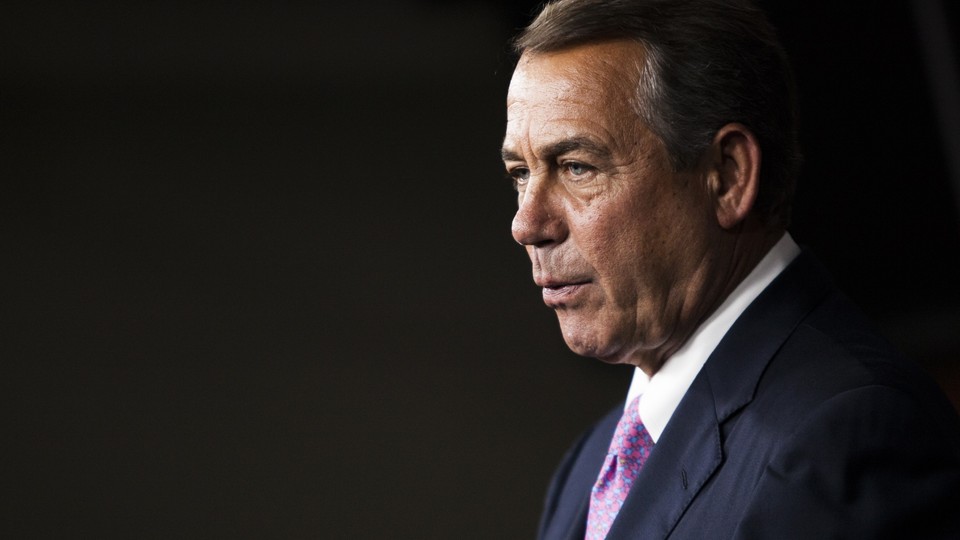 John Boehner's message going into an already-contentious September is simple: I got this.
After a recess dominated by the Iran deal, Boehner will have to guide House Republicans through battles over that international agreement, multiple investigations into Planned Parenthood, and a near-inevitable continuing resolution to fund the federal government by Sept. 30.
And he's got to do it with speculation swirling on whether he's got a handle on his caucus and whether a measure to oust him as speaker, put forth by Rep. Mark Meadows of North Carolina, has any viability.
But during a press conference Thursday, Boehner preempted questions about his ability to lead House Republicans in his opening remarks.
"I've been reading all these stories about the challenges that we face here," he said. "Leadership comes with challenges, that's how it's been for me, that's how it's been for Republican and Democrat leaders long before me."
He's suggesting that just like those leaders, he'll weather the challenges that are part and parcel of the speaker job. And he's suggesting—as he has in recent months—that the Meadows' effort to fire him has absolutely no weight.
But since Meadows introduced the bill to fire Boehner in July—a move Boehner characterized as one member being "off the reservation"—the likelihood of a vote on the measure has only grown, and the conservative wing of the House is as dissatisfied with him as ever.
Asked by a reporter about the "impression … that you are not in control," Boehner cited a very public show of confidence he got this week.
"I have widespread support amongst my members," he said. "We saw it yesterday—you probably read about—yesterday afternoon there was a large standing ovation amongst our members for the fact that I have this job and what I have to put up with to keep it."
The speaker may be putting up with more grief than even he's used to in the coming weeks.