John Boehner Is Resigning From Congress This Year
The House speaker is expected to exit in October.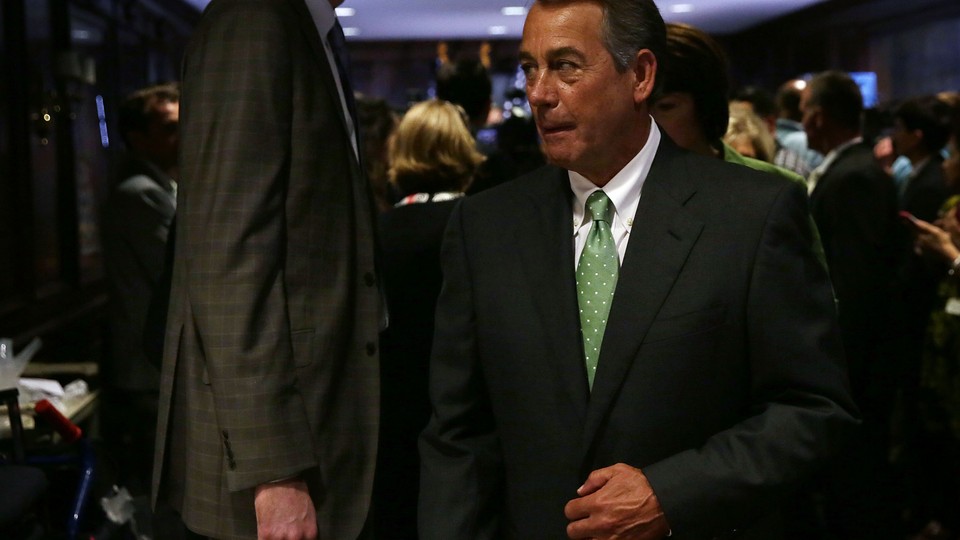 Long under fire from conservatives in his caucus, House Speaker John Boehner will resign effective October 30, leaving both his speakership and his congressional seat, he said in a statement Friday morning.
"Today, my heart is full with gratitude for my family, my colleagues, and the people of Ohio's Eighth District," Boehner said in the press statement released several hours after one of his aides confirmed the exit. "God bless this great country that has given me—the son of a bar owner from Cincinnati—the chance to serve." The speaker made the announcement to House Republicans in a "very moving and humbling speech," according to one member.
Attempting to steer and unite a House Republican conference that is often pulled in different directions by moderate and conservative factions has been a defining feature of the speaker's tenure. The last several years of Boehner's speakership have been puncuated by lurches from one budget deadlock to another.
That tension has been on full display and at times appeared at risk of boiling over during the current debate over federal funding for Planned Parenthood and government spending in Congress, now likely to be Boehner's last fight as speaker.
An aide to Boehner said Friday that the speaker had planned to resign at the end of last year, but his plans changed once former House Majority Leader Eric Cantor lost his reelection. "The speaker believes putting members through prolonged leadership turmoil would do irreparable damage to the institution," the aide said. Boehner has been speaker since Republicans won the House following the 2010 election.
A spokesperson for Eric Cantor tells National Journal the former Republican majority leader is not commenting on Boehner's resignation today.
The speaker left the Capitol Friday without speaking to reporters. He's expected to appear live on CBS's Face the Nation Sunday.
Boehner's resignation will be seen as a victory to some members of the conservative wing of the House, namely members of the House Freedom Caucus. Rep. Mark Meadows of North Carolina offered a motion to vacate the chair—removing Boehner from the speaker's position—in July, but efforts to remove Boehner hadn't fully taken off in the months since. According to a report from CNN, some Freedom Caucus members wanted to wait until Pope Francis left Washington to move on a vote. The conservative Heritage Action, often a Boehner foe, took something of a victory lap after the news, saying: "Today's announcement is a sign that the voice of the American people is breaking through in Washington. Now is the time for a principled, conservative leader to emerge."
House Majority Leader Kevin McCarthy, the No. 2 Republican in the House, called Boehner a "leader, mentor, and most of all friend" in a statement on Friday. "He will be missed because there is simply no one else like him," McCarthy said, adding: "Now is the time for our conference to focus on healing and unifying to face the challenges ahead and always do what is best for the American people."
Rep. Paul Ryan, whose name was immediately floated as a speaker contender in the minutes after this morning's announcement, characterized Boehner as a "great leader" for the GOP in a statement and said his resignation is "an act of pure selflessness." Though Ryan says he won't be pursuing the speakership himself, he said he's "confident our conference will elect leaders who are capable of meeting the challenges our nation faces."
Senate Majority Leader Mitch McConnell praised Boehner in a speech from the Senate floor on Friday, crediting the House Speaker with the ability to "transform a broken and dispirited Republican minority into the largest Republican majority since the 1920s." Displaying empathy for the oft-embattled leader, McConnell, who has also worked to rein in an at-times unruly Republican conference, said: "John knows what it's like to struggle and to dream of something better."
House Minority Leader Nancy Pelosi called Boehner's resignation "seismic for the House" during a press conference Friday morning. She called the exit "a stark indication" of the House Republicans' "disarray" and what she said is an "obsession" with shutting down the government. Pelosi said she has not yet heard from Boehner personally. Dubbing the speaker "the latest tea party victim," Pelosi's PAC sent out a fundraising pitch off the news.
In a statement, Senate Minority Leader Harry Reid praised Boehner's pragmatism, saying "To say that I will miss John Boehner is a tremendous understatement."
The news arrives just a day after a moment that, for the House Speaker, represented one of the highlights of his political career. After extending invitations to heads of the Catholic Church for more than 20 years, Boehner finally succeeded in getting a pope to visit and address a joint-meeting of Congress.
On Thursday, the famously sharp-tongued Republican leader appeared nearly overcome by emotion during Pope Francis's speech to Congress, a winding address that touched on immigration, the environment, and the family.
Boehner teared up during the event as he sat perched behind the pontiff in the House gallery, pausing several times to wipe away tears with a handkerchief.
---
Zach C. Cohen contributed to this article