Who Will John Boehner Be Now?
The congressman said Sunday he expects "a little more cooperation" from his colleagues now that he's on his way out.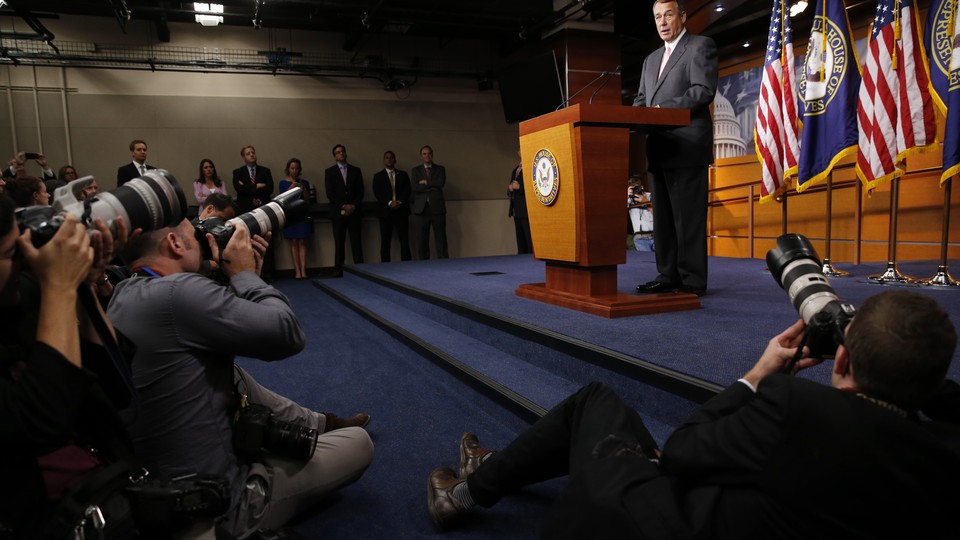 John Boehner was thinking about yoga this morning.
"It's great for my back," he said Sunday in an interview on CBS's Face the Nation. "I've had back problems for 50 years."
Boehner said he hasn't been as diligent about practicing yoga lately, but he will soon have more time to fit in a few sun salutations. On Friday, the congressman from Ohio shocked Washington and members of both parties—even his closest friends—when he announced that he would step down as speaker of the House and leave Congress altogether at the end of October. He walked into that day's press conference singing "Zip-a-Dee-Doo-Dah," a lighthearted start for a man who some say sacrificed his career for the sake of the House and its governing party.
Boehner's departure marks the end of a nearly five-year-long tug-of-war between the House's establishment wing and its Tea Party conservatives. As Norm Ornstein wrote this morning:
It was inevitable that these two forces—radicals flexing their muscles, demanding war against Obama from their congressional foxholes, and leaders realizing that a hard line was a fool's errand—would collide violently. … Boehner would have been placed at the right end of his party a couple of decades ago. But as a realist operating in the real world of divided government and separation of powers, he became a target within his own ranks.
Rumors that the speaker would resign or be ousted were not uncommon, especially after a historic number of his colleagues voted no in his reelection in January. The most recent fight—over Planned Parenthood—threatened to shut down the government at the end of this month. But now that he's on his way out, Boehner doesn't have to please the conservatives demanding language to defund the organization in the legislation that will keep the government running. And the chances of passing a "clean" bill look good so far.
Boehner said Sunday that a shutdown won't happen.
"I expect a little more cooperation from around town to get as much finished as possible," he told host John Dickerson. "I don't want to leave my successor a dirty barn. I want to clean the barn up before the next person."
House Majority Leader Kevin McCarthy is widely regarded as the favorite to succeed Boehner. He hasn't formally announced he wants the job, but he started calling members to rally support for the speakership soon after Friday's announcement. Boehner said he planned to step down at the end of 2014, but stayed on when Eric Cantor's stunning primary defeat last summer shook the chamber. Pope Francis's visit to Congress this week, which Boehner organized, "helped clear the picture" on timing. The congressman has tried to bring a pope to the Capitol for nearly 20 years.
Boehner's exit has renewed urgency for handling a few outstanding legislative debates, including raising the debt ceiling, funding the country's highway system, and re-opening the Export-Import Bank, whose funding expired in July.
"I've got another 30 days to be speaker," Boehner said Sunday. "I'll make the same decisions the same way I have the last four-and-half years."
As for what happens next month, when he puts down the gavel for good:
"I don't know," Boehner said. "We'll figure it out."