Joe Biden's Home-State Politics Get a Rare Shake-Up
Delaware's lone congressman, John Carney, is running for governor, creating an opportunity for Democrats looking to move up the totem pole.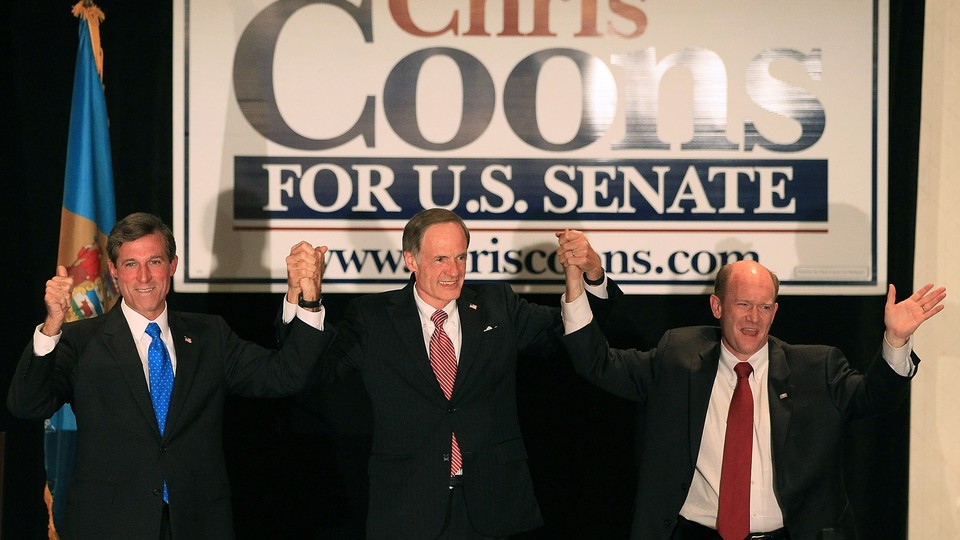 Delaware Rep. John Carney is a clear favorite to become his state's next governor. What happens to the seat the Democratic congressman is leaving behind is less sure.
With Carney announcing his run for governor Wednesday, Delaware Democrats are expecting a competitive and potentially crowded primary for his at-large House seat. In a liberal-leaning state with just three federal positions, the vacancy has set in motion a rare opportunity for local politicians looking to move up. Already, one day after Carney's announcement, Democratic state Sen. Bryan Townsend has said he will run for Congress.
"If you're an up-and-coming elected official or anyone who's interested in elected office at the highest levels in Delaware, the golden ring doesn't come around very often," said Ted Kaufman, Vice President Joe Biden's longtime adviser and his appointed successor in the Senate. "When there is an opening, a number of people come forward."
In the case of Carney's seat, the opportunity for Delaware Democrats came through a tragic turn. The third-term congressman was expected to remain in the House until Beau Biden, Biden's son and the state's former at­tor­ney gen­er­al, died from brain cancer earlier this year. Beau Biden had been expected to run for governor himself.
Even before Carney said he was running for governor, Townsend and state Rep. Bryon Short made known their interest in his seat. Earlier this month, Townsend moved to hire a fundraising staff for a potential campaign.
"I've heard pretty clearly about the two candidates, mainly because these seats don't come up very often," Delaware Gov. Jack Markell told National Journal. "They are both credible," but, he added, "it wouldn't surprise me if others got in." Markell, who is term-limited, is not interested in the congressional seat and said he hasn't decided if he'll endorse in the race.
Short said he's "moving towards" a bid, while another potential candidate, former Democratic state Rep. Dennis Williams, said he's also seriously eyeing a run. Marla Blunt Carter, a state director for President Obama in 2008, and her sister, Lisa Blunt Rochester, the first African-American woman to become Delaware's secretary of labor, may also launch campaigns. (Marla Blunt Carter said the two would not run against each other and would decide on the race early next year.) And 2014 state treasurer candidate Sean Barney, an Iraq War veteran and former Markell policy director, is leaning toward a run, a source close to the campaign said.
Already, talk of potential legislative vacancies after the congressional election is trickling further down to the local level. Short, who would not seek reelection in his state House district if he runs for Congress, said a couple of local Democratic committee-members have already expressed interest in his position.
"People are paying attention, and they know I'm not going to run for both seats at the same time," Short said.
The down-ballot scramble is rare in a state where high-ranking politicians have shuffled between different federal positions for years, crowding out promotions for lower-level officeholders.
Republican Mike Castle served as governor for two terms and then spent nine terms in the House until he lost a messy GOP primary for Senate in 2010. Before serving in the Senate, Sen. Tom Carper represented Delaware in the House for 10 years and was governor for two terms. And Joe Biden, whose family remains deeply respected in the state, held one of Delaware's Senate seats for 36 years.
"Once you get into one of the big positions, you're in a power position in our state," said Brian McGlinchey, a Delaware-based Democratic strategist. "The [House] seat has a lot of prominence."
But the challenge to get there can be steep for candidates, especially state legislators. Delaware's legislative districts are a small percentage of the state population-wise, leaving those lawmakers only known to a small size of the electorate.
"No state legislator has a particularly large base when it comes to running statewide," said J.J. Balaban, a Democratic media strategist who's worked on campaigns for Markell, Carper and Democratic Sen. Chris Coons of Delaware. "That means the field is just very open."
Williams, the former state representative, unsuccessfully challenged Castle for the House seat in 1996 and 1998, when Democrats in the state lacked the dominant registration numbers they boast today.
There is one Republican running in the race so far, former Wyoming mayor Hans Reigle. But even Republicans concede that the election will be a tough climb.
"Winning as a Republican statewide is an extremely difficult lift," said Tom Ross, a former chair of the Delaware Republican Party. "Anybody that's familiar with the registration here in Delaware would of course give a big advantage to whoever the Democratic nominee is."
Who that nominee will be, though, is impossible to predict.