Joe Biden Tests Out a Middle-Class Message That Sounds A Lot Like a Foundation for a Campaign
The vice president laid out his vision to grow the economy Wednesday. And he says he cannot wait to debate it.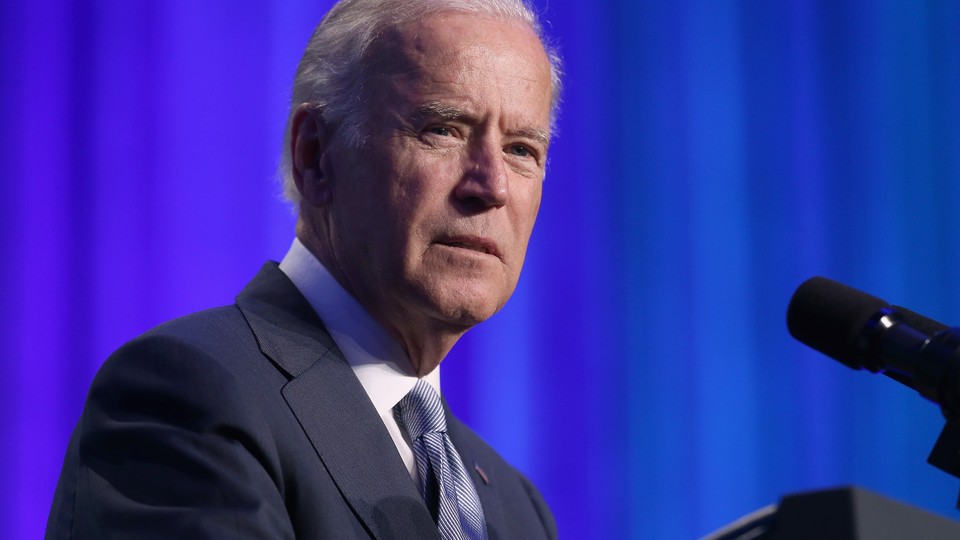 There was a politician in a swing state, a speech about middle-class empowerment, and Bruce Springsteen music washing over a ballroom. It had all the trappings of a campaign stump speech as Vice President Joe Biden laid down a compelling case for expanding access to community college.
There was only one thing missing: Biden's stated intention to run for the White House.
"We cannot afford a country that only provides 12 years of education for free," Biden said in an address to Miami Dade College on Wednesday.
For weeks, Biden's been weighing whether or not to challenge Democratic front-runner Hillary Clinton in the cycle's primary. He has spoken with Democratic thought leaders, including the president and Sen. Elizabeth Warren. And, he reportedly told Democratic National Committee members last week that he is trying to decide whether he has enough "emotional fuel" to survive a grueling presidential campaign after the death of his son Beau Biden earlier this year.
And while Biden regularly travels for his job, the vice president's recent exploration into the presidential fray has created a new level of media scrutiny as he makes his way through Florida this week.
Even Biden recognized he has stirred up intrigue. In a nod to the large cadre of press that showed up to his Wednesday speech, which was billed simply as an address on education, Biden quipped, "look at all the press that is here. Their interest in community college is amazing. I hope that is what they are going to write about."
During his address, Biden blurred the line just slightly as he expanded his reach from education to the preservation of the middle class, a common refrain for presidential contenders hoping to catch a populist note. In a discussion about how he would pay for free community college, Biden said he could "hardly wait" to debate the pay-fors.
Biden said he had a host of economists who worked for him who are constantly studying what income bracket defines the middle class. He boiled it down a little more simply.
"It' s not a number," Biden said. "It is a value set."
Biden's message Wednesday was inextricably linked to his own personal story. Biden, after all, has long been thought of as the scrappy politician from Scranton, "Amtrak Joe," the White House's "optimist" who has gained a cult following for his unpredictable soundbites and warmth. His flirtation with another presidential run comes just as Democratic voters and the press are hungry for a foil to Hillary Clinton, a polished campaigner who has also tried to design her presidential bid to address the struggles of everyday Americans.
During his appearance Wednesday, Biden remained casual. He took off his suit jacket and delivered parts of his speech with his body leaning into the podium and his hands folded atop of it. With his eyes dipping across the audience, he recounted his father's own economic woes.
When he promised everything would be OK, Biden said "he meant it."
Now, "parents don't have the confidence to look their child in the eyes and say 'honey, everything is going to be alright," Biden continued.
A product and symbol of the Obama administration, Biden tread carefully between celebrating the president's achievements and remarking on how much more there is to accomplish.
"Look, what we have done here is that we find ourselves on the verge right now of a potential for an economic renaissance in this country," Biden said.
Whether or not, however, Biden believes he can lead that next phase is still undecided.