Joe Biden and Stephen Colbert: Brothers-in-Grief
The vice president and the comedy star commiserate over tragedy and confront the donkey in the room.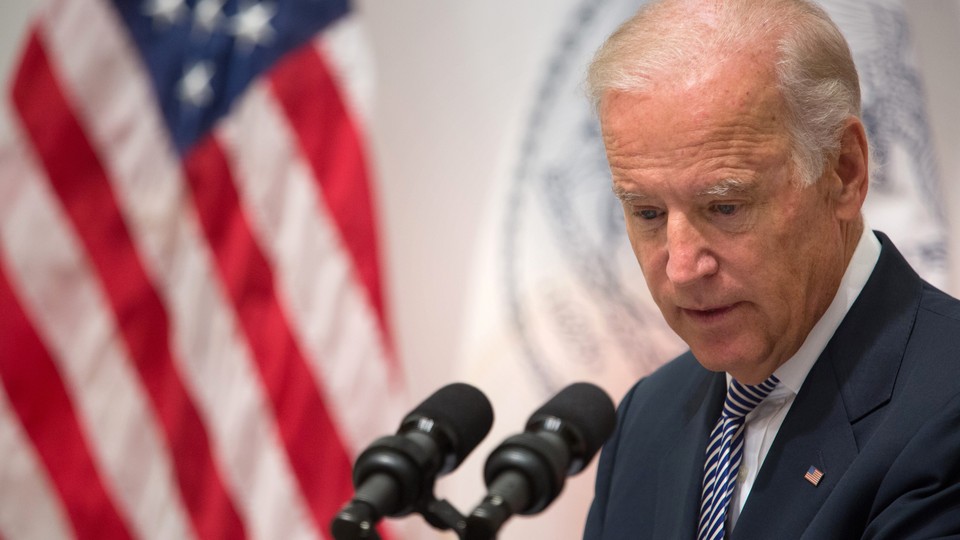 From a purely political perspective, Joe Biden couldn't have asked for a better national showcase than the one he was gifted on Thursday night by Stephen Colbert.
There was the newly-minted heir to David Letterman, swooning over the vice president's unmatched authenticity as a politician, commiserating with him over the death of his son, and finally, practically begging him to seek the presidency. The crowd chanted, "Joe! Joe! Joe!" and all Biden could do was laugh it off with a verbal wink. "Be careful what you wish for!" he chided the audience.
But the vice president's appearance on The Late Show with Stephen Colbert—his first interview since his son Beau succumbed to cancer this spring—was so much more than the light-hearted gab session or earnest defense of policy viewers are used to seeing when a politician sits down with a comedian. Much of that had to do with the host, who is reintroducing himself to a network audience after years of cloaking himself in character on cable. Colbert, in fact, shed much more than the conservative-blowhard persona when Biden walked on stage; he ditched the veneer of comedy altogether, treating most of the interview as if he were, well, Charlie Rose.
"We see the real you," Colbert fawned before asking earnestly, "How did you maintain your real soul in a city that is so filled with people who are trying to lie to us in subtle ways?"
Biden began by citing his now-famous nightly commute back home to Delaware during his 36 years in the Senate. But then he said, "What always confuses me about some folks I've worked with is why in God's name would you want the job if you couldn't say what you believed? I'm not—there's nothing noble about this, but ask yourselves the question: Would you want a job that, in fact, every day you had to get up and you had to modulate what you said and believed?"
Watch out, Hillary Clinton.
Biden, of course, never mentioned her name, but that answer is the real heart of the case he would have to make against her, implicitly or explicitly, if he ran. Clinton's poll numbers are sinking, at least in part, because she is seen, once again, as the epitome of caution and parsing. Biden may be the consummate politician, but he is seen as the opposite.
But that response might also be the exact reason for Biden not to run: Modulating what you say and believe has been a key part of the president's job description for decades now, and it would be fascinating, to say the least, if Biden tried to break that mold.
Biden didn't actually make any news in the Colbert interview—his doubts about whether he and his family are emotionally ready for a presidential campaign are clearly still there. But it was remarkable television nonetheless. With gentle prodding from Colbert, and pausing frequently to collect himself, Biden reminisced about Beau in ways that likely brought many in the television audience to tears. He recalled a recent trip to Denver in which he was greeting military families on the airport tarmac. "It was going great, and a guy in the back yells, 'Major Beau Biden. Bronze Star, sir. Served with him in Iraq.'"
"All of a sudden, I lost it," Biden said. "You can't do that. You can't do that."
A few moments earlier, the vice president summed up his thinking about the race this way:
I don't think any man or woman should run for president unless, number one, they know exactly why they would want to be president. Two, they can look at the folks out there and say, 'I promise you have my whole heart, my whole soul, energy, and my passion to do this.' And I'd be lying if I said that I knew I was there. I'm being completely honest.
Biden clearly had a sympathetic listener in Colbert. And there was a reason beyond political leanings. As most people know, the vice president lost his wife and infant daughter in a car accident just weeks after he was first elected to the Senate in 1972. But as Biden himself reminded viewers, Colbert suffered a similar tragedy two years later when his father and two of his brothers died in a plane crash. The vice president said he "marveled" at how people who have suffered tremendously can rally themselves, "get up," and help others. "I don't want to embarrass you, but you're one of them, old buddy," Biden said.
At the end of the interview, Colbert seemed to drop whatever pretense of impartiality there was between the two Irish Catholic brothers-in-grief. As Biden talked about how his parents imparted in him the notion that all people were equal, Colbert briefly compared his mindset to that of Thomas Jefferson. "This is why I think people want you to run for president," a deadly-serious Colbert said to Biden. "I know it's an emotional decision for you to make, but it's going to be an emotional decision for a lot of people if you don't run. And sir, I just want to say that I think your experience and your example of suffering and service is something that would be sorely missed in the race. Not that there aren't good people on both sides running—but I think we'd all be very happy if you did run."
But no pressure, Joe. No pressure at all.