Jockeying Intensifies for Possible GOP Leadership Races
Boehner's allies are confident that he can keep the speakership, but if he can't, a host of members are angling to move up the ladder.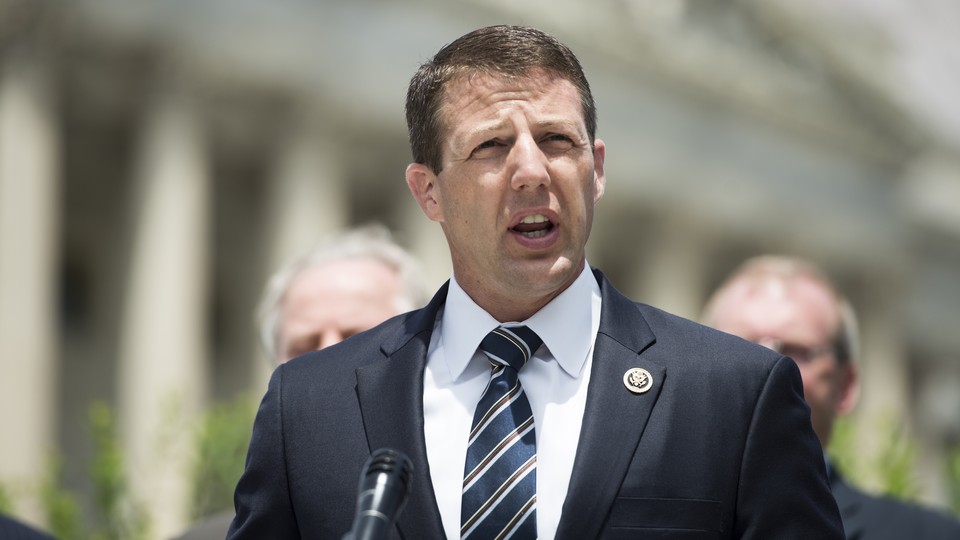 Speaker John Boehner doesn't even have one foot out the door, but already a fleet of members are ready to replace him at the leadership table.
Although the Ohio Republican's allies feel confident that they could beat back a coup, speculation about an attempt to oust him as soon as this month has given members and the public the earliest look yet at the potential post-Boehner Republican leadership landscape.
It is populated mostly by familiar faces, as members expect current leaders and past losers in leadership races to move up or jockey for position. But at least one new face has joined the fray: Rep. Markwayne Mullin, a second-term Oklahoma Republican, began informing colleagues this week that he intends to run for majority whip.
In the event of a leadership shuffle, members widely presume that Chief Deputy Whip Patrick McHenry will enter the race for whip. Besting him would be difficult as he is popular and respected by both Boehner allies and conservatives. But Mullin informed McHenry allies this week he would enter the field, according to three members with knowledge of the discussions.
"There is not a leadership race right now, and therefore I have no comment," Mullin said in a statement.
Members said they believe former Chief Deputy Whip Peter Roskam, who lost the whip race to Scalise last election but has recently emerged as a force during the Iran debate, could look to rejoin the leadership table as well.
The whip race assumes that existing Majority Whip Steve Scalise makes a play for the majority leader position. Members speculate, however, that conference Chairwoman Cathy McMorris Rodgers will try to leapfrog Scalise and become the Republican leader, though she said in a statement this week she has not made calls seeking any other position.
Unsurprisingly, Boehner's No. 2, Majority Leader Kevin McCarthy, is widely presumed to be the successor to the gavel. If he is to field a serious challenger, that person has yet to emerge. Members interviewed privately believe a rightward leaning candidate could come forward if only as a ceremonial challenge, especially if McCarthy fails to lock down the support of conservatives.
Members of the House Freedom Caucus have been whispering that their support would be contingent on one or two seats at the leadership table. Still, it is unclear who from the conservative group would run or where they would fit.
If McMorris Rodgers tries to move up, the conference chairmanship would be up for grabs. Budget Committee Chairman Tom Price, who ran for conference chairman but lost to McMorris Rodgers, could try again for the slot, members speculated.
To be clear, though, Boehner and his allies believe he could survive a coup attempt.
"Navigating tough challenges isn't new to this leadership team," said Boehner spokeswoman Emily Schillinger. "The speaker is focused on the American people's priorities and how we can accomplish them. He's got wide support amongst our members, and he is not going anywhere."
If a disenchanted conservative brings up a motion to strip Boehner of his title, as is widely expected to happen, allies believe a large majority of Republicans and potentially a few Democrats would vote to sidestep a chaotic and lengthy process and allow Boehner to retain his position.
"I don't think an overwhelming majority of us give a crap about that, because it's meaningless, it'll never happen. There's much stronger support for Boehner than these guys let on," Rep. Mike Simpson, one of Boehner's closest friends, said. "I don't think we actually do need Democratic votes, but we'd get Democratic votes."
That could happen in several ways. The motion would be subject to a motion to table, and if 218 Republicans decide this is not the way to handle a leadership change, they could beat back the coup attempt immediately. But allies think that even if they cannot secure enough Republicans, at least a few Democrats would help them avoid the circus. Democrats could also abstain from voting or vote "present" meaning only a simple majority of Republicans would be needed to retain Boehner.
Democratic Whip Steny Hoyer said earlier this week that he has not been involved in any leadership discussions speculating about how Democrats would vote on any of the motions.
Other Democrats, however, said that although they would revel in the GOP infighting, cooler heads would prevail in the end.
"It's their exercise. It's their dysfunction, and the rest of us and America gets to watch. That's what I'm going to do. I'm going to watch their dysfunction," Democratic Rep. Raul Grijalva said. But asked whether Democrats would ultimately support a motion to table, he answered, "Probably."
---
Alex Brown contributed to this article