It's Now Politically Trendy to Lambaste Your Own Mega-Donors
But as candidates go on the attack, they risk alienating supporters they may need and opening themselves up to charges of hypocrisy.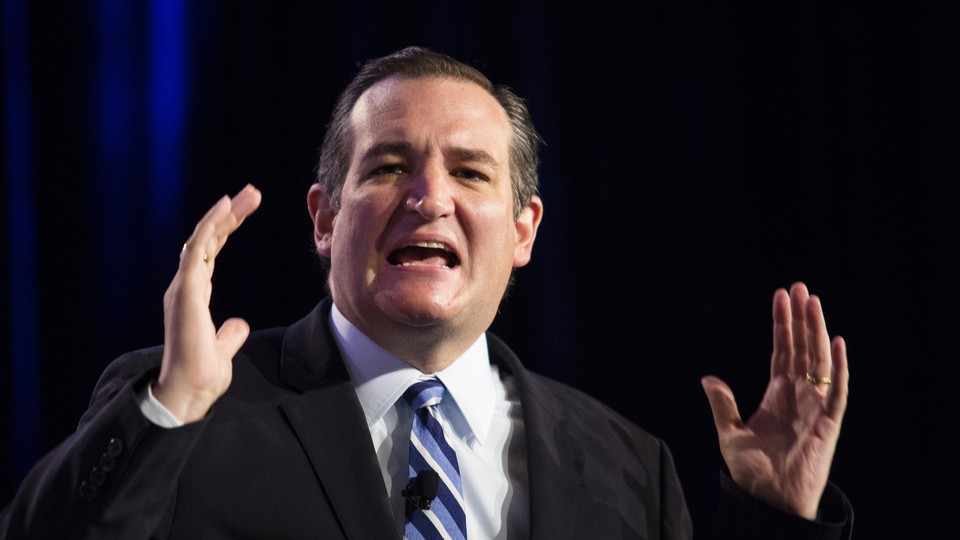 2016 presidential contenders are increasingly criticizing the outsized influence of money in politics—in some cases taking aim at the very donors that candidates may need to win the White House.
Sen. Ted Cruz became the latest hopeful to attack that flood of money—in words, if not in action—when he said in a speech on the Senate floor Monday that elite Republican donors were out of step with the conservative base.
"A very large percentage of the Republican donors actively despise our base, actively despise the men and women who showed up and voted you and me into office," Cruz said, adding, "I can tell you when you sit down and talk with a New York billionaire Republican donor—and I have talked with quite a few New York billionaire Republican donors, California Republican donors—their questions start as follows: First of all, you've got to come out for gay marriage, you need to be pro-choice, and you need to support amnesty.
"You wonder why Republicans won't fight on any of these issues? Because the people writing the checks agree with the Democrats," Cruz added.
Cruz speaks from experience. One of Cruz's biggest backers is a New York Republican billionaire: Wall Street hedge-fund magnate Robert Mercer, who has already given $11 million to a super PAC supporting the senator. Cruz also found himself in a dustup in April after The New York Times reported that he attended a fundraiser at the New York home of two gay businessmen where he apparently showed a softer tone on same-sex marriage. One of the hosts eventually called the decision to welcome Cruz "a terrible mistake."
Cruz's comments Monday stand out at a time when presidential campaigns are rushing to amass as much money as possible as the primary season drags on. They also arrive as the latest in a wave of anti-big-money sentiment on the campaign trail, a rallying cry taken up by both Democrats and Republicans.
Donald Trump has also leaned on first-person experience to attack the corrupting influence of money in politics, a refrain that has won him fans on both sides of the aisle and helped bolster his reputation as a candidate unafraid to attack the status quo in Washington. "I will tell you that our system is broken," Trump said defiantly during the first Republican presidential debate. "I gave to everybody. When they call, I give. And do you know what? When I need something from them two years later, three years later, I call them, they are there for me."
That message appears to be drawing imitators, like Cruz, among the Republican 2016 contenders who want to emphasize outsider status. But most candidates lack Trump's financial heft. As a result, attacks such as Cruz's recent comments highlight an awkward tension inherent in simultaneously benefiting from big money and attacking its influence, a delicate balancing act that much of the field now faces.
That balancing act exists in the Democratic primary race as well. Hillary Clinton and Bernie Sanders have made limiting the influence of big money in politics a key part of their campaigns for the Democratic nomination, while outsider candidate Lawrence Lessig has made it the defining issue of his campaign.
In an attempt to inoculate themselves against any criticism that they too are part of a corrupt system, Sanders and Lessig have both leaned on small-dollar donations to buoy their White House bids.
Taking a page out of that playbook—and working to capitalize off the candidate's anti-mega-donor rhetoric ahead of a looming Federal Election Commission filing deadline—the Cruz campaign launched what Team Cruz is calling "the world's first presidential crowdfunding platform" on Tuesday.
"Who says political campaigns are only funded by individuals with deep pockets?" the website www.cruzcrowd.com asks before proclaiming: "CruzCrowd is a threat to the Washington cartel and that is why WE are urging you to join our cause."
Cruz and Trump are far from the only 2016 Republicans to push back against the influence of money in politics. Chris Christie has called for transparency around political contributions. And Lindsey Graham has expressed support for a constitutional amendment to overturn the 2010 Citizens United Supreme Court verdict, which paved the way for corporations and labor unions to spend unlimited amounts of money in an attempt to influence election outcomes.
But most of the 2016 candidates are raking in major-dollar donations even as they speak out against them. Cruz's presidential bid has benefited from an array of elite mega-donors, beyond just Mercer. Five of the top 10 million-dollar donors in the 2016 presidential race have doled out dollars in support of Cruz's White House run, including private-equity investor Toby Neugebauer, as well as fracking billionaire Farris Wilks and his wife, Jo Ann.
Clinton has also faced intense scrutiny as she courts mega-money and calls for an end to its outsized influence, a tactic that her aides defend as a recognition that in order to rewrite the rules, you have to first play the game.
Many Americans support the idea of limiting the power of political donations, though the issue rarely ranks near the top of the agenda. According to a January survey from the Pew Research Center, 42 percent of the American public rated "dealing with the role of money in politics" as an important issue for the president and Congress.
For candidates like Cruz and Clinton, railing against mega-donors and the outsized influence of money in politics may win admiration from some voters. But it inevitably draws attention to the fact that they are also inextricably linked to the political establishment with which they find fault.