In His U.N. Remarks, President Obama Offers a Preview to His Meeting with Vladimir Putin
Though he criticized Russia's actions in Ukraine, the president said he'd be willing to work with Moscow in Syria.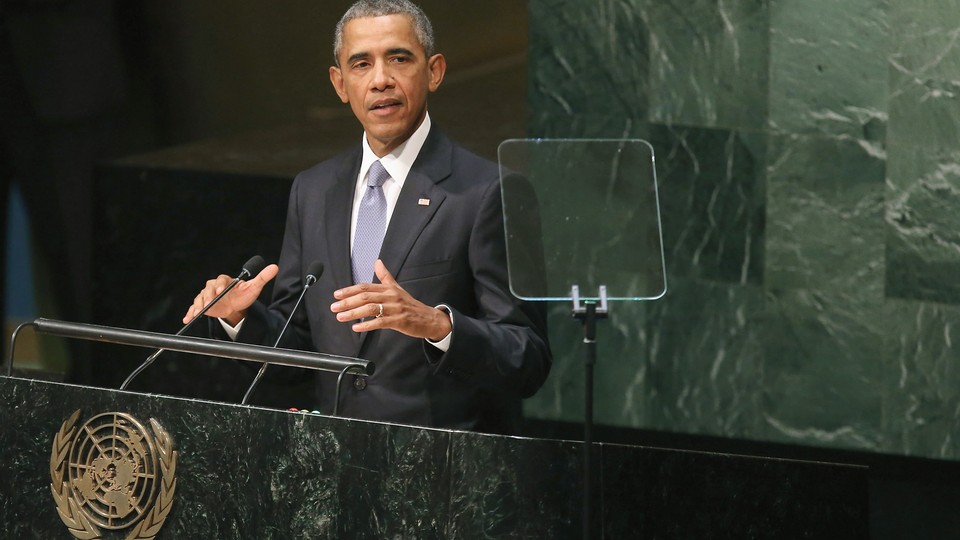 President Obama is meeting with Russian President Vladimir Putin Monday afternoon, the first time the two leaders will convene in about a year. And during his morning speech at the 70th meeting of the United Nations General Assembly in New York City, Obama offered the world a preview of what he'll say to Putin when they sit down face to face.
After lauding the diplomatic efforts that, for example, brought the Iranian nuclear deal to fruition, Obama called out global leaders who pursue the "control of territory," repression of their own people, and aggression abroad over empowering their own citizens. And he rejected the idea that in its opposition to Russia's actions in Ukraine, the United States is returning to a Cold War era.
"We cannot stand by when the sovereignty and territorial integrity of a nation is flagrantly violated," Obama said at the U.N. assembly. What's happened in Ukraine, with Russia's annexation of Crimea, "could happen to any nation gathered here today."
Obama's remarks Monday morning come as the president's foreign policy agenda has seen both victory and uncertainty in recent months: The support for his nuclear deal with Iran in Congress was a win for the administration, but the crisis in Syria, the secondary refugee crisis it has generated, and the fight against the Islamic State have critics at home questioning the administration's long-term strategy.
The president called for U.N. members to work together toward a solution in Syria, where the United States and fellow Security Council member Russia have divergent approaches. Not only has Russia been supporting the regime of President Bashar al-Assad militarily, but on Sunday, the Iraqi military announced that Russia, Iraq, Iran, and Syria have established an intelligence-sharing agreement against the Islamic State.
Obama said that military efforts are "necessary" but "not sufficient" to ameliorate the crisis in Syria, calling for a regime change and an agreement among the Syrian people "to live together peacefully." And even as he criticized Russia's interventionism in Ukraine, he said his administration is willing to work with Moscow and Tehran in Syria.
With the General Assembly conference as a backdrop, the president is also holding a meeting with Indian Prime Minister Narendra Modi on Monday. But the session with Putin is bound to overshadow the Modi meeting. Putin and Obama are expected to touch on Syria and Ukraine during their meeting.
Obama painted the decisions Russia has made abroad as brutish, claiming that if Russia had "engaged in true diplomacy" in Ukraine, and had worked with other nations "to ensure its interests were protected," the world would be a different place. It has been about 18 months since Russia annexed Crimea after the Ukrainian revolution, to the disapproval of Obama and other world leaders.
Obama didn't let American society slip through his remarks unscathed, as he criticized political polarization, anti-immigrant fervor, and fear-mongering in even "the most advanced democracies." At home, some believe that "strength is defined by opposition to old enemies" and "perceived adversaries," he said, including China, Iran, Russia, and Islam.
"We see an argument made that the only strength that matters for the United States is bellicose words, and shows of military force," he said, "that cooperation and diplomacy will not work."
Obama questioned those who would say the U.N.'s founding ideals are outdated, who believe "that power is a zero-sum game," and who think that "strong states must impose their will on weaker ones." He praised the international cooperation that has led to greater openness in Cuba and the Trans-Pacific Partnership. And throughout his speech, Obama emphasized the rights of the individual and said that efforts within the United Nations have championed democracy and citizens' liberty "on every continent."
"This progress is real," Obama said. "It can be documented in lives saved and agreements forged, in diseases conquered and in mouths fed."
Though the progress of individuals may be praised by an American president, it's a far different matter in other countries. Assad, Obama noted, met peaceful demonstrations by his people with violence and "created the environment for the current strife" the world is seeing with the Islamic State. Obama framed dissent as a vital component to progress.
"I believe a government that suppresses peaceful dissent is not showing strength—it is showing weakness and it is showing fear," Obama said. "History shows that regimes that fear their own people will eventually crumble. But strong institutions, built on the consent of the governed, endure long after any one individual is gone."