In Era of Super PACs and Internet, Road to White House Still Runs Through Iowa and New Hampshire
It's a huge gamble for candidates to bet that the first states matter less in the supersized new presidential campaign world.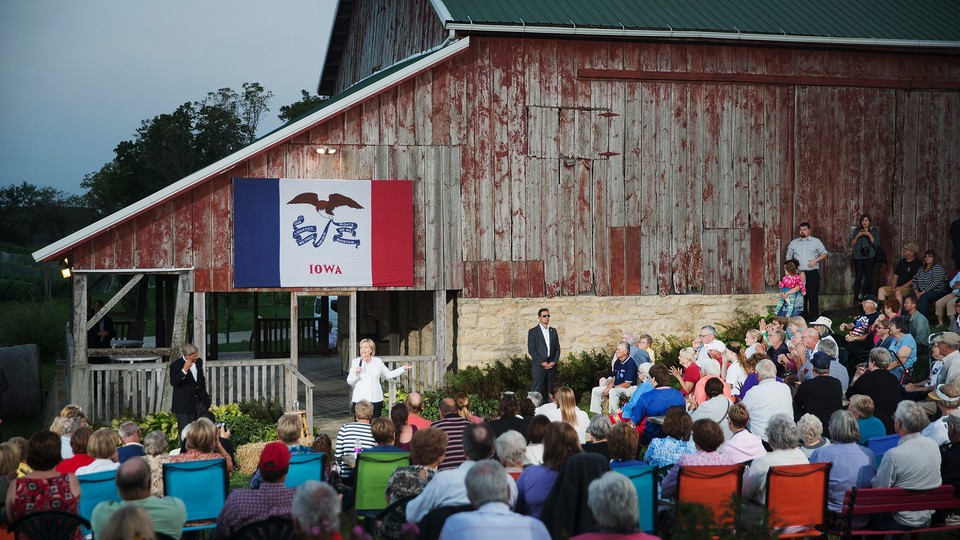 ALBIA, Iowa—Bright and early Monday morning, Republican presidential candidate Rick Santorum began his campaign week by talking to three voters and one local reporter at a roadside restaurant in this pretty southern dot on the Iowa map.
The low-key stop was Number 94 on Santorum's quest to visit all of Iowa's 99 counties; the next day he would finish the circuit. Santorum did the same thing in 2012, when he parlayed his dogged grassroots campaigning into an upset victory in the Iowa Republican caucuses—and leveraged that win to emerge as the principal rival, and eventual runner-up, to nominee Mitt Romney.
Other alternatives (led by Donald Trump, Ben Carson, and Ted Cruz) are overshadowing Santorum this year with the conservative Iowa voters that elevated him last time. Yet their shared focus on the state reaffirms the lesson of his improbable 2012 rise. Since the parties in 1972 decisively shifted authority for picking their presidential nominees from insiders to voters, the only reliable formula for success has been to win the Iowa caucus, the New Hampshire primary, or both, and to ride a wave of momentum into the larger states that follow.
At a time when almost everything else about running for president has radically transformed, a key question for 2016 is whether that formula still applies.
Many candidates in both parties think it doesn't: In the supersized new campaign world of unconstrained super PACs and insatiable media attention, they believe they will have ample opportunities to emerge, even if they don't win one of the first two contests.
But Iowa and New Hampshire have frustrated such predictions for decades.
Even with so much else changing, the kick-off states may still largely define the prospects for the contenders, and the choices for the millions of voters, in the states that follow.
"Most people don't pay any attention to politics so they defer to Iowa and New Hampshire to conduct the job interview," argues Douglas Gross, a longtime Iowa GOP activist. "I don't think that's going to change, and that means the stakes [in these states] are just as high as ever before."
While most political professionals believe voters in Iowa and New Hampshire take their privileged position seriously, the outsized influence of states that largely embody an earlier America—one without much racial diversity or any truly big city—has long grated. For years, reformers have tweaked the primary calendar and party rules to reduce their role.
(Related article: "Why Latinos Don't Caucus in Iowa")
However, since the modern primary era began in 1972, the GOP has not chosen a nominee who did not win either Iowa or New Hampshire.
Since then, Democrats have nominated only two candidates who did not win either state: George McGovern in 1972 (who beat expectations with strong finishes in both) and Bill Clinton in 1992 (a year when Democrats ceded Iowa to favorite son Tom Harkin and Clinton battled back from gusts of scandal to finish second in New Hampshire and claim momentum as "the comeback kid").
Historically, the Iowa and New Hampshire results have winnowed the field by channeling money and media attention away from the second-tier finishers, and eroding their credibility with voters. Two of those dynamics look obsolete. Super PACs mean that a few donors can sustain a candidate, even if their broader fundraising collapses. The proliferation of debates and media outlets covering the race guarantees more attention than before even for lagging contenders.
(Related article: "The Most Valuable Voters of 2016")
That means the key factor in determining if candidates can seriously contend next year without capturing either Iowa or New Hampshire is whether voters in later states believe they can still win. Historically, voters have soured quickly on candidates who fare poorly in the first contests. Once states start voting, notes longtime GOP strategist Scott Reed, "this thing takes on a life of its own … and if you are not finishing well, you are left in the dust."
Reed cautions that with so many other dynamics changing, later voters may not defer to the early results as much as they have in recent years. When the primary era began, the races were more fluid. In the 1976 Democratic race, six candidates won primaries, the most in the modern period. Second place in Iowa and victory in New Hampshire helped catapult Jimmy Carter from obscurity to the nomination that year—but he had to eliminate his rivals sequentially in a series of regional showdowns (such as his victories over George Wallace in Florida and North Carolina), and serious new challengers emerged even late in the calendar.
(Related article: "Trump's Shaky Electoral Foundation")
Most 2016 candidates hope that the new money and media dynamics will reproduce that kind of open contest. But if Bernie Sanders can't beat Hillary Clinton in Iowa or New Hampshire, it's difficult to see him growing into a genuine threat. And each Republican race since 2000 has ultimately been reduced to the Iowa winner (as the champion of conservatives) against the New Hampshire victor (as the center-right favorite).
Each race may follow different grooves this year. But it would be a huge gamble for any contender to bet that the road to the White House no longer runs through the two small states that have, however unfairly, dominated the nominating contest for a generation.