In Congress's Cesspool of Red and Blue Dysfunction, Pope Francis Preaches Golden-Rule Disruption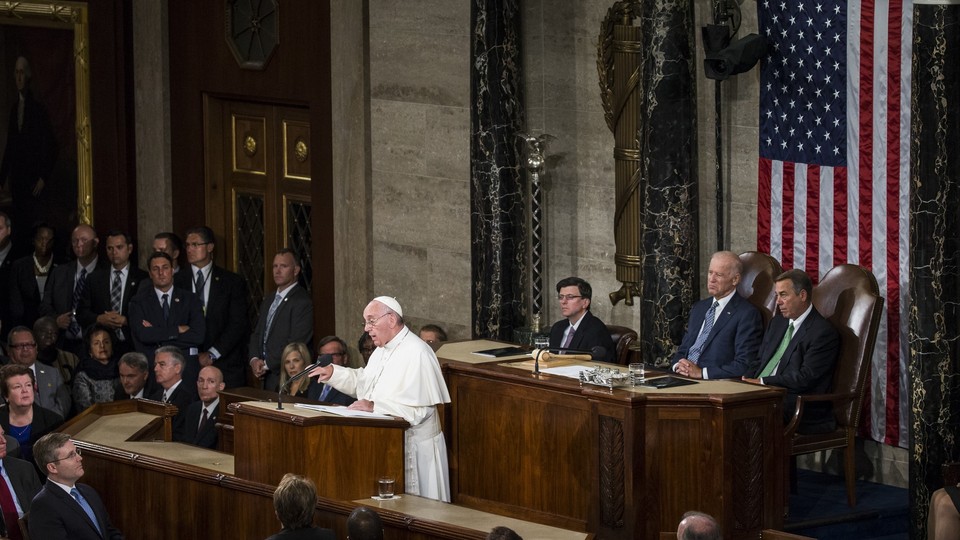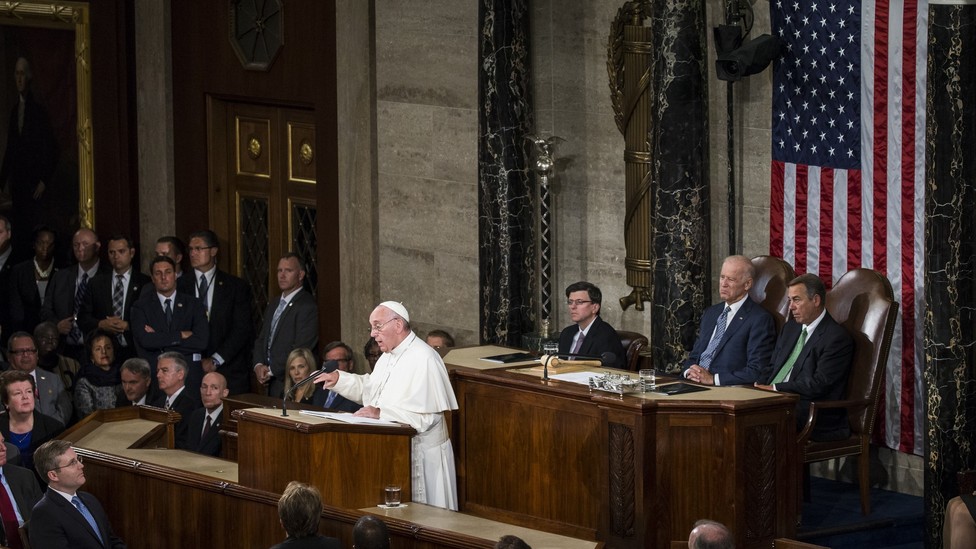 Pope Francis wouldn't be pigeonholed. Not in Washington. Not in Congress. Not on the floor of the U.S. House of Representatives, the womb of America's duopoly, where an untrusted and unloved leadership class divides itself into feckless Democrats and feckless Republicans—blues against reds.
No, this man worships a different hue. "Let us remember the Golden Rule," said the first pontiff to address a joint session of Congress. "Do unto others as you would have them do unto you."
This Rule points us in a clear direction. Let us treat others with the same passion and compassion with which we want to be treated. Let us seek for others the same possibilities which we seek for ourselves. Let us help others to grow, as we would like to be helped ourselves. In a word, if we want security, let us give security; if we want life, let us give life; if we want opportunities, let us provide opportunities. The yardstick we use for others will be the yardstick which time will use for us. The Golden Rule also reminds us of our responsibility to protect and defend human life at every stage of its development.
Republicans took that last line as an affirmation of the Catholic Church's opposition to abortion—and applauded.
The pope continued: "This conviction has led me, from the beginning of my ministry, to advocate at different levels for the global abolition of the death penalty."
And now, Democrats cheered.
Like most people, the Jesuit-trained spiritual leader doesn't fit neatly into the ideological boxes constructed by the two major parties to divide Americans and preserve power. While the pope might lean left on immigration, climate change, and income inequality, he stands to the right of the muted American middle on abortion, same-sex marriage, and religious freedom.
Pope Francis wrapped his complex and compassionate message in a phrase he used a half dozen times—and in a concept largely missing from U.S. politics in the 21st century—the very American ideal of "a common good."
Addressing one of the least popular institutions in U.S. society, the pope said, "Your own responsibility as members of Congress is to enable this country, by your legislative activity, to grow as a nation. You are the face of its people, their representatives. You are called to defend and preserve the dignity of your fellow citizens in the tireless and demanding pursuit of the common good, for this is the chief aim of all politics."
A vast majority of Americans think their politicians are selfish, arrogant, and corrupt. These sentiments are fueling a rise of populism threatening the moral and political authority of the pope's audience. Politics, he told the U.S. political establishment, "cannot be a slave to the economy and finance.
"Politics is, instead, an expression of our compelling need to live as one, in order to build as one the greatest common good: that of a community which sacrifices particular interests in order to share, in justice and peace, its goods, its interests, its social life," he said. "I do not underestimate the difficulty that this involves, but I encourage you in this effort."
The pope knows difficult. He leads an institution marred by scandal and corruption, burdened by ancient bureaucracies, and struggling to adapt to the 21st century—as such, a kindred spirit of U.S. political leaders. He is held up as a model for modern leadership, recasting the Catholic Church's institutional "brand" without forsaking its principles.
And yet, the pope is not infallible. He inexplicably lauded U.S. bishops on Wednesday for their "courage" in the face of what he called "self-criticism and at the cost of mortification and great sacrifice"—a self-reverential reference to the church sex scandal that horrified victims' advocates. One of them called it "a slap in the face to all the victims."
While the pope's visit rocked Washington this week, news out of the nation's capital reminded Americans why their political system needs the kind of disruption Pope Francis is trying to force upon the Catholic Church.
—A presidential candidate says Muslims shouldn't be president.
—A second presidential candidate suggests the president is a Muslim born outside the United States.
—A third presidential candidate won't tell the truth behind a self-inflicted scandal.
—American soldiers reveal a wartime horror: They were ordered to ignore the sexual abuse of boys by Afghan allies—and punished if they didn't.
—U.S. officials seem to be lying about war again—this time about ISIS.
Related to that last point, the pope addressed religious fundamentalism from what most Americans would consider the political center.
"A delicate balance is required to combat violence perpetrated in the name of a religion, an ideology, or an economic system, while also safeguarding religious freedom, intellectual freedom, and individual freedoms," he said. "But there is another temptation which we must especially guard against: the simplistic reductionism which sees only good or evil; or, if you will, the righteous and sinners."
Simplistic reductionism. Sounds like how U.S. political leaders and pundits turn complicated arguments into black-and-white spats.
The pope continued: "The contemporary world, with its open wounds which affect so many of our brothers and sisters, demands that we confront every form of polarization which would divide it into these two camps."
In Washington and, increasingly, throughout American politics, the camps are colored red and blue. While the Golden Rule draws applause, it rarely applies.