In Chicago, Building A Bridge to College
Mayor Rahm Emanuel is using community colleges to expand opportunity to all neighborhoods.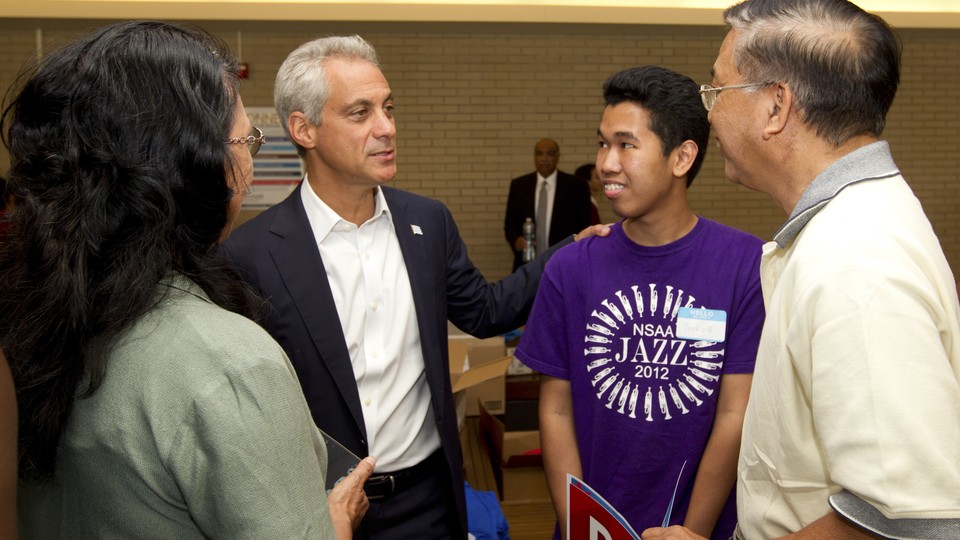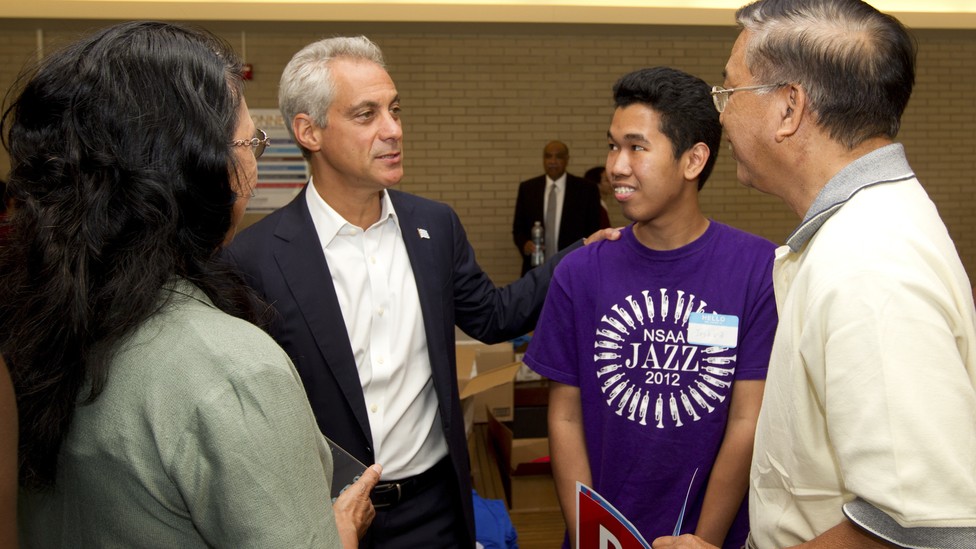 CHICAGO—Francisco Concepción began his "Principles of Mechanisms" class at Richard J. Daley College on a steamy morning earlier this month by learning how to use a de Prony brake to measure the torque of an engine. In the process, he was helping Chicago unravel one of the trickiest puzzles facing cities across the country: extending new economic opportunities to young people in all neighborhoods.
Part of the City Colleges of Chicago, the city's seven-campus community-college system, Daley sits on Pulaski Road in the West Lawn neighborhood, toward Chicago's far southwestern border. The school is not far from the meat stockyards that for a century after the Civil War provided bloody and brutal life-sustaining work to generations of Eastern European immigrants. They made Chicago "hog butcher to the world," in the phrase Carl Sandburg tattooed onto its big shoulders.
That heritage is still visible in the signs along Pulaski Road for the "Museum of Lithuanian Culture" and legal services in "Polish & English." Signs for restaurants such as El Veneno Mariscos and El Herradero Taqueria testify to the area's role as home to a new generation of immigrants starting on the long road to their American dream.
Concepción, a friendly, ambitious 24-year-old, is in many respects typical of the roughly 64,000 students taking courses for credit in the City Colleges system. He graduated from a Chicago public high school, and is now working full-time as a machine operator at a container-manufacturing company. But he's squeezing in two classes this semester at Daley's advanced manufacturing-technology program because he thinks the skills will help him get promoted to a better-paying job.
"I'm taking these courses because I want to keep moving up," he says, sitting in a no-frills classroom vaguely reminiscent of an auto-repair garage. "And the way to keep moving up is knowledge." When he's asked how he fits the courses into a full-time work schedule, Concepción smiles. "You find time for the things you need to do. Maybe you sleep less."
Concepción's determination to rise puts him at the center of a critical test for Chicago and other cities around the country.
RELATED ARTICLES
Free Community College Gets Mixed Reviews
Instead of Educating Their Own, Some Cities Import Black College Graduates
Education Gaps Pose Looming Crisis for U.S. Economy
In Biggest Cities, Racial Education Gaps Loom Large
Though a renewed interest in urban living is helping many large cities generate good jobs, most of them now do a better job of attracting highly trained workers from elsewhere than of shepherding their own youth—particularly from Black and Latino families—through to advanced education that would enable them to compete for the best opportunities. Chicago is typical of this trend: Census figures analyzed by the University of Southern California's Program for Environmental and Regional Equity show that significantly more of Chicago's working-age adults born outside of the state (57 percent) than inside the state (44 percent) hold a two-year college degree or more.
Similarly, the share of working-age Whites in the metropolitan region with four-year college degrees (46 percent) is more than double the share of African-Americans or native-born Latinos (21 percent each). Those disparities help explain why the growth in and around the city's bustling downtown hasn't seeded more progress on its heavily African-American South Side or largely Mexican-American West Side. (Frustration over that "tale of two cities" was a central issue in Chicago Mayor Rahm Emanuel's grueling reelection victory earlier this year.)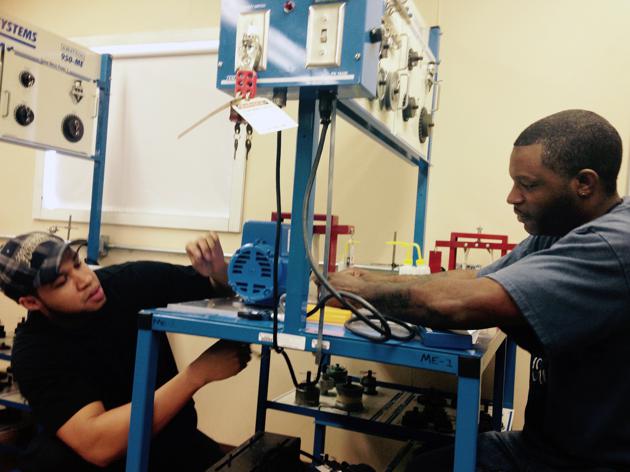 Minding the Inequality Gap
Widening inequality remains a huge challenge for Chicago, like almost all major cities. Yet stretching back to early in his first term, Emanuel has constructed a systematic agenda to equip more of the children who grow up in the city—almost exactly three-fourths of them are African-American or Latino—to compete for the jobs Chicago is steadily creating. His program centers on an integrated array of initiatives to increase the number of high school graduates who complete at least some post-secondary education.
At the core of his plan is probably the nation's most ambitious effort to connect his city's community colleges with the needs of its local employers.
"I have employers running all over the place telling me they can't find qualified people, and I have people running all over the city saying they want to get a job, they want to work," Emanuel said in a recent interview in his sparse City Hall office. "Here was an educational institution that we had to make relevant to our economy, our employers, and our employees."
City Colleges, which matches the youth population with a student body that is three-fourths African-American or Latino, should be a critical tool for bridging that gap. But after years of neglect, the system as of 2010 "was often viewed as the lowest of the low" among community colleges nationwide, says Joshua Wyner, executive director of the College Excellence Program at the Aspen Institute, which studies (and grants a closely watched annual prize to) community colleges.
The City Colleges still face blustery headwinds. But the system has posted steady gains in degree completion and its innovative efforts to build a reliable talent pipeline for local employers is attracting national attention—an inconceivable notion a few years ago. Though overshadowed by Emanuel's bruising first-term conflicts with teachers' unions and some community leaders over changes in the city's K-12 system, his efforts to rethink urban post-secondary education could ultimately prove a more important national model. A key component is significantly expanding the number of students taking college-level work while still in high school. "A number of community colleges are trying to rethink their approach," says Wyner. "But I have never seen one that has as many challenges as they did fundamentally rethink the approach and be successful at it."
Targeted Approach to Job Training
The centerpiece of Chicago's reform agenda is a "College to Careers" initiative launched in late 2011 by Emanuel and Cheryl Hyman, a dynamic African-American alumna of the system who now serves as its chancellor. The effort focused all seven campuses on courses linked to the workforce needs of one growing local industry sector. Daley College now centers on advanced manufacturing, the Harold Washington College on business and professional services, the Kennedy-King College on culinary arts and hospitality, the Olive-Harvey College on transportation and logistics, and the Malcolm X College on health care.
The community system invited key local employers from each sector to help design the curriculum and to partner in other ways, like sponsoring interns or sending officials to speak in classes. "We had involvement with Malcolm X [College] before, but this was different," says Larry Goodman, CEO of the Rush University Medical Center. "This was—and is—an institutional commitment to the partnership." Nearly half of the City Colleges' credit-taking students are now enrolled in one of its career-pathway programs.
The effort to rejuvenate the City Colleges follows a long period of drift and decline.
Provided fewer resources than four-year schools and asked to educate a lower-income student body that often faces daunting academic and financial challenges while juggling complex obligations to work, school, and family, many community colleges around the country produce startlingly weak completion numbers. Federal statistics show that nationwide, only about three-in-10 students who start in a community college complete a two-year degree within three years; for public community colleges, like the Chicago system, the number is just one-in-five. Richard Kahlenberg, a senior fellow at the Century Foundation who studies community colleges, notes that while about 80 percent of students who start in community college say they want to ultimately obtain a four-year degree, only about 12 percent actually do so within six years.
But even by those dispiriting standards, the results in the Chicago system were especially dismal.
In 2010, only 7 percent of the system's full-time first-time students completed a degree within three years; extending the time frame to six years increased the number to just 13 percent. And while about one-in-six students ultimately transferred to a four-year institution, less than one-third of them finished a bachelor's degree within six years. That meant no more than one-in-20 students entering City Colleges obtained a four-year degree within that time frame.
In March 2010, then-Mayor Richard Daley hired Hyman to begin a rebuilding process. Hyman was raised in a housing project on the city's West Side, graduated from the system's Olive-Harvey College, and went on to earn a four-year degree and an MBA, before eventually becoming the vice-president for operations and strategy at a subsidiary of the Exelon Corp., the energy company. After she was appointed City Colleges' chancellor, Hyman launched what became known as the system's "Reinvention" effort.
Dawn of a New Era
For the first year, Hyman and her team analyzed the system's manifold problems, and worked to unify its campuses, which had operated largely as independent fiefdoms and often duplicated courses and programs. Like most community-college systems, Chicago's measured its success by enrollment and access for many years, without focusing too much on what students studied, whether they completed their degrees, much less whether their studies actually helped them secure a job.
"It was quite shocking to me when I came here and learned of the 7 percent completion rate," Hyman said. "But what was even more shocking to me is the lack of definition and culture around defining success and what success meant, particularly coming from a corporate background. That's not to suggest that the hardworking people and faculty who were here did not want students to be successful. It just had not been defined. ... And so when you don't define success, 7 percent [completion] is OK. If success is only built around access, there was no metric, there was no measurement, there was no accountability around students' need to complete."
Over her first year, Hyman constructed a centralized management structure to the point where "there was a feeling for the first time there was a system and we're going to hold the adults accountable [for results]," says Beth Swanson, vice-president of strategy and programs at the local Joyce Foundation and former education adviser to Emanuel.
When Emanuel was elected to his first term in 2011, he kept Hyman in place and worked with her to sharpen the reinvention's connection to the city's workforce needs.
"Eighty percent of our jobs require two years of post-high-school education, and ultimately, we weren't really set up for that," Emanuel says. "Our educational model …was K-12, and I want to go pre-K to college. I … have a responsibility to make sure that [the Chicago community colleges] are relevant to these kids' future careers and to make sure they're relevant to the city's overall economy. I believe, as mayor, I owe these young men and women, that if they walk out and it says Malcolm X or it says Harold Washington or Kennedy-King [on their credentials], it should mean the door gets opened, not that the door gets shut in their face."
Hyman's team had started a labor-market review to assess what industries would drive the most future job growth; Emanuel's big contribution was to introduce the idea of linking each campus to one industry cluster and to invite local employers to partner in devising their programs. Emanuel says the idea came to him when a Dow Chemical executive he was pressing to expand its operations in the city mentioned that the company worked with a local business school, Northwestern University's Kellogg School of Management, to shape a curriculum that made its students more relevant to its hiring needs. "And I realized if they're designing at Kellogg, why don't we ask our hospitals to design nursing and ask FedEx or UPS or Norfolk Southern that has major rail, 'Why don't you design transportation and distribution?'" Emanuel said.
The new focus on connecting the community colleges to local employers has made the system more attractive to students, such as 27-year-old Ryan Lord. Prodded by a girlfriend who felt "I was selling myself short," Lord entered Daley's advanced manufacturing program in 2014 while working at a low-level job at a local sheet-metal manufacturer. "I had a rudimentary experience of manufacturing, but Daley was like the scales falling from my eyes," he says. After taking courses in quality assurance, welding, and other hands-on skills, Lord was hired by a tubing company that partners with the school for an inspector's job that he describes "as night and day [better] in every aspect from my old job: the pay, the responsibility. I'd never go back."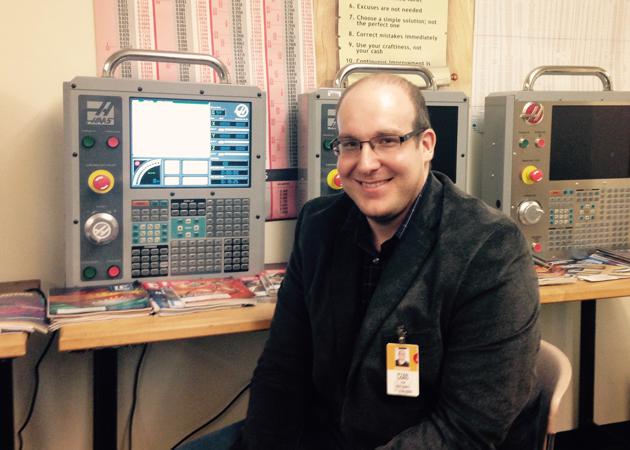 Ray Prendergast, Daley's impassioned dean of advanced manufacturing, says students hoping to climb the same ladder have swelled the program's enrollment from 22 in 2010 to 160 today. The college now offers 24 sections of 15 different classes that lead toward basic and advanced certificates and two-year degrees in CNC (computerized) manufacturing, factory automation, and welding. The busiest times, he says, are nights and weekends because most students work during the day at "undesirable jobs." Like Lord, they return to classes "to move up." And if they finish their studies, almost all of them do. "Everybody who has gotten their associate's degree since I've been here has gotten a job," Prendergast says flatly. "And they usually are working before they finish."
Challenges Still Ahead
The rub has been that so few students who start Chicago community colleges actually complete their degrees or occupational certificates, which can require as few as about a semester's worth of courses. Historically, half of the students in the system dropped out before completing even 15 credits, the equivalent of a single semester.
Hyman and her team have moved on three tracks to attack the completion crisis: She calls them relevance, support, and structure.
The tightened connection to the workplace and efforts to better academically align the community college's courses with the transfer requirements of four-year schools aimed to make the system more relevant to students and to dispel the widespread perception that, as Hyman puts it, "many of the programs … didn't lead students to anything." To provide more support, the schools vastly increased the number of academic guidance counselors (from one for every 920 students to one for about every 250 now), expanded career-counseling centers from two colleges to all seven, and opened wellness centers to help deal with students' many nonacademic challenges.
Perhaps, most important, the system overhauled its curriculum. It developed what it calls "structured pathways" of classes that lead from the basic to the advanced certificates and then onto a two-year degree. The credentials are "stackable," which means that each one provides students the foundational courses they need to move to the next one. (That sounds obvious, but the colleges had not established that pathway before.) Now working with advisers, and an increasingly computerized guidance system, students get a clear map of which courses they need to take each semester to advance toward their certificates or degrees. In effect, Chicago community colleges are tilting the course-selection process away from the four-year college model of largely unregulated choice and back toward something more regimented and guided, as in high school.
"Now we have a system where students' pathways are automatically generated [by computer]," Hyman says. "Every semester that they enroll, if they try to enroll in a class that's not in that pathway, they're not prohibited from doing that. But they get an alert saying: 'You want to enroll in this class, but it takes you off your pathway. It's not relevant to what you're trying to do.'"
Reaching Beyond The Campus
Emanuel has launched other initiatives that reinforce the core drive to rebuild the community-college system. Under Emanuel, the city has significantly increased the number of high school students taking college-level courses, either in their high school classrooms or by commuting to City Colleges campuses. It has launched five high schools built along the P-TECH model pioneered by IBM in New York that fuse high school and community-college instruction with on-the-job experience with an employer who helps shape the program.
In 2014, Emanuel and Hyman announced the Chicago Star Scholarship program, which allows any graduate of Chicago high schools with at least a 3.0 (B average) to attend the City Colleges system for free. This August, the city followed up by announcing tuition grants that will support Star Scholarship recipients who complete their degrees at the City Colleges and then transfer to the four-year University of Illinois's Chicago campus.
The results from these interventions measure both clear progress and the distance the system still has to travel. Since the reinvention process, Chicago's City Colleges have doubled the three-year completion rate for their first-time students from 7 to 14 percent. They now award about twice as many two-year degrees annually as they did in 2010 and about one-third more certificates. They have modestly increased the share of students who transfer to a four-year school after finishing at City Colleges by about 10 percent.
Some outside analysts wonder if the system has secured the easiest gains among full-time students who may have needed the least help. But Hyman and Emanuel both say it is on track to further increase the completion rate. "I don't think we're done growing, and I don't think we're done growing at the pace we're growing," Emanuel insists. He predicts that the completion rate will reach 22 percent within three years.
Meanwhile, the first Star Scholarships this fall are helping more than 900 students, about two-thirds of them Latino, attend the City Colleges. The idea has generated enthusiasm among community groups working to steer more low-income young people to college. Sol A. Flores, founding executive director of La Casa Norte, a group that works with homeless and at-risk children, worries that the B-average requirement might be "a little high" for students facing multiple challenges. But, she adds: "We will really push our young people to now try to access this scholarship. So that means having to work with them to have that GPA and that [test] score where it needs to be to receive the scholarship. We think it's something that's within our reach and grasp, and we're excited about it." Emanuel says providing an incentive that nudges more high school students to improve their performance is exactly why the city set that relatively high bar on grades for the scholarship.
Still, even after the gains, the vast majority of students who start at the City Colleges still fail to complete either a certificate or a two-year degree. And the number of certificates (about 7,600) and degrees (about 4,300) that the system confers each year remains modest compared with the region's employment needs, and even more urgently, its social need to prepare more low-income young people to advance. Swanson, the former Emanuel aide, says the system now does a very good job for the best-prepared students it receives from the public schools. For those in the middle tier, it "is doing dramatically better," he says. Students in the bottom quartile of academic performance, remain "extremely difficult" to reach. "It's come a very long way," Swanson says. "It's still got a long way to go."
That's undeniable. But the progress is tangible and evident in the response of local employers now partnering with the City Colleges. For some employers, particularly those filling blue-collar jobs, the system is producing a pool of skilled workers it could not easily find otherwise, Emanuel notes. For others who have relied heavily on recruiting outside talent, the partnership with City Colleges is allowing them to connect more deeply with their surrounding communities by hiring more local workers and workers of color. "It's giving us a more diverse pool, a bigger pool, it's helping us be part of the solution for some of the disparity issues in Chicago," says Goodman, the Rush Medical Center CEO. "It's something that is not only interesting to work on; it's inspiring."
Likewise, Bridget Gainer, vice-president of global public affairs at Aon, says that for the giant insurance broker, operating from a stylish Chicago office in an attractive location, "recruiting has never been a problem." Last year alone, it hired graduates from 122 colleges. But from the start, Aon nonetheless has served as a lead industry partner on Harold Washington College's business and professional-services program. "We don't want to be in a position where we're only hiring people who have made light footprints here," Gainer says. "We want to hire people who have made their life here. This program gives us access to a wider, diverse pool of talent than we would have had access to."
The steps toward revival for Chicago's community colleges can be measured even more clearly in the engagement and optimism of students such as Concepción and Lord. Concepción believes the classes he's taking at Daley will translate into immediate gains at his job: "They will help me at work right now." After a few semesters back in the classroom, Lord, who once seemed satisfied with a job his girlfriend thought beneath him, has set his sights even higher. He's looking to complete his certificate in welding and then a two-year degree at Daley. After that, he has his eye on a four-year degree at the nearby Illinois Institute of Technology and eventually wants to obtain graduate-level credentials that could help him move into management. "That's my end goal," Lord says. "Actually, I shouldn't say my end goal. That's my next goal."
---
Janie Boschma contributed to this article