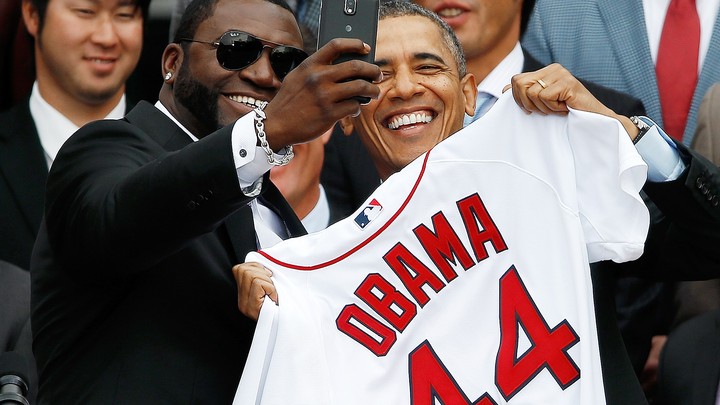 Columbia University President Lee Bollinger ignited speculation this week when he implied that President Obama would be returning to the school after his years as commander-in-chief are over. "We look forward to welcoming back our most famous alumnus, Barack Obama, in 2017," he said at a school event, according to the college newspaper.
The White House quickly released a statement declaring that no final decisions have been made about his post-presidency plans, and the university published its own statement to clarify that nothing has been decided yet. That said, it's not a far-fetched idea.
Obama graduated from the university in 1983, Columbia made a bid to host the presidential library, and his foundation has already made clear it will have some sort of presence at the school. 
So, what would a post-presidency Professor Obama teach at his alma mater? Here are a few possibilities. 
The Art of the Selfie #ProfessorObama (Photos via @GettyImages, @BillNye, @WhiteHouse) pic.twitter.com/IfKmJHdshP

— Janie Boschma (@janieboschma) September 1, 2015
Researching Your Origins 301 #professorobama pic.twitter.com/HMfiwGolPo

— weston phippen (@westonphippen) September 1, 2015
Fist Bumping 101 #ProfessorObama (photos by @petesouza) pic.twitter.com/3T0sqCXRnI

— Emily Jan (@EmilyBJan) September 1, 2015
Free Throw Fundamentals #ProfessorObama (photos by @GettyImages) @TheNextAmerica pic.twitter.com/yXRO9dVVYj

— Alexia Campbell (@AlexiaCampbell) September 1, 2015
Socialism and You #ProfessorObama

— Matt Vasilogambros (@MattVas) September 1, 2015
<3 Romancing Your Wife 301 <3 #ProfessorObama pic.twitter.com/3O6liC48lD

— Emily Jan (@EmilyBJan) September 1, 2015
Advanced Black Fatherhood #ProfessorObama (all photos from http://t.co/KD3xLyh1d8) pic.twitter.com/MXMK5Gm0YR

— Emily Jan (@EmilyBJan) September 1, 2015
This article is part of our Next America: Higher Education project, which is supported by grants from the Bill & Melinda Gates Foundation and Lumina Foundation.
We want to hear what you think about this article. Submit a letter to the editor or write to letters@theatlantic.com.
Emily DeRuy
is a former staff writer at
The Atlantic
, where she covered education.