Hugh Hewitt, the GOP Debate's Invisible Man
The popular conservative radio talk show host hardly played a role in CNN's primetime debate.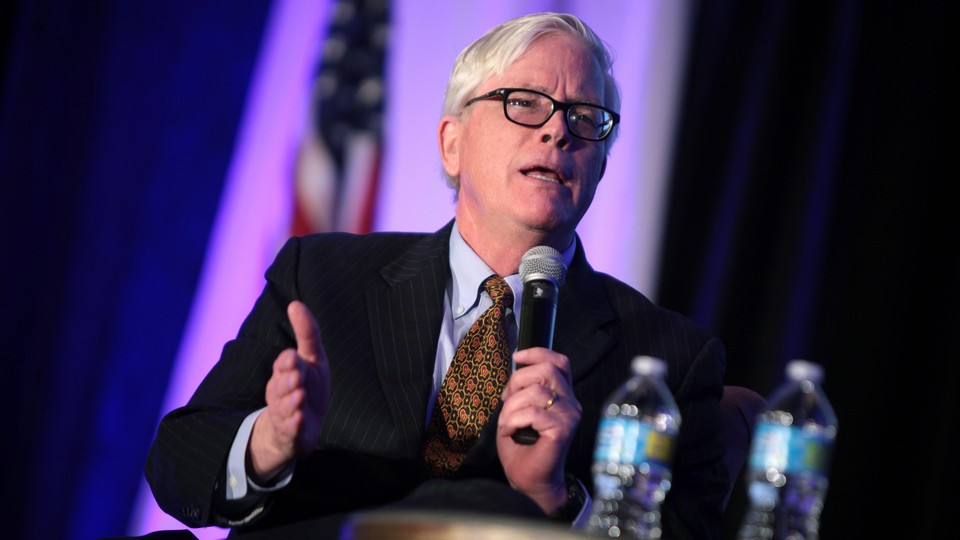 GOP leaders, unhappy with some of the mainstream media moderators for their presidential debates in 2012, wanted to include more conservative voices in the party's 2016 primary debates. One of the most notable additions to the debate process this time around was Hugh Hewitt, the policy-driven host of a popular talk radio show who is widely respected within the Republican Party.
But despite major anticipation for his role in Wednesday night's marathon three-hour debate, Hewitt was largely absent. He asked only four sets of questions as CNN's Jake Tapper handled the lion's share of the moderating duties. Hewitt questioned a handful of the candidates on Syria, Hillary Clinton, their foreign policy advisers, and gun legislation, at times going nearly an hour between appearances on screen. That proved a disappointment to some Republicans, including operative Matt Mackowiak and former George W. Bush spokesman Ari Fleischer, who had been eager to hear more from the wonky commentator who's built a reputation for conducting tough, in-depth interviews.
Where's Hugh Hewitt? Let him ask questions.

— Ari Fleischer (@AriFleischer) September 17, 2015
The other panelist on stage, Dana Bash of CNN, also played a limited role in the debate, as Marco Rubio adviser Jim Merrill tweeted with about 45 minutes to go.
With due respect to terrific Dana Bash and Hugh Hewitt, what is the point of having them on stage if #CNNDebate isn't going to use them?

— Jim Merrill (@JimMerrillNH) September 17, 2015
But it was Hewitt who many observers had their eye on heading into the second Republican debate of the cycle. Hewitt, who routinely invites members of the GOP presidential field on his radio program, made headlines earlier this month after tripping up Trump on foreign policy, the radio host's pet topic. Trump responded by calling him a "third-rate radio announcer," but Hewitt later said he thought Trump simply misheard him when he appeared to confuse the Quds and the Kur­ds.
Trump brought the spat up during the debate on his own, but Hewitt didn't appear eager to rehash the controversy, depriving viewers of a policy wonk-showman showdown anticipated by many heading into the night.
"He apo­lo­gized be­cause he said we ac­tu­ally had a mis­un­der­stand­ing, and he said today that Don­ald Trump is maybe the best in­ter­view there is any­where that he's ever done," Trump said Wednesday night. "Un­less he was just say­ing that on CNN to be nice, but he did say that."
Hewitt nodded his head, saying with a smirk: "Oh, you're the best in­ter­view in Amer­ica."
Aside from that moment, Hewitt's presence was perhaps most felt when he pressed Jeb Bush on why so many of his foreign policy advisers are from his father's and brother's administrations, and Trump on why he has none to speak of. Bush reiterated that he's his "own man," while Trump only said he's "meeting with people that are terrific people."

But Hewitt didn't stick strictly to the nuts and bolts of policy, as he's known to do. He questioned John Kasich and Carly Fiorina on their "different styles" in dealing with Clinton, the front-runner for the Democratic nomination, which did not lead to particularly memorable responses.
This certainly won't be the last opportunity Hewitt will have to discuss the issues of the day with Republican White House hopefuls. They are sure to continue making regular news on his radio show for the rest of the election. But in front of his largest audience, in his most prominent forum yet at the Ronald Reagan Presidential Library in Simi Valley, Hewitt spent most of the night off camera.