How We Got Scott Walker Wrong
At one point, the Wisconsin governor looked like the most credible potential GOP nominee. Then, it all fell apart.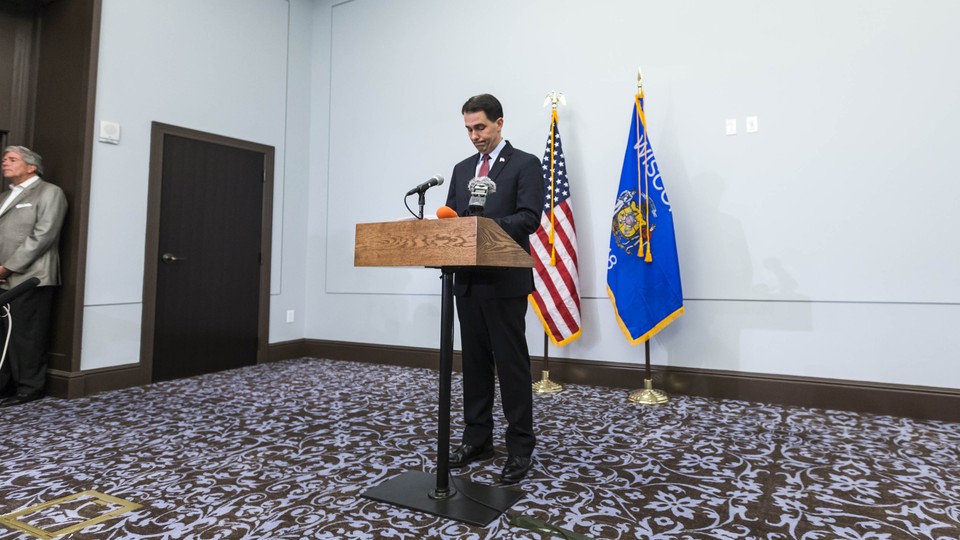 It's mea culpa time. Back in June, we published power rankings saying that Scott Walker was the Republican candidate most likely to capture his party's presidential nomination in 2016. Monday, in the most stunning moment of an already unpredictable campaign, Walker dropped out of the race.
To quote another former presidential candidate: "Oops."
So where did we go wrong? No single theory or explanation fully explains Walker's swift descent after looking so promising at the beginning of the year. But collectively, the ones we list below tell the story. In short, a candidate who looked ideal on paper turned out to be anything but in the current tumultuous political environment—and he and his campaign didn't handle adversity well.
"Washington outsider" got trumped by "political outsider."
Walker had the profile of a conservative favorite: the regular-guy governor with a Baptist preacher father who had taken on, and defeated, mortal enemies of the conservative movement outside D.C. But he was still a conventional politician at a time when conservative voters are desperate for anything genuinely different. In short, he was never going to out-Trump Donald Trump or out-Carson Ben Carson.
Republican voters simply haven't cared about a record of conservative achievement—at least not yet, during the time Walker's campaign lasted. They have gravitated instead toward candidates short on government experience but long on incendiary rhetoric. Walker's attempts to court them grew increasingly feeble: Promises to "wreak havoc on Washington" (which had become the governor's new motto at the end of his run) don't break through the media clutter with the same force as Trump's riffs about rapists and murderers crossing the country's southern border.
Plus, it wasn't just Trump crowding Walker out of his chosen lane.
While Trump undoubtedly shook up the GOP race this summer, Carson's unforeseen rise might have been just as damaging to Walker as Trump's presence. In Iowa, 62 percent of Republicans still viewed Walker favorably weeks before he dropped out, according to a Quinnipiac poll. That could have been a good base to build on through the fall. But nearly every last voter who liked Walker also liked Carson, according to the Quinnipiac data—an 89 percent overlap. And the famed neurosurgeon was surging in Iowa just as Walker's campaign was running aground.
We figured Carson would have an impact on the race, especially in Iowa. But we never thought his support would grow so large that it could crowd out his better-funded, more experienced rivals.
Walker boxed himself into that situation.
Walker's problems locking down the most conservative GOP voters within the party made his pandering to them especially damaging. Walker's campaign sought to make him the base's candidate of choice, making hard-right turns on both immigration and gay marriage. But in doing so, he alienated many of the establishment-oriented Republicans who might otherwise have wanted to support a successful Midwestern governor with both experience and a conservative record of achievement.
The super PAC era (and Walker's late-starting campaign) obscured a crippling campaign-finance problem.
We didn't account enough for how the campaign finance world had stayed the same, amidst all the super PAC-driven changes of this presidential election. As we noted, Walker's favorability in Iowa was just about as high as ever, even if his ballot test numbers had cratered. That suggests he could, potentially, have mounted a comeback—but his campaign simply cost too much for him to keep fighting.
Not only did the big-money super PACs backing the major candidates convince us that anyone could survive a summer swoon, the unlimited money allowed Walker's team to spin up a huge shadow campaign apparatus before he even declared his candidacy in July. When fundraising didn't meet expectations this summer, that big campaign bled itself dry, and Walker's polling plunge and misstatements kept donors from signing on. Ultimately, those financial reasons are why Walker's summertime blues mattered so much.
What's more, Walker's decision to officially declare his candidacy relatively late, in July, meant that his campaign missed its biggest opportunity to raise the hard dollars that fuel a campaign. By the time Walker declared, that media and voter attention had dissipated, even though the expectations hadn't.