How Todd Starnes Is Compromising Fox News's Credibility
The rogue journalist has a history of erroneous reporting and outrageous comments, but the network doesn't seem to be moved by it.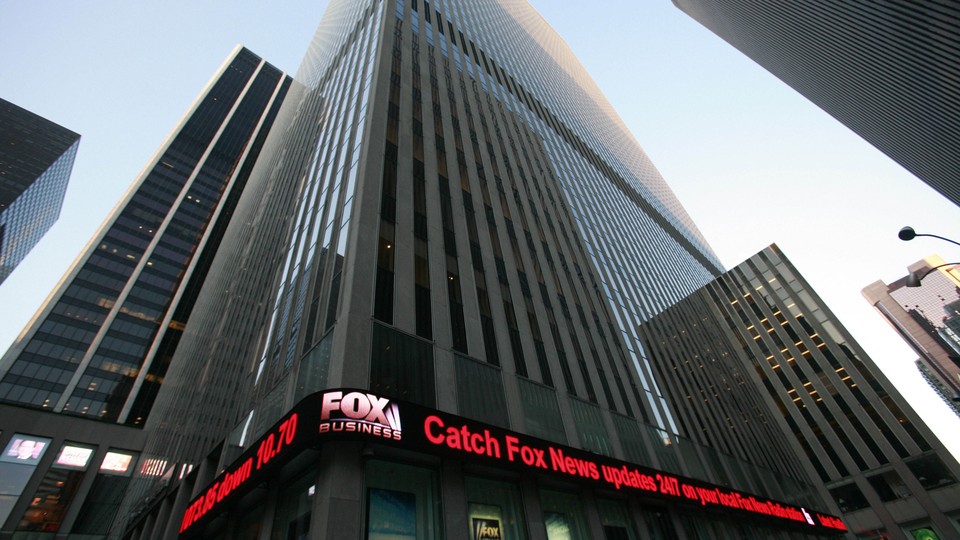 Although Fox News Channel may be the favorite whipping boy of liberals, the best data indicates that the outlet is neither the most opinionated nor the most biased. But that doesn't mean that America's most popular cable news network doesn't have credibility issues. It does.
If you want to find one of the greatest threats to Fox's credibility, walk past Sean Hannity's carefully powdered forehead and Megyn Kelly's impeccably curled hair, and go deep inside NewsCorps' Manhattan headquarters. There you'll find Todd Starnes, a middle-aged man sitting at a difficult-to-find desk who hosts a radio podcast and web-only video show and occasionally pens opinion columns for FoxNews.com. He might appear unassuming, if vaguely familiar, but he is more influential and destructive than even Fox's network executives may realize.
Fox News has a Todd Starnes problem. And while the network doesn't seem to be concerned, perhaps it should be. Because Starnes has both a rapidly expanding platform and a long history of journalistic malfeasance.
Starnes began his journalism career as a teenager, sweeping floors for a small newspaper in Louisiana, but his post-college years included stints at Chattanooga Times Free Press and Blue Ridge News Observer. In January 2000, he was hired as a staff writer for Baptist Press, the news arm of the conservative Southern Baptist Convention and an outlet that no one will accuse of being "fair and balanced."
At Baptist Press, Starnes proved to be both unashamedly conservative and journalistically unreliable. He published articles decrying "the homosexual agenda" in America, warning of "pro-homosexual attitudes" at Baptist colleges, and even bemoaned the "profanity, anti-God lyrics" of the band Nine Inch Nails. But Starnes landed in hot water in April 2003 when he published a profile of then U.S. Secretary of Education Rod Paige.
According to Starnes, Paige said he "would prefer to have a child in a school that has a strong appreciation for the values of the Christian community, where a child is taught to have a strong faith." The profile spawned national headlines and created outrage both among civil-rights groups and church-state watchdogs. And when at least a dozen members of Congress publicly called on Paige to either apologize for the remarks or resign, the secretary almost lost his job.
But the interview tapes showed that Starnes had misquoted Paige, making it seem as if the secretary favored promoting Christian values in public schools. Starnes was promptly fired by Baptist Press due to "factual and contextual errors" and "misrepresentations" in his reporting.
Such a public disgrace would be a career-ender for most journalists, but Starnes proved resilient. He was already working as director of university communications at Union University, a conservative Baptist college in Tennessee, by the time he was fired. Yet his tenure there was also short-lived for reasons that remain unclear.
"Todd served at Union for a very short time, and it was best for him to move on elsewhere," said David Dockery, who was president at Union during Starnes's tenure. When asked why he felt it was best for Starnes to move on, Dockery said that the problems were personal issues that he could not legally discuss.
After leaving Union, the reporter spent some time in radio at Sacramento's KFBK before being called up to the big leagues. In January 2006—less than three years after Starnes was fired for misquoting the secretary of education—Fox News Radio hired him to work as overnight news anchor. But while his business cards changed, his behavior didn't.
In April 2013, he reported that the Obama administration was engaging in a "Christian cleansing" by blocking military access to the website of his former employer, the Southern Baptist Convention. As it turns out, the denomination's website was being blocked as Starnes reported, but not for the reasons he claimed. The site was merely blocked due to the detection of potential malware.
In September, Starnes reported that a proposed non-discrimination law in San Antonio would "force churches to have transgender bathrooms." Politifact reviewed this claim and "found nothing in the law" to support it, which led to the website rating the claim as "false."
In December 2013, Starnes reported that Veterans Administration hospitals in Texas and Georgia were guilty of anti-Christian bias because VA administrators had banned Christmas cards for patients. But blogger Alan Noble later investigated his claims and found that Starnes had deliberately omitted the portion of the VA statement that contradicted his thesis. According to the full statement, the hospitals simply asked their chaplaincy service to distribute religious-themed cards while the health care system distributed non-religious cards.
The same month, Starnes reported at FoxNews.com that a Georgia hospital had banned Christmas carols. But Noble's investigation revealed a similar finding—namely, that the hospital merely asked the Christian carolers, like all groups who come to the hospital, to perform religious songs in the chapel rather than in public areas out of respect for veterans of other faiths.
These examples—from 2013 alone—comprise a serious risk to Fox's credibility, but there's much more. Starnes career is built on bad reporting, but it has been topped with extreme rhetoric. On social media, Starnes regularly bashes Muslims and has made remarks that many consider to be racist. He celebrated the death of Venezualan president Hugo Chavez by tweeting, "Hell is burning a little bit brighter tonight." And Starnes tweeted that those who want to remove Confederate symbols from public spaces are engaged in "cultural cleansing" and compared their behavior to that of ISIS.
After Starnes used a Malaysian airline crash that killed 295 people to attack President Obama, his colleague, Fox News anchor Greta Van Susteren, publicly called him out on her blog: "I don't like his tweets. They are very bad taste. This is not the time to be snarky or have some pathetic attempt at humor."
Starnes has suggested on multiple occasions that Obama is secretly gay. He implied on Facebook that devastating floods in Washington, D.C. were God's retribution for the Supreme Court's decision legalizing gay marriage. And he said that Jesus would "thank" the gunman depicted in American Sniper for killing Muslims and sending them to "the lake of fire."
Why would Fox News continue letting someone with such a long history of journalistic misconduct and bad behavior operate under its banner and with its backing?
The answer seems to be that while Starnes may not be a household name, his message resonates with one of Fox's key demographics: older, white Christian conservatives. He describes himself as "a gun toting, chicken eating son of a Baptist," recently preached a fiery sermon in a prominent conservative church in Georgia, has published three books addressing conservative themes, and even made an appearance on a Christian television channel to insinuate that gay rights would lead to man-dog marriages. Suffice it to say, he knows his audience.
"I feel like a Duck Dynasty guy living in a Miley Cyrus world," he wrote in God Less America: Real Stories From the Front Lines of the Attack on Traditional Values. More than a few Southern evangelicals know the feeling.
But the real secret to Starnes' success may be the way he combines his homespun conservative Christian-speak with a hefty dose of fear, outrage, and conspiracy. His commentary feeds the narrative that conservatives are under attack—from the "war on Christmas" to the "war on Christians"—and should be afraid and angry. And this is apparently an express-lane to influence.
Jeffrey M. Berry, a professor of political science at Tufts University and author of The Outrage Industry: Political Opinion Media and the New Incivility, says that tapping into the emotional core of viewers, through exaggerations, mockery, mischaracterizations, and presenting only one point of view, has become a very good way to build an audience.
"When you get people's blood boiling, they seem to come back the next night," Berry says.
This certainly seems to be true for Starnes. He has more than 56,000 Twitter followers and nearly 200,000 Facebook fans—and people who follow Starnes online are very engaged. According to Klout, a tool that uses social media analytics to rank users according to online influence, Starnes is more influential than much of Fox's top tier talent, including Charles Krauthammer, Gretchen Carlson, Shepard Smith, Kimberly Guilfoyle, Juan Williams, and Tucker Carlson. In addition, he has an untold number of paid subscribers to his Fox News podcast, and his short radio segment, "Fox News & Commentary," can be heard on hundreds of radio stations nationwide.
Brian Stelter, the senior media correspondent for CNN and host of "Reliable Sources," agrees that Starnes is someone who "feeds on outrage," but he is quick to point out that Starnes is part of a broader trend in media. Stelter calls it "vulture culture," which describes a moment in which "subjects in the news get picked apart by an opinionated press" like scavenging birds on a squirrel carcass.
"There are reasons right now in the media ecosystem where there are incentives toward outrage, even fake outrage," Stelter says. "The incentives are for clickable headlines, sharable stories, dramatic quotes and headlines."
So while Starnes is doing everything wrong, he's also doing everything right. He's ginning up controversy, often when it doesn't exist, and in some cases perhaps deliberately misleading the public. But the result is a loyal base of fans and an expanding platform.
The question now is whether Fox News values Starnes' audience above the network's own wellbeing. There's an old saying among journalists that a lie gets halfway around the world before the truth has a chance to put its boots on. But the truth has a way of catching up. And when the lie is bad enough—say, misquoting a secretary of education on his schooling philosophy or questioning the sexual orientation of a U.S. president —it can repel viewers, scare away advertisers, and attract lawsuits.
Fox is a serious, though imperfect, news organization whose critics don't need any more ammo. By letting an unusually mendacious figure like Starnes continue to exaggerate, distort, and mislead its audience, the network is handing its haters a box of bullets and begging them to let loose. In a moment when the network seems constantly under siege, Todd Starnes represents everything it can't afford to be.