How to See the Pope on the Hill
The dos and don'ts of the pontiff's historic appearance in the Capitol.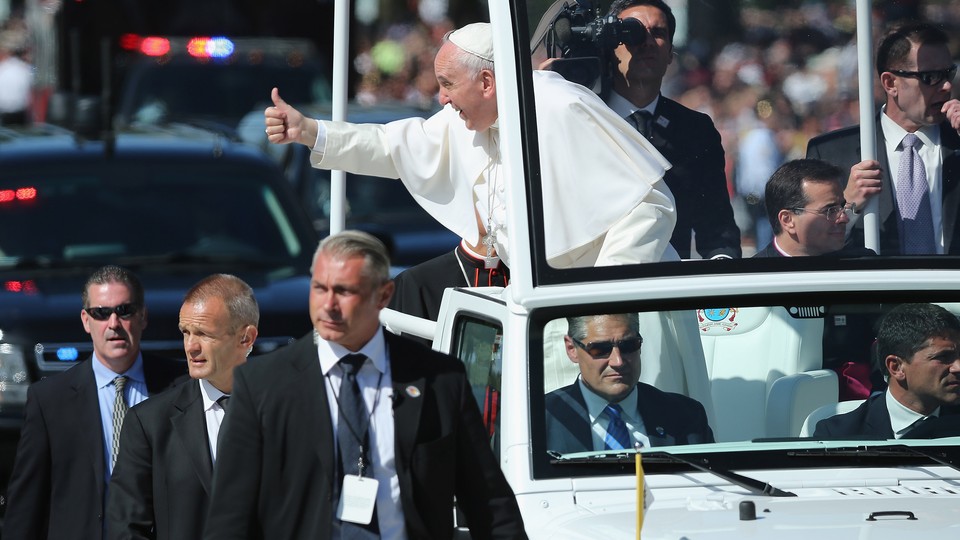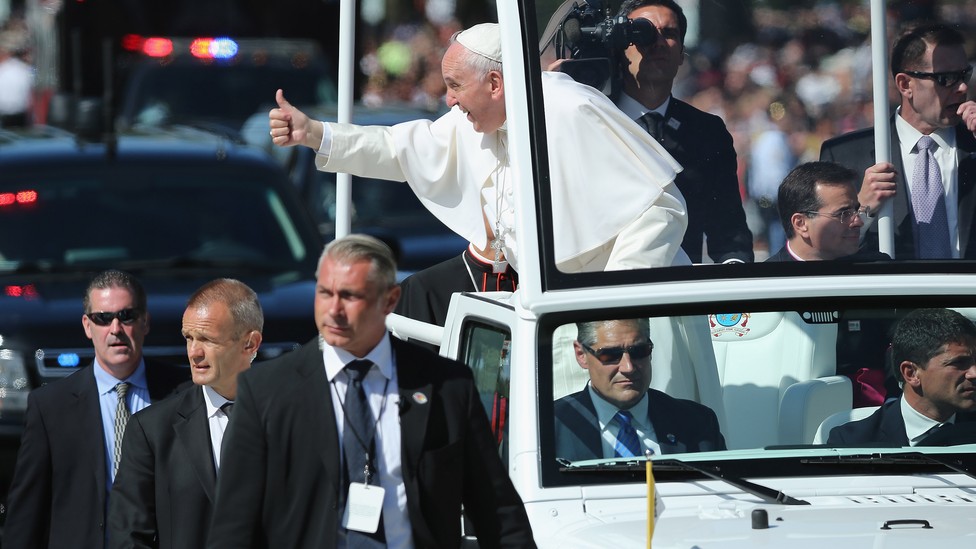 Will Pope Francis mention abortion? Immigration? Climate change—again? Will members break the rules and try to shake the pontiff's hand? Will House Speaker John Boehner cry?
Thursday is the day all speculation about Francis's address to Congress will end. But first, members, staff, and guests actually have to get the House chamber or to a coveted spot on the West Front Lawn. Here's what Hillites and their guests will have to do on Thursday to make it to the event, according to an internal letter sent to members of Congress from House Sergeant at Arms Paul Irving.
How should I get there?
Avoid driving. Bring your ticket—even infants and children need one. Don't bring prohibited items (like air horns or thermoses or umbrellas).
What will the roads be like?
Starting at midnight Thursday, roads within a three-block radius of the Capitol will be closed to unauthorized cars (see the list here). Irving's letter strongly recommended attendees find other ways to get to the Hill.
When should I get to the House chamber?
Restricted access begins at 5 a.m. A graph of access points, depending on ticket color, is available here. And attendees can start going into the gallery (via the Cannon and Rayburn tunnels) at 8:30 a.m.
I have a ticket to watch the event on the West Front Lawn's jumbotrons. How can I make sure I have a really great vantage point?
Each member had one ticket to dole out for a seated spot on the Lower West Terrace. And it opens early—at 5.am.
The standing-room-only West Front Lawn opens at the same time. Spots are first come, first serve, so if you're an early bird, come prepared. And expect a packed crowd, as each member had 50 tickets to give out for this grassy space.
I'm a Hill staffer. Is there a place I can catch a glimpse of the pope?
On the East Front of the Capitol, and access begins at 5 a.m. Tickets aren't required—but a congressional ID is.
Are tours of the Capitol allowed when the pope visits? What about events and meetings?
Tours stopped Tuesday at 4:30 p.m. and will reopen about 1 p.m. Thursday. Public and private events and meetings are a no-go starting Wednesday until 1 p.m. Thursday "to enable U.S. Capitol Police to conduct security sweeps of every room in the Capitol complex," Irving's letter states.
If I have a ticket or a congressional ID to be on the Lower West Terrace or West or East Front Lawns, do I still have to go through security?
Yes. There will be security screenings, including bag searches, at all entry points.
When will the Hill be back to normal?
Francis is on a tight schedule. The pope's Capitol Hill debut will start at about 9:20 a.m., the speech at 10 a.m., with an appearance on the West Front Lawn after his address, and at 11:15 a.m., the pontiff is supposed to be visiting St. Patrick's Catholic Church and Catholic Charities of the Archdiocese of Washington. Streets around the Capitol will likely reopen shortly after Francis leaves, and everything could be back to business as usual on the Hill no later than 1 p.m.