How to Protect the Pope
One Secret Service agent called the 1987 papal visit "the most stressful 10 days of my life."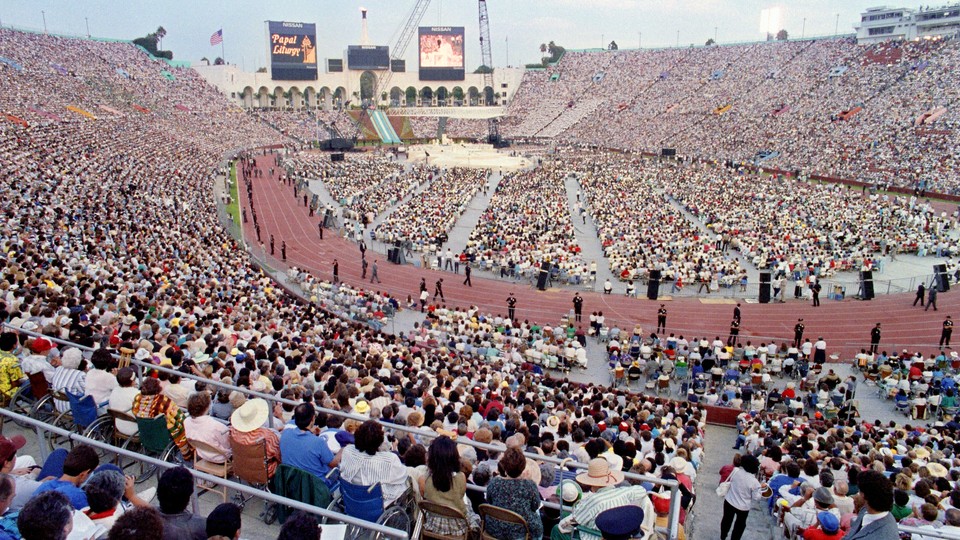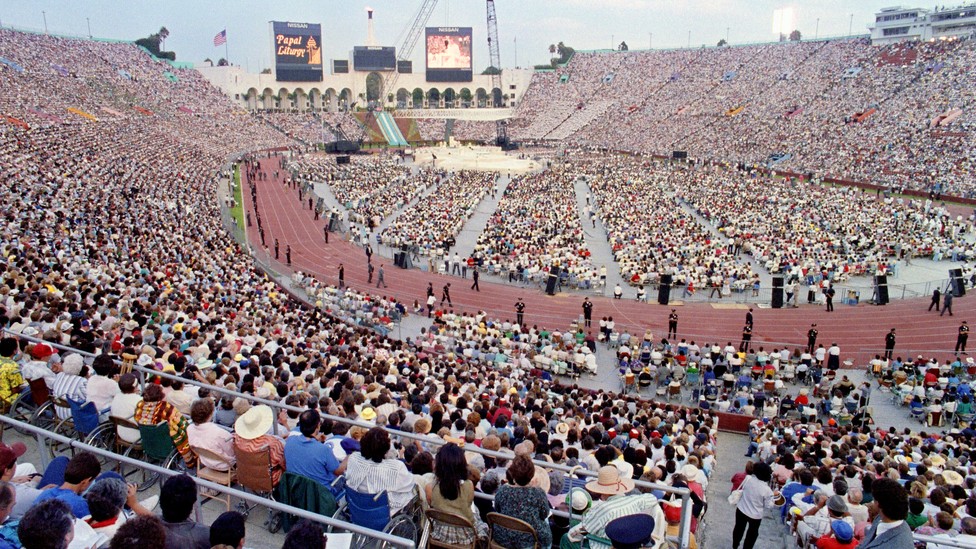 Thousands lined the streets as Pope John Paul II rode in the popemobile to the cheers of an enthusiastic Miami crowd in 1987. Dressed in plain clothes and in the thick of the masses, then-Secret Service Special Agent Cheryl Tyler worked the crowd, scanning the area, analyzing possible threats.
The parameters of protecting someone don't change, Tyler said, but pontiff visits come with diplomatic protocol, involvement of myriad security personnel, hours upon hours of intelligence work, and more. "Everything is scrutinized over and over," she said.
Tyler's former colleague Joseph Petro called the trip, "the most stressful 10 days of my life." After Pope Francis's six-day, three-city tour starting Tuesday, many agents will be able to sympathize.
Last week, House Speaker John Boehner called Francis's address to Congress "one of the biggest events in the history of the Capitol." And "it's going to be one of the largest lifts in the nation's history for national security events," James Yacone, the assistant director of the team leading the FBI's efforts during the pope's visit, said in a press release.
Francis's stops in Washington, Philadelphia, and New York are designated as national special security events, a consideration that's been given to inaugurations, presidential nominating conventions, some major international meetings, and even the Winter Olympics. And collaborating agencies have been practicing: from dry runs at the Capitol with a fake pope on Sept. 1 and Sept. 14 to tabletop exercises in the three cities that the pope will visit from Tuesday until Sunday.
Officials are taking an abundance of security precautions. All attendees will undergo a security screening before entering the pope's D.C. events and his motorcade route. Tickets are required for all Washington events, except the parade. Streets within a three-block radius of the Capitol will be closed starting Thursday at midnight in anticipation of Francis's address to Congress, with a host of other road closures throughout the pope's time in Washington.
And it's meant many months of prep work, not just from the Secret Service but from 30 agencies: from the Washington Metropolitan Area Transit Authority to the Capitol Police, the Defense Department to the Metropolitan Police Department, the Park Police to the mayor's office and many more—and with the Secret Service helming event security and the FBI charged with intelligence gathering.
Anticipate crowds. That's what officials are doing, as they monitor hotel bookings, transportation permits, and more to get a sense of how large these crowds could be for the pope's Thursday address to Congress, Senate Sergeant at Arms Frank Larkin said. Secret Service Director Joseph Clancy headed to Italy in June and saw firsthand what protecting this pontiff is like, getting a feel for how Francis interacts with crowds and meeting with the head of Vatican security.
Because Francis has a particular style. He's gregarious. He talks off the cuff. He likes to be with the people. And Capitol Hill is making sure that members don't try to chat with the pope or even shake his hand during his brief time in the House chamber. Both parties are creating a team of lawmakers—who promise not to break those rules and throw Francis off his jam-packed schedule. So, Roll Call reports, leadership is seeking about 50 members to sit in the three chairs on either side of the aisle in each row.
Agents are trained to move with their protectee through crowds and buildings, in and out of cars, and wherever they may go. "Be prepared for the unknown, " said Tyler, who now is CEO and president of CLT3 Security Consulting. "And that's the life of an agent … you're preparing for the unknown always."
And some will act in ways unseen. When John Paul II made his first trip to the United States in 1979, the Secret Service disguised an agent as a priest, according to a high-level Catholic official in Petro's book, Standing Next to History. The Secret Service will have covert assets, said Mickey Nelson, a former assistant director now at Command Consulting Group, although perhaps not of the fake monk variety. (A Secret Service spokesperson wouldn't comment on operational procedures.)
"I don't think there will be a need to go to that extent … this time," said Nelson. "But they will be using a lot of things that are not visible that the general public—anybody attending the event—will never see and never have the need to see, as far as security assets [go]."
"The Secret Service never wants security to be the focus of any event," he added.