How to Better Predict the Weather
America's weather forecasting system may be in peril. Congress wants to fix that.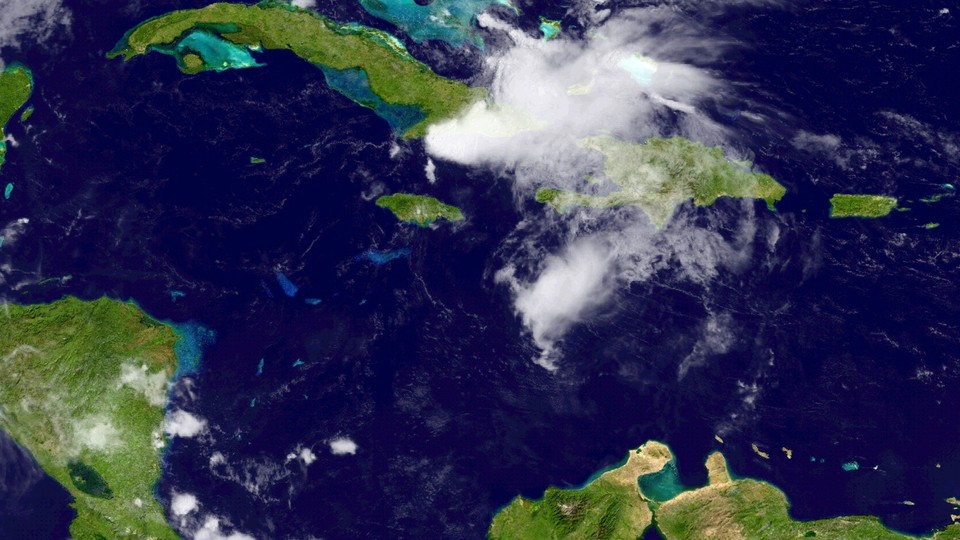 There's a storm brewing in the House Science Committee.
Lawmakers on both sides of the aisle are expressing fears that America's ability to predict the weather, including extreme and at-times deadly events such as hurricanes and tornadoes, is in peril.
The committee has oversight of the National Oceanic and Atmospheric Administration's weather satellites. And in recent years, the weather-predicting program has been beset by cost overruns and delays. Worse still, there may be a looming gap in the agency's ability to collect critical forecasting data, which the U.S. badly needs to predict—and mitigate—severe weather events.
All that has committee members seriously worried. "The safety and well-being of American lives is at risk when these important resources are jeopardized," committee ranking member Eddie Bernice Johnson told National Journal.
"The problem with the satellites—and the satellites are important for predicting extreme weather, for gathering information about the climate and so forth—is many of the satellites are nearing the end of their life expectancy," Chairman Lamar Smith said in an interview.
Adding to the urgency, that warning arrives at a time when climate scientists say that human activity is driving up global temperatures, which in turn ups the odds of dangerous weather events. In short: America's ability to predict extreme weather may be at risk just when we need to rely on it the most.
That common concern has knit Democrats and Republicans on the House Science committee together even at a moment when some of the panel's other responsibilities such as working to set priorities for NASA have created deep divides. And House Democrats and Republicans think they may have a way to solve what they see as a major problem.
In March, the committee unanimously passed bipartisan legislation aimed at improving weather forecasting at NOAA. The bill calls on NOAA to make changes such as prioritizing weather research at the agency to yield more reliable and accurate forecasts. It also looks to the private sector to help advance the agency's ability to predict the weather. Purchasing weather data from commercial entities could help lessen the impact of a gap in NOAA's forecasting ability as old satellites go offline, committee members say.
But while the House passed the bill in the spring, the Senate has yet to take the legislation up, which has frustrated Smith and other committee members who feel that the bipartisan show of support in the House should create momentum for action in the Senate.
Challenges facing the weather satellite program are very real. "Mitigating gaps in weather satellite data" made the 2015 "high-risk list" from the Government Accountability Office, a compendium of the most pressing issues and potential problems that plague the federal government.
GAO concluded that "the continuity of satellite data is at risk" due to the weather-forecasting program's "troubled legacies of cost increases, missed milestones, technical problems, and management challenges that have resulted in reduced functionality and slips to planned launch dates."
A loss of coverage could have widespread impacts because NOAA satellite data is used in commercial weather forecasting and emergency-disaster planning and response, as well as by airlines, farmers, and even the U.S. military.
For its part, NOAA says that it is working to respond to any potential problem. "NOAA is working with various partners to reduce impacts of a potential gap—including leveraging other observational platforms, using additional satellite measurements and requesting funding in our FY16 budget to initiate the Polar Follow On program. The PFO will help NOAA protect against possible gaps in the future and ensure NOAA's ability to provide accurate, life-saving weather forecasts and warnings," said John Leslie, an NOAA spokesman, in an emailed statement.
Still, concerns persist. "In recent years, Europe and others have overtaken the U.S. in weather-forecasting capabilities. And the U.S. faces a likely gap in key weather data that could further damage our ability to issue accurate and timely forecasts," Smith warned.
Johnson said that any gap in satellite coverage would be "unacceptable."
"The loss or degradation of this critical weather data would have a very serious impact on our weather-forecasting capabilities—an impact that would reverberate across many industries and government operations. … These satellites must succeed, and I am fully committed to ensuring that they get on track and stay on track," Johnson said.
One bright spot in the midst of all the worry is that tackling the problem of gaps in satellite weather forecasting has brought Democrats and Republicans together, yielding a broad and bipartisan consensus.
"We don't see partisanship here," a Democratic committee aide said. "We're equally as concerned, equally unhappy with how this has all played out, and equally hopeful that we can work to find a way so that we don't repeat past mistakes." The aide added: "Though, really, it's more like a bipartisan dark spot."
That willingness to reach across the aisle, committee members say, is critical because to deal with the challenges that lay ahead, consensus will be key.