How the White House Welcomed Pope Francis
The pontiff was greeted by thousands of people outside the executive mansion on Wednesday.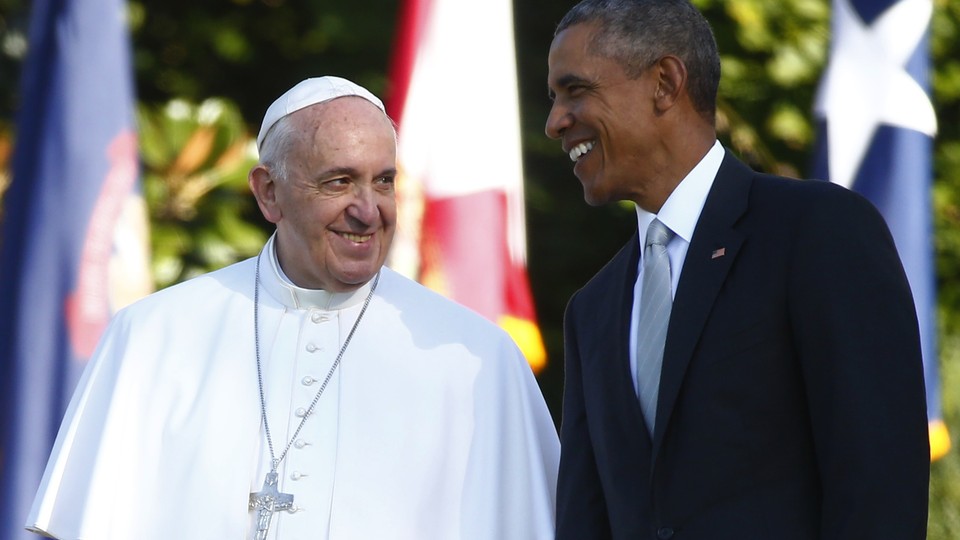 Thousands of people anxiously waited for Pope Francis at the White House Wednesday morning, cheering and waving miniature flags of the U.S. and Argentina, his home country.
"Our backyard is not typically this crowded," President Obama said, looking out onto at least 11,000 people, many of whom had gotten there seven hours before Francis did.
In his remarks, delivered slowly in English, Pope Francis said he looks forward "to these days of encounter and dialogue, in which I hope to listen to, and share, many of the hopes and dreams of the American people."
He specifically thanked Obama for his climate-change policies. "It seems clear to me also that climate change is a problem which can no longer be left to a future generation," he said. And while Pope Francis is no politician, as my colleague David Graham notes, with the White House as a backdrop, it's hard not to be political.
After addressing the crowds, Obama and Francis retreated into the Oval Office for a private meeting.
The visit marks Francis's first time in the United States. He arrived on Tuesday, landing at Joint Base Andrews, where Obama and Vice President Joe Biden, along with their families, greeted him. On Wednesday afternoon, Francis will make Junípero Serra, an 18th-century Franciscan theologian, a saint during a mass at the Basilica of the National Shrine of the Immaculate Conception—the first canonization on U.S. soil. On Thursday, the pontiff will give a speech to a joint session of Congress, where lawmakers have been advised to restrain themselves from trying to get close to the pope—in other words, control their excitement. He then heads to New York and Philadelphia.
The nation's capital has been anticipating the Pope's visit for weeks, preparing for road closures, selling T-shirts featuring Francis's visage, even creating pizza in his honor. Francis's favorability rating among Americans is one politicians can only dream of: A Pew research survey found that 90 percent of American Catholics and 70 percent of Americans think positively about the pope.
Rosario Paredes, 28, who is Argentine, stood a few feet from the White House Wednesday morning. She told me in Spanish that she hoped Pope Francis would serve as an example to others by being "the special person he is." Nora Guitterez, 49, was grinning from ear to ear. Francis "makes everyone so happy," she said.
Anu Jain, 22, had arrived with her parents at 1 a.m. to stake out their spot outside the executive building. "The pope challenges what is set in stone and puts it in a modern sense," said Jain, who is Hindu. Her parents added: "[He's] more representative of all religions."
Ane Phillips, 70, traveled to D.C. from Seattle to see the pope. She wore a skirt fashioned of hay and coconut husks from her native Tonga, a Pacific island nation. There, such skirts are worn to welcome visitors of high stature—like the pope.
"We love him and like what he's doing," Phillips said.